Windows Phone random reboot hotfix rolls out to more devices in India, Europe and Asia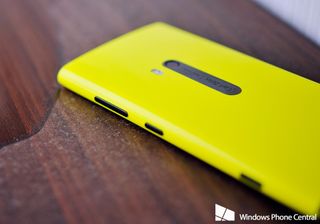 Following an earlier report that the random reboot hotfix for Windows Phone is rolling out to a number of Lumia devices in the US, we have received a flood of tips from Windows Central readers that the same hotfix is available for download in other parts of the world today.
So far, we have gotten tips the update is available in India for the Lumia 520, along with the Lumia 525 and the Lumia 620. In the UK, the update is being pushed out onto the Lumia 520, the Lumia 920 and the Lumia 1520. The Lumia 1320 has the update in Lumia 1320 and in Sweden its available for the Lumia 930. This would appear to be a worldwide push for this hotfix so you might want to check your device to see if you have it ready to download.
Just a reminder: This update is not Windows Phone 8.1 Update 2, but a patch to fix periodic reboot issues. Microsoft previously wrote up a short post about this update their support forums (opens in new tab):
If you have received this update, let us know in the comments.
Thanks again to everyone, way too many to list individually, for the tips!
Yeah I got it on my 1520 Jordan

Nokia Lumia 1320 (India) too got this Update just now updated :)

How about 730... It does that a lot

It came long ago it fixed mine ... Restarting was soo annoying I thought it was a hardware problem..(I did tip wpc as soon as I got the update)

I've noticed my 1520 will not always jump from cellular data to Wi-Fi, although it sees it. Even if I go into settings and tell it to connect, it says it cannot. I have to restart the phone, then it works. I hope this "hotfix" will help with this issue for me...

Got it on my 920 and my son on his 520 (Finland).

What's the size of the update?

Less than 1 mb. But it took significant time to install.

How long did it take you to install this update, so I know? Thanks

It took half n hr. Lumia 1320.

Didn't take long to install at all for either of my 1520's...

Got it on 1520 in Brasil an hour ago.

Can u plz say what is the download size of this critical update dude??

Seems to be going to the 1520.3 as well

I don't have this problem.......

Me too. Never had it on any of our household's, so far, 11 devices. 5 active, 6 retired or sold etc.

I have it on my 830. It reboots once or twice a week on it's own. Most of the time I only know because there are a couple of apps I always keep open and when I try to task switch to them nothing is there. Every once in a while I actually see it restart.

I also have this issue with my 830 but its not on the list of devices. Mine reboots and then says check SD card for errors. Any ideas ?

830 in France received it yesterday so you might be getting it in a few days time...

Had this problem before 8.1

I don't had such issue on my Lumia 520. Currently using 638

Lumia 520 highlighted, 620 not. Annoying in someways...

People still use Nokia 1100.. Well 620 is way more superior than 520. 2 thumbs up for 620 design team.

Agreed. Posted via the Windows Central App for Android

I have the 620 too, it's actually a good device in that pricerange when I bought it. Just got the update btw.

This update is not a mandatory update. Manually check for updates..You might get it. If you dnt get it then install this app & check whether your phone needs this update or not:
https://www.windowsphone.com/en-in/store/app/stop-restart-app/b60588a9-5...

Ran that the other day on my AT&T 830 and it said I did NOT need the fix. But the update still downloaded today...

Then just relax. Mine same case with l620.

Hit the phone update now. I have received the update.

Using L720. Got an update. Hope it fixes freezing issue.

Oh man, the freezing issue is the worst. My volume down button doesn't work, so I can't soft reset my phone. I have to wait for the battery to drain completely and then plug it into the charger to get it to work. I hope it fixes this issue.

Any problem with cellular to Wi-Fi switching?.. Such as: phone wont automatically switch to Wi-Fi when I get home or to work, even manual toggle won't work....have to reboot phone...

You don't have to wait for the battery drain, Just hold the power button about 5 sec or more until your device totally off.

Don't see any software versions that have changed after reboot. Any clues to what was updated?

if you had read the article, you would have read that it is a tiny patch

Lumia 820, Netherlands - check

Got it on 535, 820, 920 and 1520 too. All CV NL models.

I hot it. For Lumia-620-mea

Yes Lumia 1520 in Lebanon

My Lumia 830 Lithuania CV received Update 2, not only hotfix. Sent the info and screen shots to WP Central

My 640xl has been rebooting. Have restored with the tool from Microsoft.

Yup I have got it for my Lumia 535 Dual Sim, India.

I just downloaded the critical update for my 1320 which was rebooting whenever i left my bluetooth on. Let us hope it gets rectified. The size of download was just 1 mb.

820 CV Jordan I don't have this problem but updates are welcome ;)

I got a reboot randomly once on my M8 VZW last week.

Lumia 930 updated. Moldova

How about lumia 535? No GDR 2?

930 Finland just got an Update, but to me both build and firmware numbers stayed the same. Then again, I haven't experienced any reboots either. Device bought on January.

Version number won't change, it's the same as a hot fix in Windows. Just a patch.

So MS is able to push these critical updates out to everyone directly and bypass the carriers (like AT&T) or do the carriers need to test/approve these updates? If so at this point I wish they could just do the same thing with Denim/GDR2 for the Lumia 830. Getting really tired of waiting for AT&T and their so called BS "Testing!"

Apparently unlocked devices with GDR1 have no problem getting it. So there's that.

This is an OS update which can be pushed to phones directly. Denim on the other hand is a firmware app which affects the radio chip for the actual phone functionality. Therefore it requires carrier approval and cannot be pushed directly.

Lumia 930 India, just installed the update.

Yup 930 India here... Got it...

Any updates for the 1520(IN)?

Ought to be there...i did see someone else with a 1520 India had got it...I guess its for select models...?

Maybe. Haven't got it, yet. Thanks.

It's not necessary unless you have the issue ;)
I never had that reboot problem but I installed the update just because my phone was set to automatically download updates, and it was ready to install

Received 2 updates back to back on my Lumia 435 India but still no fix for the Wi-Fi issue in which it disconnects the Wi-Fi after screen time out :(

You have to change the option in settings

Where do you find said option, I have 930 and I want this feature!

Go and look inside Wifi settings.

Never had the issue.
Got the update 620 India

lumia 830 in brazil aswell.

I can't install it because I have W10 Preview that I refuse to install blocking it. Even downloading the pc tool to run it brings the message "cannot install as another update is waiting"

920, Philly, PA. Updated.

I just received mine on Lumia 1520 in Qatar

Lumia 830 in Greece, too. Although I had no random reboot issues.

Received it on lumia 820 kpn nl

Yes got it right now for my Lumia 520 in Greece

Got the update. Latin America 1520.3 on AT&T

My 820 and 435 both got some random update yesterday. Both UK CV devices. Could be this, nothing obvious has changed

I also got an update today that said to fix the same problem but on the Lumia 735

Using Lumia 630 got the update...from INDIA

jst a min agao i got this update

Got it on mi 1020 in México

I have same problem with rebooting lumia 720. With windows 8.1 :/

Lumia 930 HK variant in USA. Received it. Never had this problem though.

930 italian cv got the update :D

Yeah I have just changed my region to India. Updated.

I had know random reboot issue any how I got the update and installed it lumia 920 India. Posted via the Windows Central App for Android

Lumia 930 Sweden, got the update yesterday.

Just got the update on my mums 635 uk .lets hope It works now

My UK CV 1520 is downloading now...

1520 CV German got the update but never had the problem

My Lumia 735 on the Three UK network just received this update - installed very quickly without problems.

Will phones get it if you're on 8.1 GDR2 from TP?

I guess so. Read a comment here of a guy that he can't get this patch on win 10 technical preview.

Got it on HK variant 930, worth noting I never had any reboot issues

Just got critical reboot update for my Lumia1020. ( updating ) is there anyone from india getting this update?

Damn. Last month my L830 had this "something went wrong" issue on main camera, use my warranty to get it fix, Got it back day later and the main camera is back to normal.
Today, installed this update and boom... " something went wrong" error message appear again everytime i want to use the main camera.
Hope microsoft address this issue. Just bought my lumia 830 on january this year :'(

Just got the update EE UK L820

I got it for my 925 in Sweden.

I have never had the reboot Issue, but I just received the update on my Lumia 521. California

Got it on my 1020 on Rogers in Canada

Got it but never had the reboot problem Lumia Icon

My ATIV S got this update today, so it's not just Lumia devices that are getting it.

Were you registered in Windows Insider Program?

too late, Rolled back to 8.1. Windows 10 sucked.

Tell me about it I rolled back too

Touching...but this is 8.1 we are talking about.

I just got an update on my 810 saying it fixes random reboots. But I'm on developer preview. Is this the same one? What's the OS vers?

I got it on my Lumia 1320 INDIA

My wife's Lumia 920 got it. Costa Rica

It is out for the 1020, just got the notification to install it

My 928 just finished the update

Got it on my (horrible) Huawei Ascend W1. I am just wondering when I will get the update 2...

Got the update for my 620.. Even though I don't have the random reboot issue. "Country variant PR"

T-MO state side just gave the update on my m8 for windows

I can't prove it, but since the install of this my UKCV device now thinks it's a CV BELUX device (Lumia 735)

Lumia 720 Hungaria updated

UK 930 White and gold updated

Checked and got it. Lumia 720 cv_fr

Just received the update for my Nokia Lumia 1020. It takes no longer than 10 minutes to download and install.
No random reboot issue on this device prior to the update though.
Bosnia and Herzegovina

Lumia 1520 also updated in Saudi Arabia

Didn't have a problem but received this on my Lumia 920 in Canada.

Just got on my 1020 on TELUS

Updated 620 CV in australia. The update doesn't appear to be 8.1.2. The explanation on the phone for the update said it was to fix reboot issues but there might be other features added. I've noticed that in the notification and actions setting there's now the ability to change an existing quick action to a new quick action that allows a user to turn on/off mobile data from the notifications menu. This is a feature I'd been waiting for and its quicker and easier to do this now.

L830 Netherlands CV. Received update, description was "fixes random crashes", but Update 2 is also applied. My settings are better organized and i have the opportunity to set the app permissiona.

+1 The same with Lithuanian CV

Glad they are tracking these issues, when the phone reboots 5xs a week and doesn't prompt for any feedback it gets rather disconcerting Posted via the Windows Central App for Android

I know I suffered from this a lot with my Lumia 521, I haven't seen it on my Lumia 925...

Lumia 1520 Germany also updated w/ reboot fix

I have a Lumia 735 and Lumia 520 and have this update, after on these devices has been a Skype update, I'm from Mexico

Just got it on Lumia 930 on EE in uk

Just got it on my ATT Lumia 920 as well

925 bought in the UK also. Stupid phone woke me up at midnight for this.

This update is also rolling in Pakistan. I'm using Lumia 620 and received this update.

I have this problem with my 830 and ive just the update on EE UK

Installed today on a Lumia 920 CV ITA

Didn't have the issue but I just got the update on my Icon.

updated on my 920, Malaysia

May I know how is it doing?

Lumia920 and HTC 8x Serbia got it.

Just got the update on my 928

820 in Latvia.
Never had the issue actually.

Just got it for my Nokia 630 here in Denmark

Is it just me or does the phone get really got after the upgrade? I could fry eggs on it while charging.... Unusual for my 1020

NL920 ... Updated in India

928 Verizon Buffalo Check.

Lumia 720 in Indonesia got this, already updated

Pushed to my Nokia 620 in the UK

Nothing on my L1520 CV UK....I have Update 2 could this be the reason?

I did have this problem but not too often so this is a welcomed fix. I got the update today on my Lumia 620 from Aio(aka cricket) wireless. Although I don't know if it's available for everyone or because I'm in the preview program because they never updated the 620 to 8.1

I got it on my 520 in Indonesia but i dont have any reboot problem...

I got it on my 830 cv germany

I just got it here in the U.S. for my Lumia 928

Got it for my920 in Canada

I updated my 1520 this morning (appears to be the 'reboot error' fix everyone is talking about, which I never had a problem with). Now I cant watch videos both online and taken with my camera. Anyone else having this problem after the update?

Nw, rebooted the phone. All fixed.

Just updated on 620 in UK. Random reboots have definitely been an issue, hopefully no longer.

Got it in lumia 1020 in india..:)

TURNED OFF MY ROUTER AND DIDN'T CONNECT TO ANY WIFI AND IT WORKED. STILL KEEPING AN EYE.