Windows Phone Store glitch c101a006 causing frustration for app downloads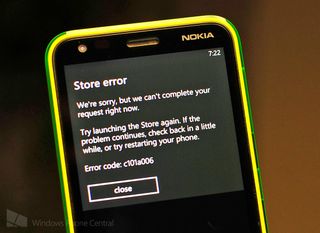 In the case you're experiencing a dreaded 'c101a006' error when trying to buy, trial or download an app, you should know you're not alone.
We've had about a dozen tips so far and verified ourselves that the Windows Phone Store is tossing this error out for apps that are buy/try (free apps appear to be exempt).
Microsoft does report (opens in new tab) that Xbox Music and Video (aka Zune) is having issues for browsing and purchasing items and we're quite certain that overlaps with the Windows Phone Store. The good news is Microsoft is well aware of the problem and on top of it, meaning this could be fixed by the time we post (or be a few hours).
Update: Looks like Bing, Xbox Music + Video and Windows Phone (all separate, but related) are being affected. Yikes.
Sit tight and commiserate in comments. Thanks, everyone, for the tips!
Daniel Rubino is the Executive Editor of Windows Central, head reviewer, podcast co-host, and analyst. He has been covering Microsoft here since 2007, back when this site was called WMExperts (and later Windows Phone Central). His interests include Windows, Microsoft Surface, laptops, next-gen computing, and arguing with people on the internet.
I'm getting the same error message when trying to download a free app too. Cinemagraph, to be exact.

Same here. I've tried twice to download Netflix. Tried restarting my phone as suggested in the error message. Same message again.

Not a problem on your end, there's something wrong with the store. Unfortunately, waiting it out is the only solution.

It wont let me download speed test.net which is free

Strangely enough, I just started to get this error when WPCentral warned us of it. Mmmmm

Thanks lol i just started the Xbox music trial and I couldn't download any song...and thought it was my phone..

I'm getting error while trying download free apps

Why are you posting this? Is it supposed to be "amusing" or something?

Ugh, this is my first day with a Windows Phone so this is extra frustrating.

Don't worry, this a rarity. You made the right decision, and by the way, welcome to the club!

Welcome. We play nice. Well sometimes :)
If you have question just let us know.

Welcome to the Windows Phone family! As everyone else said, this is a rare event, and MS is normally on top of it with quick resolutions.

Tried just now to get the trial of galactic reign. Got the error.

It would be interesting to know if people who are experiencing this problem are using custom ROMs.

No, I'm using the 1249 rom on a 920 and getting the error on some apps. I did update speedtest.net just fine.

Ok ... I am using the 1308 rom on my 920 and have not had this problem, yet.

I am using 1308 but facing this problem as well

I'm experiencing this problem on two HTC HD7 phones. One is WP7.8 (7.10.8862 official) and one is WP7.8 (7.10.8858 Deepshining)

What does deepshining have/do that the regular 8862 doesn't? Would it wipe out everything I have on the phone if I chose to try it?

Had this problem with an inapp purchase... Bought a feature in the app the first time, but then I had to restore my phone. So after that, when I had to download the app again, it couldn't install. I got ripped off -___-

Just tried to buy the WPCentral app.. n I got that error again

I was getting it earlier, but once I downloaded an update to an app it has been smoothe sailing ever since.

I too am new to windows phone just got the Ativ S and love it and windows OS. Although i have experienced a random reboot and i always get an error message about removing the SD Card safely. Wish i could fix that. Microsoft have acknowledged this error i looked on the xbox live support page among other things that are not working as they should.

Seem that this kind of situation happens a lot in wp8 app store.

Idk about all that. I have had WP since wp7 launch and this is the second time I have gotten an error from the store. I'm sure it might happen occasionally but MS is pretty on top of fixing it

Just updated speedtest.net no problem, but it gives me that error message when I try to download Acedia...

Thank goodness for this post! Thought it was just me and/or 920 at&t wonkiness

This is happening to me a lot.....really annoying!!!

http://support.xbox.com/en-GB/xbox-live-status its on here people check it out.

Hope they get it fix soon, was mad for a sec. Since I'm not the only one I'm cool now...

Same problem. Cant download anything!

Hmm... Smart DJ isn't working in XBM on Windows 8's XBM client, yet does "work" on my Lumia 920. Except, when it tries to play XBM content on my L920, I get error 805a01f4.

Working well here... Lumia 920 Indonesia

The same story,happened to me a few hours ago,tried to fix it myself,but no result. Hope they will find solution soon. Its really sad... Plz post any news if will be known later :)

Check here
http://support.xbox.com/en-GB/xbox-live-status

I just had an Xbox music problem. It won't let me enter the store, but the error is different.

And just like that it works again...maybe it was my LTE connection :) ...well kind of. Now a couple of minutes later it is terrible. It makes me retry to download songs constantly.

I'm getting same error. The responsiveness to fix problems is nice:)

Seems to be working now. Downloaded Netflix - no problem.

Tried downloading Acedia to no avail. :(

I was able to purchase after restarting my phone.

Which was just a coincidence. The service interruption was resolved right when you rebooted your phone (which you didn't need to do.)

Everything working fine for me now

The problem members were facing purchasing and downloading content on the Windows Phone has been fixed! Thank you for your patience while we worked through this issue!

Getting some "not enough info about that artist" when trying to start a Smart DJ. Ouch!

Finally was able to buy the WPCentral App. That is all I wanted to do for the past 2 hours.

Keep up the great work guys!!!

Working now i can download speedtest happy days apart from the sd card error i keep getting

It has been fixed, MS update
"The problem members were facing purchasing and downloading content on the Windows Phone has been fixed! Thank you for your patience while we worked through this issue!"

I've had this problem (in Hong Kong) 2 weeks ago that lasted 2-3 days. It was reported to be a server glitch and should be fixed automatically. 2 days was painful though.

All good now guys. I just fixed it.

Still unable to purchase via carrier network.
Sigh...

Phew, working fine today!!! Hope never happens again :)

I have tried to reinstall Mehdoh, but the problem i am having is....Microsoft want me to purchase it again? could this be also linked?

That's normal - click Buy, then on the confirmation page it should say "you've already purchased this app before, click Install to install again" or something

To boring is os .so many problems.what the WP doing now

Well, this is frustrating to say the least.
as soon as one issue is solved we have another... cmon MS pls fix these NOW.
with so many hardware and software glitches/issues.. im wondering if i was wrong in jumping ship to WP, maybe should have held on to Android for a couple yrs until WP is stable
will give it couple months, if problems still persist then a Nexus 4/ HTC One may look quite enticing.

As much as I love my Windows Phone 8, I am losing patience with the amount of errors, that are happening with the store and downloading of apps.

Come on Microsoft sort it out, we are supporting you and your great new Phone operating system, we deserve better.

Yes I know glitches happen, but they are happening a bit too much lately and that is from an avid supporter of ALL aspects of Microsoft :)

I would also like an explanation of what the issues are, not just it has been fixed, how about some more detailed information regarding what the issues where and what has been done to rectify the issue?

Can i get that information anywhere?

All about transparency MS.

You need to drop this secret culture and open up and become more transparent as a company.



Still down... Can't up date apps. Can't download apps

Was working fine until yesterday. Now I can't install anything, even free apps.

Still happening to me on a 920. Got a new 920 still happening.... my wifes 920 is fine... what is going on?!

So I was able to fix it permenantly.

Go to Settings
Location
Turn it off.

Problem solved.
Windows Central Newsletter
Get the best of Windows Central in in your inbox, every day!
Thank you for signing up to Windows Central. You will receive a verification email shortly.
There was a problem. Please refresh the page and try again.