Windows Phone users have positive response for Samsung's ATIV S, cautiously waiting for Nokia, HTC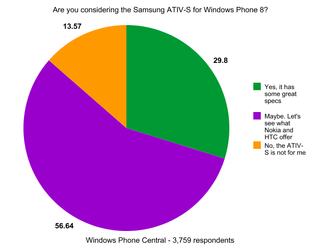 Our online poll suggests Samsung has done well but still has to win over many
Yesterday during the IFA trade show in Berlin, Samsung surprisingly unveiled the first Windows Phone 8 device for 2012—the ATIV S—to mostly cheers and approvals from current and prospective Windows Phone users.
In an online 24-hour poll conducted yesterday here at Windows Phone Central, nearly 4,000 respondents (cookie and IP locked) responded to Samsung's announcement of the Galaxy S3 clone for Microsoft's upcoming Windows Phone 8 OS.
Nearly a third of respondents (29.8% or 1,120 votes) said that they would consider Samsung's new device as it has some great specs and the looks to back it up. Only 13.57% (510 respondents) steadfastly said 'no' to the ATIV S, noting that the phone was not for them.
The bulk of respondents took the more cautious approach with a wait-and-see attitude until Nokia and HTC reveal their lineup in the coming weeks. With 56.64% (2,129 respondents) chiming in, this category shows that consumers are savvy enough to not commit too early to a new phone, especially since Samsung did not reveal price, availability nor partner-carriers.
But it may also highlight a lack of brand loyalty to Samsung as compared to Nokia and companies like Apple, which conjure up a dedicated base of users.
The ATIV S, while a solid design and excellent specs, including a 4.8" HD Super AMOLED display, dual-core 1.5GHz CPU, a massive 2300mAh battery in a thin body, seems to lack imagination and the boundary pushing that consumers are demanding these days. In perusing comments, most users seem lukewarm to the device remarking that it's a good offering but it lacks the 'wow' factor that Windows Phone 8 may need this fall if it is to gain any traction—something to which we agree.
We'll of course revisit the ATIV S later in September to see which new Windows Phone 8 device users are most excited about. With Nokia calling Samsung a good 'warm up', the ball is clearly in the Finnish company's court to woo potential consumers next week at their press conference.
Daniel Rubino is the Editor-in-chief of Windows Central, head reviewer, podcast co-host, and analyst. He has been here covering Microsoft since 2007 when this site was called WMExperts (and later Windows Phone Central). His interests include Windows, Microsoft Surface, laptops, next-gen computing, and for some reason, watches. Before all this tech stuff, he worked on a Ph.D. in linguistics and ran the projectors at movie theaters, which has done absolutely nothing for his career.
First... waiting nokia lumia pureview...

I want not a giant sensor like the preview, but still an amazing camera. I also want a good front camera (720p). I also want NFC, 720p or higher quality display (AMOLED Clearblack), 4.3-4.7" screen, nice design, good speakers, better battery life, and on AT&T with LTE.

I'd consider Nokia on T-Mobile if the screen is 4.8 or larger. Also I'd like a removable battery and micro sd slot.

Samsung has very great After service in ROK. Maybe I will buy Samsung windows phone.

No one should expect dramatically different specs from what we see in the ATIV S, just a different design from Nokia and maybe PureView. Just don't set your hopes too high only to be dashed next Wednesday. The ATIV S is a very solid phone, and you can see far more effort being put into designing this phone than most of Samsung's other phones (heck, I think it looks better than the Galaxy S III)

Yeah I agree, I don't see what ppl could expect more...it's getting really hard to be "unique" now with phone design and aesthetics

But according to Nokia "Things are about to change".


This is a awesome phone. I think I'm sold. I could be open to buying a Nokia if they bring something better to T-Mobile. Well maybe even something equal cause it would be hard to top Samsung. The camera could do it but not at the expense of a smaller screen, removable battery and micro sd slot.

I do like the design. The specs are ok. I do see that it does say 4G and not LTE on the signal bar though. I am waiting to see what Nokia and HTC bring, but if Nokia only has a lumia 900 with a bigger screen... I'ma have to go with Samsung. I love my lumia, but the next Gen should be something new. The same body gets old fast... Look at the iPhone....

Funny, I was thinking the opposite... the specs are nice but the design is only slightly above average.

Oh don't get me wrong. The specs are good, I just wanted a bigger rear camera. And the design I really like. At lease for me since I work in a loud environment I think that speaker will be loud. I'm waiting to see what happens next Wednesday. All in all this holiday season will be one to remember!!!

The lack of LTE would go with the rumor that this is the oddesy destined for T-Mobile. I gotta say the back side of the this phone does look really nice, much better than the plastic back to GS3

If you look at the video comparison to the GS3, the ATIV has the standard plastic back like on the Focus S. Various parts of the phone are described as being plastic with a metal look.

I thought I read that it has LTE for T-Mobile. Since Tmo us about to fire up their LTE network soon.

I'm very excited about Nokia's offerings, but I admit that the Samsung offering is very nice as well, so all I can say with certainty is that Windows Phone has some very nice choices for this fall. I just hope the marketing is there from all parties to present those choices.

I own a Lumia 900 and before that the original Focus. I'll be looking to see what Nokia brings next week, but that being said, the Ativ S looks great and it really doesn't look like a re-hash of a Galaxy S. With the upgraded hardware and the new "Ativ" brandning, Samsung obviously has re-considered their strategy of positioning Windows Phone as a solid also-ran to Android. Way to go Samsung!

The ATIV S is a great looking phone with some excellent specs (I wouldn't mind a 16 MP camera though, but that's not a show stopper for me), but I'm waiting to see what Nokia has. The big kicker is Nokia is putting out great software exclusives. If Nokia puts out a comparable phone I'll most likely get a Nokia, but I really do like this Samsung device.

Waiting for Nokia. Never seen Customer support like theirs - fantastic! Tried Sammy but they always customize their phones so much they end up with odd problems like the Flash had. HTC phones are always slightly half-baked, they usually but not always fix them. Nokia's build quality, support and commitment are going to attract me a lot more than Galaxy re-tread that looks like the phone Droiders have had for months. Nice try Sammy, re-treads won't compete with all-in Lumias!

Pretty sure the lumia's were re-treads too so that's where your logic fails

Re-tread of the N9...a phone that wasn't picked up by carriers, widely pushed, that was DOA and had completely escaped the consciousness of consumers. GS3? Not so much. Unless you want to take the brave position that the GS3 and N9 have equal market- and mindshare with consumers? I'd be impressed if you put forth that position publicly.

I started to say that the One thing Nokia's got going for it is ongoing support for Windows Phone. But that's not really the "only" thing. Their customer support and exclusive app titles are enough to push me their way if their hardware is at least comparable. I think the biggest thing that wowed me about the Sammy Ativ was the 2300 mAh battery. Like that!

You say it doesn't have a "wow" factor but I guarantee once we see that gorgeous 4.8 inch screen and thin body frame, minds will be changed.
Guaranteed...
It's the subtle things with this phone that will count.


Disclaimer: I'm one of the many that voted to wait'n'see for Nokia's/HTC's offerings. Veering more towards HTC

I actually think that this Samsung phone is quite nice and can do quite well in the market. This obviously means that Samsung will have to do some marketing for the device. But I think that they will market it pretty heavily in their ecosystem ads that are sure to be coming our this holiday season in a big way. I'm personally going to get a Nokia device and I am hoping that Verizon gets the Phi contrary to the rumors so far. Because for the first time ever since I am no longer going to have unlimited data once signing a new contract with anyone including Verizon, I am willing to switch carriers for the preview technology. I have given Verizon since windows phone's launch time for a hero device. Lastly, I can't wait for the unveiling of windows phone 8, on 9/5. I think it's going to blow iOS 5 and Jelly Bean our of the water. Too bad that I'm going to be in physics 2 class during the epic joint press conference.

I really like this phone more and more. To me it looks better than the SIII plus it will rock a much better OS being WP8. I'm curious about HTC and not so much about Nokia since they are dropping mid-range devices on my carrier T-Mo so far. Hopefully that will change, but for now I'm happy with Samsung and look forward to what HTC has coming.

+1 that's right I +1'd my own comment.

I don't know if people responding that they'll wait for HTC/Nokia announcements means that the response to Samsung is "tepid". I like the look of the Samsung device. I like the idea that Samsung will more than likely offer a battery that can be replaced by the user while Nokia probably won't. However, Nokia does have the possibility of Pureview coming and has a stronger relationship with MS. I don't know much about where HTC stands right now. They've made great devices so could be a good way to go as well.
I like the look of the new Samsung devices. I'm just not going to commit to anything until I've seen the others. The choice of 16 or 32 is a good one. The upgrades seem to be consistent with what we can expect and the device looks good. I may go back to Samsung, but not without knowing what other options exist.

This is exactly what I was thinking... Why would anyone commit to this one without even seeing the others, no matter how great it is? It's not like you can get one today and there is a benefit to jumping to conclusions. I think the Samsung looks really great though.

Lack of timely updates on my Focus has caused me to jump ship. Just waiting for Nokia and my money goes to them.

Hey guys! From what I saw on Phonearena.com this phone does not support T Mobiles U.S 1700mhz band. Sucks!!!!

They're moving HSPA out of the 1700 band anyway so it doesn't matter

Battery life. Nokia phones may not be .00nm thin. But I get a good 13 hours a day, with mid to heavy use. Like to see that topped.

Love that brushed aluminum but I'll wait to c what Nokia has to offer

No thank you...
HTC is gonna be bigger this time..

A little birdie told me the REAL lookers are the HTC Windows Phone 8 devices. He's seen the Nokias and isn't as impressed...

im ready im ready im ready to see some phones.

Most have a loyalty to Nokia just based on the fact that they've been in with WP 100%. Add that to the PureView tech, and Nokia services and the rest will have A LOT to contend with.

However, Samsung is a quality manufacturer of hardware, and can make some killer devices if they choose to. I welcome the competition and maybe a Samsung device will be better for somebody than a Nokia.

The specs on this look great, but I am more interested in a PureView phone backed by Nokia, who I am 100% supportive of at this point.

Awesome specs. But HTC zenith is on quard core.

I'm waiting for Nokia because of the Nokia-specific apps. They've shown that they are willing to produce more for WP. Even if Nokia's phone is identical to Samsung's, I'd choose Nokia right now. That may change in future of course...

I like Nokia's design with the Lumia phones so far, and I like the apps and support that they exclusively offer to the Windows Phone platform. They will probably be my first choice at WP8 launch, but I do like the look of this phone. It would definitely be a consideration.

Am I the only to really don't care about nokia's upcoming phones? I mean... it's not like the Lumia 900 was so good looking that you just have to make a better version that is thinner and better... the look was fine... but the ATIV S looks better.

this phone is sexxxy (that's right, XXX sexy) and I would be crazy to say otherwise. However, I would still like to see what others have prepared for WP8... Its going to be a great end of the year for us WP'ers... jejeje And not 2 mention I'm on Sprint so if none of these come to Sprint I may have to stick with my Arrive so with that... C'mon WP7.8! jejeje

Seems like nice phone but it's just too big for me.

I'm also one of those people that is waiting to see what Nokia and HTC have to offer. That being said, if I ended up getting this phone, I would not regret it one bit.

Looks like 86% are considering it to me.

I have a titan an will never buy HTC again. Samsung and Nokia got their tango update on att but not HTC. HTC does not support their devices. Nokia and Samsung do. I realize windows 8 will be different with os updates but don't want to chance my money on a company that does not care for their customers.

HTC has better sound than the both of them and are usually better at updates.

I still have the disappearing keyboard. I know i can go to xda and do it myself. But i should not have to chance bricking my phone. HTC makes great phones...but no support on fixing bugs that may develop.

The comment was on the lack of post purchase support, and you replied that they have better sound... I guess the music will sound nice while he waits for HTC to NOT update and/or patch their WP devices

Im not cautiously waiting for Nokia, im loyally waiting for Nokia. Samsung released a good looking phone but I bet they'll hardly show 1/4 of support for the phone compared to SG3.

I'm waiting to see what Nokia has to offer. Hoping they are stepping up there game this time and giving us a really good camera. I'm also more fond of Nokia because they only support WP. So updates are faster and support is better. Samsung and HTC have Android to worry about as well.

As a Nokia loyalist, I am waiting for Nokia's take on WP8. Let's face it, Samsung still depends on Android, and no one has commited as hard as Nokia to WP8.
I can't wait till Sept 5th.

I'll wait to see what phone has the highest specs but I will always pick the one with the best screen & Samsung has done that so even if HTC gets a quad core I'll get a Samsung

Samsung makes good phones,but Nokia won be over with the 900. Solid case, beautiful design. Samsungs feel cheaply made compared to Nokia.

We already know what Samsung has to offer. HTC has also hinted they'll bring their One X, S, and V to WP8 so we already know what to expect from them. But we still don't know exactly what Nokia will bring, leaks notwithstanding.

I'd better wait for lumia
though it looks good windows phone is best with Nokia according to me as I experienced both Omnia and lumia
I vote for Nokia lumia

Samsung (and LG) do absolutely nothing to support the consumer once they've sold them a cell phone......updates are rare and EXTREMELY slow to be ported to the customer. They are in it strictly for the money....instead of providing any support, they say they will not rollout an update but rather tell you that their NEW phone will include all those update items - all you have to do is buy a NEW phone! After the runaround I got on the Sumsung Vibrant and the LG G2X updates, I will never buy a cell phone product for either one again. The best phones I've ever had are Nokia but I will NEVER go to AT&T to get one - wake up Nokia - stop with "exclusive" rights to AT&T on your higher level phones.....there are MANY people out there who just flat out will not go to AT&T for anything because of the way they screwed over customers when they controlled the land line business. If Nokia/Microsoft really want to grow the Windows 8 business, they need to put the best produce possible out to the greatest number of customers they possibly can without all this "each carrier has a different quality of product available to them" garbage. AT&T gets the plum and everybody else gets table scraps - Lumina 900 was supposed to be "limited" exclusivity for AT&T - it's still not available to anyone other than AT&T and will not work to its maximum anywhere but on the AT&T network. When does "limited" expire - naturally, when a replacement product becomes available and that model is dropped!
I credit Microsoft for their honesty in telling the public that the exiting Windows phones would not be upgradable or functional with Windows 8 hardware/software but then everybody complains that the public is not buying Windows based phones! Why would anyone spend money to buy a phone that they know will be obsolete in 6 months?