Windows Phones in times of emergency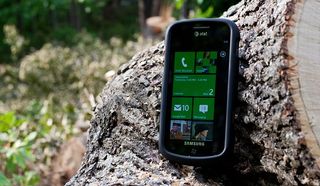 It shouldn't be a surprise when someone comments that your Windows Phone is a great communications tool. From using the Phone as a phone to call friends, family and associates to checking your email to updating your Facebook Status, your Windows Phone keeps you in touch. While the abilities and capabilities of communications is tremendous during day to day life, it can also be very helpful in times of crisis. I personally discovered how useful my Windows Phone can be during recent events in my home State.
On April 27, 2011 the Southern States experienced a severe weather outbreak of historic proportions where storms produced a record three hundred twelve tornadoes. Alabama experienced a tornado outbreak that the State and possibly the nation has never seen before. One tornado tracked on the ground for over one hundred thirty miles in North Alabama destroying everything in its path. Another traveled over eighty miles destroying communities in Tuscaloosa and Birmingham. While property damage was extensive and catastrophic, the greatest loss was that over 300 perished in these storms.
That day started for me around 5:45am when the first line of storms came through my neighborhood and produced a tornado with winds reaching 120mph. We lost power as these storms tossed trees around as if they were match sticks. With no power, my Samsung Focus became my only means of communication. While I can't say that one application was more important than the next, my Windows Phone helped me stay in touch with family, check on the severe weather, and make it around the house when night fell.
Continued after the break
Disasters
In any disaster situation, communications is an essential that will help you through things. From hurricanes to tornadoes to blizzards to a traffic accident communications can bring help to you, direct help to where it's needed, let you know that friends and family are alright, and warn you of potential threats that may be headed your way.
Granted, in some situations the damage can be so wide spread that cell towers are destroyed. In my area, there were towers that went down and reception was spotty at best. In these situations, you Windows Phone will likely do you no good to communicate with but it can still come in handy with the apps on your phone.
Here are a few areas in which my Windows Phone helped me and might help you should you in times of emergency.
Weather Apps
The selection of weather related apps is rather abundant at the Marketplace. Some cover just the basics such as Weather4me, while others get into more detail or solely focus on weather radar. For days the local weathermen had been cautioning everyone that the day would start with intense storms that would continue to form throughout the day. Even though the morning storms had passed, we knew more was heading our way.
Without power, our sources of weather information was limited. Analog television is a thing of the past and I came to find that portable, digital ready televisions are not very reliable. Reception can be choppy and in an emergency, it can be frustrating to loose the signal just as the weatherman is about to update you on the path of a tornado.
Applications such as Weatherbug, The Weather Channel, and RadNow are good apps to have when you need to stay in touch with weather conditions. Both Weatherbug and The Weather Channel apps have severe weather alerts that can come in handy.
Additionally, you have online resources such as Accuweather.com and Intellicast.com that you can access from Windows Explorer. Local news channels may also have weather sites to keep you informed. In Alabama, Alabamawx.com is a blog site, run by a local news station's weather team, that offers continuous updates during severe weather events. I was able to use all of these to keep informed on the weather situation as the day progressed.
Communications
The tornado outbreak impacted basically the upper two thirds of Alabama. Personally, I had relatives in Tuscaloosa and Cullman (two areas severely impacted by tornadoes) that I needed to get in touch with. We also had friends and relatives from out of State who were concerned about our welfare. Where earlier my Windows Phone was primarily a source for weather information, now it became a primary source for communication.
Text Messaging
While we never completely lost wireless service, at times it was challenging to get a good signal. We went through periods where damage to the system or high volume on the system made outgoing calls impossible.
Remember your Windows Phone can send out text messages to let your friends and family know you're alright. When voice reception kept breaking up, a SMS message went through without a problem. Even when a data connection was tough to sustain, that short little data burst seemed to go through just fine. Remember, you're not looking for a drawn out conversation, instead a short message to let everyone know you're still alive and confirmation that they are alive as well.
Facebook and Twitter
The Facebook and Twitter apps were great resources to use for a broader base of information. Facebook and Twitter became a way to communicate with friends from out of State. It also gives you the means to easily share photos taken from your Windows Phone camera.
Email
For many, email is a primary source of communications. It helps us keep in touch with work, friends, and family. During the recovery phase of a disaster, email can not only help you stay in touch with work, friends and family but also help with the recovery efforts.
You can use your Windows Phone camera to document any storm damage and email the photos to your insurance agent. If you need to report a hazardous situation to local authorities, emailing them a picture is an ideal way to report the situation. While a call to 911 can alert them of the situation, a picture can help emergency responders assess the situation and send the necessary resources.
Speaking of insurance claims, USAA and GEICO have Windows Phone apps that will help you with filing claims.
Utilities
We make light of novelty applications that appear on the Marketplace but when you've lost power and you need a light, those little flashlight apps really come in handy.
From the Avatar Gadgets to Mobile Torch, using your Windows Phone as a light can come in handy. They became particularly handy when the need calls more for a lantern than a spot light (i.e. lighting up small rooms such as the bathroom).
We spent five days without power and my Windows Phone came in handy for the most simplest of tasks; helping to pass the time. There was plenty of clean up in the neighborhood to deal with but at night when it was no longer safe to run a chainsaw, finding a game to play on my Windows Phone helped ease the tension and stress of the moment. It brought a little normalcy into the night.
Batteries don't last forever
Obviously, with no power to your house your Windows Phone won't last long. Windows Phone 7 has very good power management features but there are some things you can do to help extend your batteries life time.
If you have your email client set to automatically check email, turn that off or set it to a longer duration to help conserve power.
Lower the intensity of your screens brightness. If you are using the white theme background, switch it to black. Black pixels require no energy.
Use data sparingly. While watching a Netflix Movie might be entertaining, it will also suck the life out of your battery.
Shorten your screen time out period.
You'll be surprised how many will forget about the car charger. When your battery get's low, plug it up to your car charger and let it feed off the car battery. Just remember afterwards to run your car for a few minutes to replenish the car battery. If you're having to drive to the store or check on a friend, plug your phone up to the car charger.
I know in some communities "charging stations" have been established by volunteer organizations where you can take your portable electronics for a quick charge. Wireless carriers also brought portable cell towers/repeaters and charging stations into area to not only help with poor coverage but also to help recharge batteries.
Parting Thoughts
Whether it is a blizzard, tornado, hurricane, or a traffic accident your Windows Phone can come in handy and help you get through the event. I have a new appreciation for a lot of things after last week and the usefulness of my Windows Phone is one of them. I am grateful that my family and friends survived these storms and that with the capabilities of my Windows Phone as a communications tool, that "not knowing" period was shortened considerably.
I hope that anyone reading this who was effected by these storms made it through them alright. If you've gone through times of crisis and found your Windows Phone to be a useful tool, feel free to share your experiences in the comments section.
Get the Windows Central Newsletter
All the latest news, reviews, and guides for Windows and Xbox diehards.
George is the Reviews Editor at Windows Central, concentrating on Windows 10 PC and Mobile apps. He's been a supporter of the platform since the days of Windows CE and uses his current Windows 10 Mobile phone daily to keep up with life and enjoy a game during down time.