Windows Phones at Wal-mart comes with a $100 Gift Card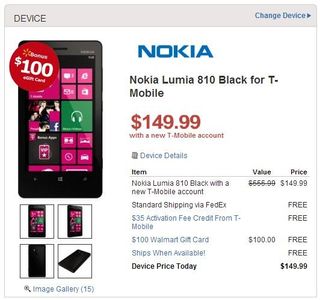 If you're out and about this Black Friday looking for Windows Phone deals and happen by your local Wal-Mart, have they got a deal for you.
Wal-Mart is offering $100 gift cards for any new and qualified upgrades on their Windows Phones (Android phones are also included). The offer is valid through December 1st and there is a maximum of five gift cards per order.
On top of the gift cards, the prices on the Windows Phones aren't too shabby. The T-Mobile Nokia Lumia 810 is running $149.99, the AT&T Nokia Lumia 920 is $69.99 and the Verizon HTC 8X is $149.99 (all prices listed with a two year contract).
You can find these deals at your local Wal-Mart or over at Walmart.com. (opens in new tab)
Thanks, blurrz, for the tip!
George is the Reviews Editor at Windows Central, concentrating on Windows 10 PC and Mobile apps. He's been a supporter of the platform since the days of Windows CE and uses his current Windows 10 Mobile phone daily to keep up with life and enjoy a game during down time.
I'm don't want to be stepped on by 20 people.

If I purchase this from walmart will I still receive a free wireless charging pad?

Honestly, I'm not sure. WalMart makes money by stomping on their employees and cheating them. Can't wait till they get stomped on soon enough.

And our Wireless carriers make money by stomping on us. Is there a difference?

No difference. All companies do this. It's not right, but remember making capital is the point of capitalism, not helping people.

You act as though they're somehow worse to work for than pretty much any other retail store, they're not. It's low level retail employment, it's the same everywhere.

Except Walmart is 10000000000 times larger than any mom n pop store and they use their billions to lobby and buy congress people who the pass certain laws that you might not support. But yea I guess we can oversimplify and say they are no different.............

Yeah, I totally hate that law Wal-Mart lobied for that says their employees must work for them and cannot go find a job elsewhere.

@erasure and LB Keep your idiotic political opinions to yourself. This a tech related site.

As a former Sam's Club employee (same owners) I can say i was treated very well. It was only a summer job, butit was a nice company to work for and the face that moost stores have stayed un-unoinized is proof that most employees are treated well.

The 8X is available at Wal-Mart, but Verizons website says it isn't shipping until 11/27? Wal-Mart has some clout!

I was amazed when I got my local paper Wed. night. I didn't see a single add promoting W8 phones. Not from wal-Mart, target, best buy, at&t, or Verizon. What'd they do blow all the marketing budget on the launch?

Agreed. Terribly disappointing!

I went to my local BestBuy on Monday... no Windows Phone 8's on display (not even WP7)... They only had Androids and a special area for the iPhone. No Surface tablet either, but they did have some 3rd party W8 tablets and PCs. I then went to the nearest AT&T-affiliated store... they had no Windows Phone either, not even a demo. The guy there said his store didn't order any because of the lack of interest on the 900... but he did say to walk a few blocks down to a true AT&T store. I went there and they had the Black and White 920's on display as well as the blue 8X. A guy came in talking loudly, asking an employee for "the Android phone" and was verbally surprised that there was more than one Android device. He either was an idiot or a troll in the wild. If the former, he probably never heard of a Windows phone and shouldn't be buying a smartphone anyway.

Do you have to update your data plan if you purchase through WalMart?

I believe so, yeah. I ordered a cyan last night from them and I had to upgrade from my older $15 200MB plan to the $20 300MB plan, so there goes that $100 over the course of two years... but I'll probably use that extra 100MB per month. Perhaps you can call to keep your old plan after you order it, but not sure. AT&T wants people off their older plans.

Just checked and the price is $69 plus $100 GC via online

No on tv commercials. Also people in line all day are the who have bad credit. All they do is use products and return them. Mostlw you see are blacks and Mexicans. Not being racist. Just look at the line or people shopping last night ot any black friday

I'm pretty sure you are being racist, because you had to put race in your comment. You also have no factual data because whites are still the predominate race in America. Also it could be just where you live that there's a huge boom blacks and Latinos. Nonetheless your observation was rude, racist, and retarded. Go troll elsewhere you F#£¥yard!

Why judge all these people when you don't even know them. Your comment should be deleted.

FU you racist idiot! That comment shouldn't have left your mouth......Erase this bs Daniel....Lol!

To note, the 8x for t-mobile was $148 on launch day and now $249 with the $100 gift card, so it appears they increased the prices to offset the gift card.

Of course. After I bought an 822 yesterday from them. I emailed them, hopefully I can qualify for the gift card still.

Just ordered a white 822..phone was free plus got the $100 gift card. The rep I talked to said it was in stock and would ship today.
We will see...

The WalMart I stopped at didn't have this deal. They searched online (as did I) and couldn't find it. When we searched for it on WalMart.com

@JoonieLasVegas Wireless.walmart.com

I got 2 Nokia 822's on Black Friday around 12:30 AM. Recieved an email 12 hours later stating they have been shipped. Pretty fast turn around time. I had to pay $30 x 2 for the Verizon upgrade charge. I expect to recieve 2 $100 walmart gift certificates. I switch over from BB's after 4 years of use.

Were the phones you ordered black? My expected ship date for the white 822 I ordered changed from today (black Friday) to tomorrow. Starting to get pretty peeved with companies stating they have them in stock when they apparently don't.
I'm starting to think that any color except black won't actually be available from anyone but Verizon directly until the 28th or so...



One was Black the other was White.
Windows Central Newsletter
Get the best of Windows Central in in your inbox, every day!
Thank you for signing up to Windows Central. You will receive a verification email shortly.
There was a problem. Please refresh the page and try again.