Windows Reading List comes to Windows Phone 8.1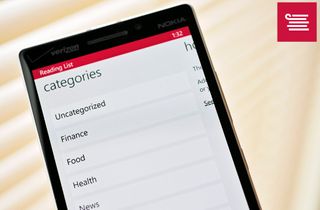 One of the increasingly common benefits of the Windows ecosystem is shared apps. And one of those is taken care of today, which is Reading List. If you use Windows 8.1 you probably are already familiar with this bookmarking app. It allows you to save articles for reading later, similar to the service Pocket. It's super convenient lest one issue: no syncing ability with Windows Phone.
Today, that has changed. Windows Reading List is now available for those running the Windows Phone 8.1 Preview for Developers.
Heading to the Store, you can now download the app (link below) and if you're familiar with Reading List already, you should be quite comfortable using this app. The listed features of Windows Reading List includes:
Add bookmarks from any app or Internet Explorer to keep track of things you want to get back to later
See your list in the Windows Reading List app that is available on all Windows 8.1 devices whether you're on your phone or PC
Easily remove items once you're done with them
Search through the items in your reading list to find specific things
Each item is shown in a rich display, showing the title, images, and what app it came from
Categorize items. You can group together ideas about the next place you want to vacation, articles about finance, or things you want to read for work
Filter items easily by category
Share a set of items from your list with others
Removed an item by mistake? Use the recently deleted section to find it
The app sounds like a great companion to the Modern version that you're already probably using. We just installed the app ourselves, although we're not quite yet seeing syncing between our Modern app and the Phone version, but we'll play around with it.
For now, head to the Store to grab it by following this link. Windows Phone 8.1 only (due to universal Microsoft Account sign in)
Source: Windows Phone Blog
Windows Central Newsletter
Get the best of Windows Central in your inbox, every day!
Daniel Rubino is the Editor-in-chief of Windows Central, head reviewer, podcast co-host, and analyst. He has been covering Microsoft since 2007 when this site was called WMExperts (and later Windows Phone Central). His interests include Windows, laptops, next-gen computing, and for some reason, watches. Before all this tech stuff, he worked on a Ph.D. in linguistics, watched people sleep (for medical purposes!), and ran the projectors at movie theaters because it was fun.
Yeah was wondering why this wasn't coming the other day. Very good tool. Developers should please start integrating it in their apps for bookmarking.

Ya,must say ,good work Ms ,good

This. Was holding out on adopting a Save fo Later service cuz I'm tired of creating new accounts, this could save me from adopting Pocket.

I sure hope that this app syncs better than the Food and Beverage app which they still havent fixed. So I guess its still half baked!!!!

still not syncing for me.. I can't think of a reason to not include a "sync now" function :(

So, something like Pocket?

You mean that service I compare it to in the opening paragraph? Yes, lol

Oops! I jumped straight to the list of functions straightaway. Sorry for overlooking that part and asking a stupid question :(

I was gonna ask the same thing ... I missed it too lol

Sort of like Pocket, since it's not only for websites, apps can also use it. Like a news app could share to it, and clicking on the link again would open the app at the right page. So any apps could use it for anything, you could keep a list of movies from Flixter if Flixter would allow it. It's a pretty awesome app actually!! Too bad it doesn't sync yet with the Win8 version.

Movie Moments also.
Go WP!! MS now give me Taptiles and we are done. :P

Yes MS also released Movie Moments today. Looks cool.

Does that mean I have to start reading even more now?

Yeah "my doctor said; don't read too much". So here is one way of going around it..

No need to! You can do like me and save a lot of stuff for later but never think about opening the app to check them...

hey Daniel, would you recommend this to someone not running w8.1 on their desktops?

If you don't need to share stuff between you phone and PC this app is awesome. And even if you use another service to share website this app is still really useful since you can also share stuff from apps, not only websites. For example you can share something from a news app, and when you want to open it again it'll open it at the right place in the news app. So any app could take advantage of this, even on the WPCentral app we could use it. It's pretty awesome!

Is there a way of adding URLs from desktop IE to Reading List?

I want to know that too. Maybe some bookmarked link like pocket allows. I use pocket because it works with every browser.

You can send stuff to pocket from IE 11 ? Safari have an Add-On but never worked for me.

They offer a bookmarklet which you can add to your favourites - just click it and it adds the current page. I'm after something similar for Reading List.

Cool I'll check it out ... Thanks :)

Yes. Even on mobile. Just sign in once to pocket, and then put a "add to pocket" bookmark in your favorites. Click on it to save a page. I do that often on my phone too.

Oh okay I'll give it a shot ... I usually share an email & send it to Add@Pocket.com (must send it from the same email you use for pocket) & it gets added automatically. Thanks :)

Not yet but you can always click on "I can too" to vote for this crazy idea: https://connect.microsoft.com/IE/feedback/details/806762/ootb-sharing-options-in-internet-explorer

I just right-click the tab and select "Open in Immersive Browser", then share to reading list from there.

I right-click on the tab and select "Open in Immersive Browser", then share to reading list from there.

All I'm hearing is Etta James in my head right now....

I wonder if Firefox v29 will share to Reading List. That would make this my must have app on phone

I completely doubt it. I'm a Firefox user too, but for sharing you'll have to use IE for metro.

Anyone get the actual sync function to work?

Nope. It appears to be broken, even though the app FAQ says otherwise. I posted a comment over on the Windows Blog site, where the announcement was made.

[UPDATE] And after opening the app for a 4th time, my bookmarks just appeared. VERY strange.

Works both ways but takes a few minutes to sync between my Phone and Tablet.

Waiting for official wp8.1 OTA

The first time you install Reading List on your Windows Phone, it can take a little while before all the items you've already added from other devices show up in your phone app. Even if bookmarks you've already shared to Reading List haven't shown up yet, you can still add new ones to your Reading List from your phone or from any other device. One way to get your items to sync to your phone sooner is to share something to your list from your PC after you've installed the phone app.

Yet this doesn't work. I've left the app open until my screen times out (which is 5 minutes). It's on WiFi, and not using cellular. Syncing is broken. [UPDATE] And after opening the app for a 4th time, my bookmarks just appeared. VERY strange.

I guess. I simply did copy/paste from Microsoft's FAQ. I thought it would be helpful. I haven't tried it out myself yet.

Sounds potentially useful, downloading to try.

I'm not seeing my saved list either. And how come it automatically deletes old items (>30, 60 days) and doesn't give me an option to disable that?

You have that wrong. It's not "Remove items after x days.". It's "Perminently remove DELETED items after x days."

Got it! Thanks. Also, after I added a new item on the phone, it synched with the desktop list!

After you delete an item it still keeps it for 30 days or so. You misunderstood.

Umm can we please have a nook app

Add something on the PC version and it will sync everything to the Windows Phone.

Is the Reading List content available offline in Windows Phone 8.1? If not, then I'll stick to using Pocket clients Owl Reader on WP8 and Latermark on W8.1.

I use that too. Anyone knows of any better pocket client which gives a useable trial for free, other than owl reader ?

It says there is some restrictions on number of requests to server in trial. Any idea what that is ? Poki is highly rated, but haven't tried it yet. I cant buy right now as i dont have a credit card.

Yep, I can tell you, as it's my app ;-) You can make 50 requests in the trial (I will push an update this week which increases it to 100), which are for example syncing your list, marking an item as read, ... but not reading and downloading an article!

Oh thanks ! :) wpc people seem to love your app so it must be great ! ;)

It's more than the universal Microsoft Account log in that requires it to be WP8.1. Looks like this app is written in the new WP8.1 XAML on the WinRT framework. You can tell by the new transition animation between pages.

So how is it different / better than Pocket ?

Good question ... Especially since Pocket is a Cross platform service.

Pocket does not have a WP app, for starters and this allows me to see my saved sites from all my Windows devices easily.

You mean official one ?
How does it matter when there are others that are actually really good ?
And as was said above - Pocket is multiplatform, accessible from any device.

Fantastic news, but there has to be some way to use it with desktop browsers before I can transition away from other services like Pocket. Even then, lack of integration with other services (e.g. Feedly) might be a deal-breaker.

I'd consider using Reading List if it had ability to share articles with people who don't use Windows 8 or Windows Phone. None of my friends have either, so something that says open in Windows app is useless for them.

It's good but I don't see it syncing to Windows 8 app.

Yeah. But I got it synched after adding a new item on the phone.

Give it some time. It'll sync up.

WPcentral articles, do they share??

Sticking with pocket with poki for windows phone and latermark for RT until syncing and web access are added.

Yea not seeing the linking for Win8.1 and WP8.1

I don't understand, how is this any better than just bookmarking the home page the article is on and visiting that when you want and read it using reading mode? For example, why should I bookmark an article on wpcentral when I can bookmark the homepage and see new(er) articles when I visit or search for the one I wanted to read? or (better yet) bookmark both. I've never fully understood the point of the reading list, I like the reformatting it does to pages/articles but can't seem to find a decent use for it. Hopefully they'll add an offline mode soon that will allow saving some data.

I don't see my stuff sync over

What the heck is so hard for MS to understand that you make your own stuff sync across devices. Make food and drink sync completely and make the reading list sync articles. Edit: I just had to add an article and it synced everything!!!! Aweseome!

Can you implant this to WP Central?

I had no idea that it wasn't already in WP8 (I'm using 7.8, hope to upgrade this weekend though). Anyway, this will be perfect for me! I've bookmarked tons of articles with reading list, especially WPCentral's articles!

nextgen reader should have an option to save articles to the reading list

Weave has an option to sync articles to OneNote. I use that ALL the time!

I'm seeing everything I've shared from my PC, so it's working as it should. Well done Microsoft.

OMG this is incredible, finally the ability to add to a read it later service within the 'share' menu across windows 8 and windows phone! Been waiting for this forever!

Not quite. It does not save the full page only a link. No better than saving to favorites, unless I am missing something.
There should be some print to ability (xps) as an example. MS PDF reader can read it.

Oh heck yes! I have been waiting for this, use it all the time on my laptop and tablet!

Yes! I was thinking about this yesterday and wondering when it was coming. Reading List has become a lot more useful now.

Yesssssssssssssss xxxxxxxxxx microsoft

This app should be called OneList or OneReading. Makes more sense to me

Yeah finally. The long awaited app :)

Syncing should be there with the app.

WPCentral app should support this

I'm not sure if there is a public API for developers to hook into like Pocket. Will look into it, but I'm not aware, meaning so far this is a 'closed' system.

I am very interested in whether Microsoft exposes an API for Reading List. Please let us know what you find.

It does show up as a share target. So maybe the WPCentral app could share to it (might have to pretend to be a browser though, who knows...).

WPCentral won't need an API for ReadingList. You just need to implement the share contract (as a "sharer"), but Jay is aware of it afaik ;-)

Woohoo finally :) Don't see my bookmarks yet but I can share pages to the app, hopefully it will sync soon.

I still dont get it, i save a web page to reading list but when I open it on RL it loads all over again on IE, isn't it supposed to be offline and in app (reader friendly) like pocket?

So pleased to see this app appears for phones. I really like it on my Surface and this implementation works really well. Syncing seems almost instant too, which is more than can be said for the recent Bing apps. Seems like we're getting a bit of momentum back!

About time. I may use this now.

Wow I've been needing something like this for quite sometime and didn't know it was sitting right in front my face on my Surface.. Never opened the app,now to know I can view on my Surface and pick up on my 1520 .. Awesomeness to the 1520th power!

I've tried everything and can't get this to sync. It's been hours... Since my re-install and still nothing. Hopefully they figure this out soon and update it, because this is not just slow syncing (and syncing shouldn't be slow anyway), its simply not syncing at all.

Sync! The most importaant thing in an app like this. Also, need to have a webbased portal. Build it toghether with outlook/onedrive etc than it will be great. Until then.....pocket.

Slowly but surely, this is becoming the ecosystem to beat. I have a Windows Phone, a Windows tablet, a Windows desktop, and my Xbox360 (to be eventually replaced by an Xbox One). It's not there yet, but Microsoft's vision is becoming a reality that cannot be ignored.

Finally! Ugh I've been waiting so long for this!

For ME, its not useful until it syncs.

Looks like you need to open Reading List on your Windows 8 computer after installing it on your phone, then you'll see it populate on your phone after a bit. This will work as a Pouch replacement for me...

Is anyone having trouble downloading and installing this? I've been trying to install this since last night and it doesn't work.

Isn't that just another Instapaper?

I need 8.1...but the official release with the firmware! I'm not voiding my warranty, lol!

Great app! Looks awesome on the 1520!!!

Btw, is there a way to share an article from WPCentral app straight to the reading list?? Just wondering...