Windows Server is now a part of the Windows Insider program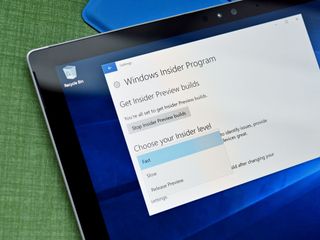 (Image credit: Windows Central)
The Windows Insider program is expanding its confines once again, this time moving to include Windows Server. Microsoft announced on its TechNet blog (opens in new tab) (via OnMSFT) that frequent Windows Server build will become available to download for Windows Insiders willing to test them starting this summer.
From Microsoft:
This is the second big expansion for the Insider Program in recent months. In April, Microsoft first opened up its new Windows Insider Program for Business as a dedicated program to let IT administrators provide feedback without it getting lost in the noise of the entire Insider community.
Windows Central Newsletter
Get the best of Windows Central in in your inbox, every day!
Dan Thorp-Lancaster is the former Editor-in-Chief of Windows Central. He began working with Windows Central, Android Central, and iMore as a news writer in 2014 and is obsessed with tech of all sorts. You can follow Dan on Twitter @DthorpL and Instagram @heyitsdtl.
Hmmm, not sure I am interested. At the end of the day Windows Server comes with annually recurring license fees firmly attached. Those fees are not exactly cheap for a Home / Smart Home / SOHO scenario. Just yesterday I installed FreeNAS with ZFS on an Intel PC. FreeNAS does everything (and more) for me that I currently can think of.
FreeNAS is a profesional and rock solid server system
and it comes for free - no licenses fees whatsoever. I'd rather invest my money in hardware
(ECC memory, more hard disk space if needed) than in ephemeral license fees. I also can change / grow my installation software and hardware wise as I see fit
without worrying about complex licensing conditions
containing various slings and arrows.
Is what I do or want to do covered under my current license plan? Or not? FreeNAS is free as in free.
It's free of financial licensing burdens, so I can experiment and do what I please. Microsoft Server is probably more for the enterprise crowd
who already have a huge installed base of Microsoft Servers. I might give Microsoft Server a try via the Insider program,
but I don't expect that I would (be allowed) to use in in a (humble) production environment. . .

Yeah, Windows Server is typically used by the enterprise crowd. FreeNAS, not so much. So what do you do with FreeNAS, aside from store files? Does it run your Exchange environment? Active Directory domain? Hosts your website? Issue your client certificates? Allow external users to remote into your network? Manage virtual remote desktops? Because that's just a small part of what Windows Server does.

There are bigger installions as well, in case of Netflix wirh FreeBSD. FreeNAS is more or less a NAS-oriented 'user-interface' for FreeBSD. https://books.google.de/books?id=65oZBAAAQBAJ&pg=PA6&lpg=PA6&dq=Netflix+... As I have no intention to pay recurring license fees for a SOHO server installation,
FreeNAS (or Linux) is the way to go for me. I'll have a look at Windows Server Insider version. However,
I doubt that Microsoft would allow me to productively use the Insider Windows Server version for good. .

Sure, Windows Server is a great product. The biggest disadvantage for me / for my use case is price respectively recurring license fees.
FreeNAS covers all my needs (and more), and it is free. So I have no incentive of using a Windows Server
which is fraught with recurring license costs. That's about it, really. .

Just in case you are interested: https://en.wikipedia.org/wiki/List_of_products_based_on_FreeBSD More on FreeNAS is to be found here: http://www.freenas.org/ http://doc.freenas.org/9.10/

I've looked into FreeNAS before, and its interface was confusing for me. Perhaps if I put more time into learning it, I'd see more value in using it. My concern with your original post was you were talking specifically about FreeNAS, not FreeBSD. There are plenty of options outside of Windows Server, to run a server. I wouldn't consider FreeNAS a server that will solve everything, but agree that FreeBSD is a good option. After all, MacOS is based on BSD, not Linux. :) And Linux is a great option as well, with plenty of free distros out there. There are also plenty of pay-to-use options. So, it depends on what you're looking for. For most IT groups that deal with Windows computers, doing Windows Server is just a natural and best fit to manage them. Yes, the cost can hurt. I won't deny that. Although there are a few different options depending on what you want to achieve. ;)

What's the security like on that FreeNAS? Can you grant/restrict access to individual files and folders for specific users or groups?

It's basically a Unix system (FreeBSD), and thus you have all the fine-grained options Unix/Linux offers.

http://doc.freenas.org/9.10/ You can read it up in the official doc, see link above. .

There are no required recurring fees with Windows Server. You can buy Windows Server (not cheap), but once you've bought it, it's yours and supported until it goes EOL.

Yes, you are right. It is just that I like to always run the latest version of a given software.
Which means that I need to upgrade the product version and of course pay for it. Old software versions are prone to security issues, even if still officially supported.
You mostly find out after the fact.
Linux / BSD (FreeNAS) come for free and they do the job. Actually, Linux/Unix outnumbers Microsoft servers by I-don't-know-how-much
in terms of market share / servers deployed.
Linux is just absolutely massive in servers.
For example, Netflix uses FreeBSD servers for their streaming.
Or check with Google, Facebook, Amazon and the like what server OS they are using. Microsoft lost me the first time on servers when they killed the Home Server.
And the second time when they cut down my 10 TB of OneDrive.
I had to look for an alternative, and, alas, I found one.
In terms of data storage I am not at the merit of Microsoft anymore. Microsoft has their business strategy and I also have my own viable business strategy. Once you have a Linux server up and running and you know what you are doing,
you likely won't look at Microsoft's server offerings ever.
No need, as mentioned before.
I really do like W10, I (still) use a Lumia 950,
but Windows Servers are of no necessety as a matter of fact. When you started out with Windows Server, you may want to stay with it.
For practical reasons. If you need to set up a new server (or want to avoid to pay for a license)
you'll be fine with a Linux server. Linux servers, containers and Docker et al are all the rage today.
Canonical (who makes the Ubuntu distribution of Linux)
will be going public with a Linux server (including LXD container etc. and IoT) business model. I'll have a play with Windows Server Insider Preview when it becomes available
but I won't pay a Penny for a Microsoft server ever.
Because there simply exists no reason to do so. This is also the reason why Microsoft suddenly loves Linux.
They simply have to, otherwise they would be left in the dust. There is also a good chance that Microsoft invests in / buys Canonical. .

Finally! Not gonna suggest running this in production, but I can see how this will help! Besides, I'm tired of the "Creators Update is coming soon" message my Server 2016 keeps showing me...

I have been waiting for this. I have quite a list of feedback for Server but up to now, nowhere useful to send them.

I hope they bring back the desktop experience feature in Server 2016. I miss small things like the snipping tool

I have been running UWP apps and the store and the apps run great the problem with the store its that it won't install anything but can update apps...i use it for gaming and it perform better than Windows 10 in my opinion

So it's it time to update my home server 2011?

You might be able to "upgrade" your Windows Home Server with an Insider Preview of the real beast.
Just wonder how long you are able to use it.
At the end if the day, Microsoft wants and needs to make money on the product. http://download.microsoft.com/download/7/2/9/7290EA05-DC56-4BED-9400-138... I tried Windows Home Server (now EOL), than contemplated the "real" Windows Server. After a lot of research I first ended up with Ubuntu (Server) and just recently with FreeNAS.
Microsoft cutting off 10 Terrabytes of my OneDrive capacity also helped to further that decision. Microsoft giveth, Microsoft taketh away.
Not anymore in my humble case. . .
Windows Central Newsletter
Thank you for signing up to Windows Central. You will receive a verification email shortly.
There was a problem. Please refresh the page and try again.