The Windows Store appears to be down [Update: We're back up!]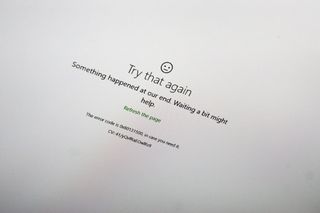 The Windows Store appears to be down. We've received reports from readers and have confirmed the issue ourselves. You're not alone, folks. Unfortunately, we've not yet obtained word from Microsoft as to why the app store is currently offline, which could be a temporary issue or due to maintenance.
We'll be sure to keep you all updated as to when the store comes back online.
Update: We're now able to access the Store on a variety of devices and platforms. Crisis is now over!
Thanks to everyone who tipped us!
Get the Windows Central Newsletter
All the latest news, reviews, and guides for Windows and Xbox diehards.
Rich Edmonds was formerly a Senior Editor of PC hardware at Windows Central, covering everything related to PC components and NAS. He's been involved in technology for more than a decade and knows a thing or two about the magic inside a PC chassis. You can follow him on Twitter at @RichEdmonds.
Hahahhaha, I was looking into this when the post came up, you guys are fast

Nah to be fair, It had been down for couple hours now, and it is back up now, so they are kinda slow.

Not up for me. It appears to come intermittenly, though, as I was on it about an hour ago.

Yay, it's Monday and the store its down.

Me too haha it's the same for the pc, it's offline aswell

It's off for me on mobile right now.

Odd, my Lumia 650 and HP Pavilion 15, both running windows 10 are fine

On my 640 running latest build of redstone sigh Windows for everyone

The guy in Sydney always has something different going on

It's up for me ...on mobile fast ring.

It's still not working for me!

Mobile or pc? Windows for everyone

Everone and on every platform

Wrong, I just checked my brother's Lumia 540 dual sim on w10m and fine

OMG. Should I uninstall app Store and reinstall that one? :-O

How would you reinstall it...

I was going to ask that same question (Windows for everyone)

Store cannot be uninstalled. Forget about reinstalling. ~Posted from Windows Central for W10M

Yeah but that guy can lol (Windows for everyone)

Not working here on mobile as well

It's down for me too on my Lumia 640 XL

PC and Mobile still down here..

Down on mobile 640 in India

Which planet? ~Posted from Windows Central for W10M

For me too.....On my PC and Phone.

Down down down dow dow da down

Same here...Down for sometime now...

Thanks for update I have had this all morning cheers lads

Works fine.
Lumia 640 XL dual sim
10.0.14361.000
13:40 time
Region USA
I download an app and update:
Outlook
Bind Mi Band
Maps
Windows Camera

I do not want to know all your apps

Must be overloaded with Devs adding UWPs?

Yep, that must be it. LOL

True, I was thinking the same as well Posted from HP Elite X3

Down on my 650 and 640 XL.

Rumours are that finally Google agreed to port all it's android apps to windows store. So when store comes alive you see all new android apps .....

Really?? U must be kidding right??

It's down in The Netherlands too. Was looking for some music in Groove.. found Groove down. There trying to get it Linked(in)

Sorry, I tripped over the fat cable.

On a patch Tuesday, someone patched these servers.

Is it just me or MS is really fond of the term "Something"?

Yeah, have you seen the term "Aw snap, something went wrong

Store works for me in Texas!

Still down for both on PC and Mobile: Try that again. Page could not be loaded. Please try again later. The error code is 0x8013153B, in case you need it.

Just got to the office and tried it and it is working now for me. It was down earlier this morning.

Working again on my L535 (EU), on PC still not able to access the store.

I hope they have a good reason for this, such as backend modifications that require them to shut down the whole thing. Other than this, it's very amateurish on their part to say the least. It's not that difficult to dynamically switch to back-up servers while doing maintenance ffs, most companies do it! Been with MS ever since Windows 8.1, but things like these really piss me off.

Calm down, its not that people spend time in the windows store 24/7. These things happen, and not only with MS. And being "since 8.1" is not a long time.

Heh, I've been with MS since Win 3.1... man, that was a long time ago.

Down down down... My love,my Lumia 640...from state of desert rajasthan, India..;-)

Still Cannot access. Philippines

Down for me as well on Lumia 950 XL on Redstone

Down for me as well,
L730 redstone build.....

My store is working fine, but I couldn't download the official Instagram app. It says my mobile doesn't have a Direct X Version 9 and so i can't download the app! Using Lumia 830 running build 14361

I can't install on my 950XL because I need a device with more features. For more details I can view the non-existent Additional information -> Hardware requirements.

Still not able to access, stoke on Trent, UK

Still offline for my Lumia 950 xl on fast ring build

Still Offline South Africa

I am not able to Download anything in store !!! How to fix this problem ? I am waiting more than 1 day for download apps..,,,!!!????

I'd be extra forgivable if Microsoft would finally add normal descriptions and especially screenshots again in the Store version for Windows Insiders

Known bugs. Screenshots are fixed in the latest Store appxbundle leak. Sent from Bikini Bottom via my ShellPhone 920

No need, the Store update is now live. Sent from Bikini Bottom via my ShellPhone 950 XL

Still not working
Lumia 730 Redstone build.

Also here (Lumia 1520 - Win 10 Mobile)

Been down for hours. Too busy with games?

Thank you. I just saw my store is down , did couple of soft resets and the visited WindowsCentral.

was searching fo da reason...i got it now...pretty fast!

Still down for hours in Pakistan on my Lumia 535

Still down for South Africa

I wish it comes back with all the lost features lately like app description.

Same issue here on a Lenovo laptop running 10586.318. I thought it was a bug with my laptop at first, but now I see it's down for others too, which made me relieved that I don't have to refresh the computer :P

Now my Store opens but I can't download any app or see at least info about an app.

damn, just in the morning my Instagram app stopped, and then I tried reinstalling, but in the store it appeared as if my phone doesn't meet the hardware recommendations. since I was facing many other issues, I thought restting my phone would help. now I see Cortana not working properly, and the store is not opening, and I'm so ****** up!

i'm regretting my decision of restoring my phone..and i'm helpless as the store is down..

it's working fine on my pc though

Now working fine in Pakistan. Using Microsoft Lumia 535 Windows 10 Mobile

New hardware incoming? J/K, wrong company!

I just received updates from the STORE, it must be fixed now. 8:26 AM Central Time US.

Yep, up and runnig again in The Netherlands

+1 running again in Portugal

Still broken. Lots of apps & games missing.

Instagram cannot be downloaded. tried from my 730, and mom's 540

It's now working, but the Store's Home page is reverted to the old look.

It's back and it tells you that the app needs to be installed on internal storage. Thank god they fixed this issue.

I was in the store when it went down. It got me out really quick

I just did a hard reset on my 830 and couldn't get into the store... and I thought WTH... Thankfully it's back up again... my 830 camera is still KOed though.. time to do WRT back to 8.1

My store doesn't even have the new update anymore, it went back tho the old app for some reason and I don't get updated anymore.

I cannot download any apps even before it went down

I can't download the settings apps..like equalisers, gestures, etc. those apps are there on the "to be updated" list, but they don't get installed.

It looks like their servers force upgraded to Windows 10.