Windows Store highlights the best PC games to play with a controller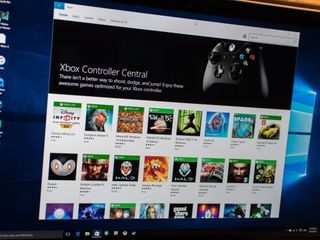 While many gamers enjoy playing on their PCs, not everyone who does likes playing with a mouse and keyboard, and now the Windows Store is lending a hand to those who prefer a controller. The Store is currently highlighting games that work well with Microsoft's own Xbox One controller.
Scroll down on the Windows Store's main page, and you'll find the new section. It features a wide variety of games from multiple genres. There are sandbox games like Disney Infinity and Minecraft. You'll find shooters like Modern Combat 5, or side-scrolling action games like Reaper. Microsoft's own games, Halo: Spartan Strike and Halo: Spartan Assault also make the list.
What games have you found that work great with a controller on Windows. Let us know in the comments below.
Thanks to Julien for the tip!
Windows Central Newsletter
Get the best of Windows Central in in your inbox, every day!
Now to give controller support to the 950 and 950 XL

Nice...been always on a lookout for such a list.

I've always felt like an oddball because I love PC games and always hated playing with a mouse and keyboard.

I'm the same way. I'm such a filthy casual.

I used to be that way now I hate using a controller. Posted via the Windows Central App for Android

Since I've never tried this before, what peripherals are required to make this work? Currently, I just have a wireless XB360 controller and a laptop with USB 2.0, 3.0 and HDMI ports.

A wired Xbox 360 Controller OR an Xbox One controller with a micro-USB cable OR a wireless adaptor for your existing Xbox 360 controller

Xbox One + Wireless Adapter for Windows 10 works great!

You can get a wireless adapter for your computer via eBay for like $15 last I bought one. And it'll work with 4 360 controllers, headsets, etc. Lots of potential

I got a 360 adapter on eBay for like 8 bucks. It was white so I sharpied it black lol. But now it all matches :)

I cannot install anything from tge windows store since November update :(

I couldn't install anything either because I had apps set to install to SD Card. Changed back to install on PC. Now working again..

Where is Windows 10 mobile!!! It's said to be released 2 days ago!!! I'm tired of waiting...

If you really want it now then get the insider app and download it

It will be ota soon. As declared by orange poland. So other carrier and country will be releasing it soon. I guess

When did Microsoft they were releasing it on the third?

I think he mean enterprise

Has anyone played disney infinity in the windows store? It's a free game, but does it require you buy all those toys to actually play?

It's free. Download and see. ;-)

You're trying to make me less lazy?! How dare you!
But yeah, I will eventually if I don't find out. Just have 2 finals and 2 papers to finish before I feel confident in potentially starting a new game haba

A better option will be to put a small controller icon next to the picture app. That way the person will know that the game support that feature. Posted via the Windows Central App for Android

Yeah, I hope they add that soon. If we could also search for games that have controller support it'd be nice. It's good that there is now a collection, but it only shows a small portion of games that can be played with a controller. Adding that icon will also encourage developers to make their games compatible with controllers.

Why doesn't my ps2 controller work?
It works perfectly for all the others non store games (meaning it is not a driver problem), but not store game? Ps win 10

Most likely, the ps2 controller only has older dinput drivers and not the newer xinput drivers, which is what I expect most store games support. Just a guess based on knowledge of the tech, but not actually trying it.

That is insightful, thank you

Please add more action games. Posted via the Windows Central App for Android

Leo's Fortune and Badlands are two right off the top of my head that work well with my Xbox 360 controller on the PC, that weren't mentioned in the article.

Oh and Riptide GP 2, Asphalt 8, GTA San Andreas, and Crimsonland all also work... as far as Windows Store games with Xbox controller support.

No xbox controller support for all lumia's phone like in android, via otg?
Windows Central Newsletter
Thank you for signing up to Windows Central. You will receive a verification email shortly.
There was a problem. Please refresh the page and try again.