Windows Store updated for Windows 10 and Windows 10 Mobile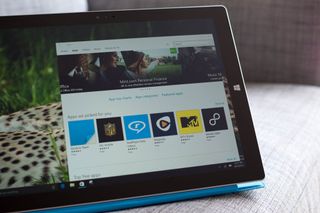 Windows 10 and Windows 10 Mobile users can now download a new version of the Windows Store that bumps up the version number from 8.25.1 to version 9.9.2.
At the moment, the new version doesn't appear to have any user interface changes or new features, but app performance does appear to be better with this update. If you notice something in the Windows Store that's new or changed compared to the previous version, please let us know in the comments!
Thanks to Aakash Sharma for the tip!
Beware of the Microsoft.Net Native app update. I think it breaks action center.

Microsoft Net.Native is the compiler for Windows Runtime apps or Windows 10 apps to be precise. They dont push this out to break something :)

It wouldn't break action center, it'd break how certain apps communicate with the action center.

I updated it this morning and now my Action Center doesn't work due to a fault in ShellExperienceHost.exe inside module Windows.UI.Xaml.dll. It's the only change point that I can think of as it worked earlier in the morning.

Let's hope it fixes the launch issues

Still can't launch Netflix.

What does launching an app have to do with the windows store update? Netflix works fine here.

Seriously ... Such a big jump in version no. And STILL NO change log!?.. :/

I think the build numbers are actually a reflection of the date they were compiled.

i agree.
good observation. :)

Hmm, what happens to the number when January rolls around?

Does it fix the weird splash screen on the bottom right on mobile?

Nope... at least not on my phone...

You mean "better performance."

I still miss using the store on my computer to send apps to my phone.

+100000000000000000000000000000000000000

How should I update the store in my windows mobile 10...

Go to store, downloads and updates, check for updates.. The update will show up.. Posted via the Windows Central App for Android

Ye.. Posted via the Windows Central App for Android

It does seem faster and also they fixed the store icon with the accent color which initially worked last time but then stopped.

Has the crossed update download icon for new updates been fixed in Windows 10 desktop or it still shows that cross sign and then we have to use "update all"

I​ think the store is the weakest part of windows 10, much to wish for...

At least they're updating it.

Microsoft edge is for me. Slow and freezing like it's the dead of winter.

For me edge is actually faster than chrome, but I still use chrome

Yes waiting for November when extensions come out. Can't wait to replace RAM hungry Chrome with Edge

Add last update of the app :3 Simple things is not available in the store :v

Even though I'm on automatic updates, I would still love to see a history of what's updated when.

This is a plus, I hate That to.

To add to that it will be good to have list of previous releases and changelogs

It's still stoopid. Nothing more annoying than to drill down into an app for more info... then hit the "back" button only to find yourself at the top of the page. So, you scroll back down through the page. The damn thing needs to remeber where it left off! Like a browzer.

EDIT: On closer inspection, this will apply for apps but not albums. Choosing an album from the search results and then press back will still take you to the homepage. I've heard similar complaints about searching for an app and pressing on one of the results and then pressing back will bring you back to the all app page. Looks like they have fixed this.

Yup, try it out for yourself. At least it's behaving like that on my machine.

It still doesn't remember on my phone after the store update.

Is that so, it's doing fine on my computer. Also I just realized that it actually remembers the place you've been to on the search page as well, for example if you search and then click on one of the games (which is usually on the second section of the search list under the app,) when you press back, the Games section will be put on top. Pretty nifty.I​

I know what you mean, it is so stupid how it doesn't remember where you left off. This pisses me off so bad.

Another annoying thing on mobile is if you search something and it gives you suggestions. You click search instead of accepting a suggestion and the suggestion box still sits there taking up the screen. You have to touch somewhere to get it to disappear.

The pseudo double click happens for me in the store, Cortana search and using Edge the majority of the time. The click is registered but the screen needs to be touched anywhere again to load the result.

YES! That's bloody annoying.

I think this update only for bug fixes and improve performance. Run quickly, response faster then previous...........

Where is this update?is for phone?,is for Windows phone??? ​

windows 10 mobile technical preview

Go check for updates in store .

WAY faster downloading now. No more delays before it starts to actually download and install.

"...app performance does appear to be better with this update." Or you can just say seems faster. Don't be embarrassed by this meme. Embrace it.

I wonder if this is the fix for the IAP crash that Microsoft said was an issue in the TP they were going to release last week.

it's much better, L830 when launching the store app.

Is updates not updating an store problem or OS problem. Only Microsoft apps update for me.

They need to add the downgrade option... Sometimes I've experienced that after app updates the app has some annoying visual glitches (probably scaling bugs due to improper testing of the app on my device) or something gets broken after an update. So to uninstall updates of an app or download specific versions of an app would be really useful and convenient. Posted via the Windows Central App

Very big jump in version number for just bug fixes. I wonder why!

opens 2x faster than before but 4x slower than wp8 version

The downloads and updates page fonts were small in previous update , now it's bigger and the downloads / updates tends to be fast in this update. Using wp10tp in my lumia 520. It's running flawless, except those edge crashes and loading issues.

Launching store icon remains in the centre after the update

Seems faster to launch, just need to re-pin tile

Im the onlyone with the photo app update loop?

i don't even get it to show the "update" button... i'm stuck at no folders version.

The store downloads itself and updates itself is it?

After updating - CPU load went to 99% and Cortana (Search) stopped working. Reboot and now I have this ugly little quick launch icon for the Store (tiny Store logo inside a box). Not noticing any difference in the Store.

Calculator (after update) it's working perfectly fine. Finally!!!

What was the issue with the calculator?

Hoped that this would fix the issue with some 'ghosts' I have. Apps that are downloading over and over again every time I press update. It didn't...

..nope.. still cant find updates.. would expect them to finally fix this bloody bug

What happened to adding links in bloody app updates? ms-windows-store:pdp?pfn=Microsoft.WindowsStore_8wekyb3d8bbwe

It's alot faster on my testing rig (L1320 wm10.512). Still the icon keeps jumping from center to right down corner.. So annoying, lol.

How do you even update windows store in Win 10?

I hope it added a back button cause it was useless trying to get back to a search.

I wish that they would add a tap/expand view on the downloads screen. So that the list of apps getting updated, when complete and tapped, expand a text box down with change log bullets.

Appear's faster....... Not on your life, this app needs over hauling to get it right. Same 'ol same 'ol.

Store is useless for PC's!!

Use it here to get my PC apps. Far from useless!

Minor UI change (Windows 10 Mobile TP): the hamburger menu is no longer visible in landscape mode, i.e. when the screen rotates...

Always been this way since the last build update.

Weird... I just updated the Store app and the hamburger menu in landscape mode was gone. I noticed immediately because I'm testing WP10 on a device with a partially broken screen (some areas don't respond to touch), so even if I don't like the hamburger menu concept, that was the only way to get access to the Downloads section. Still on the same build...


Nothing of use was added. How about change logs, versioning, make action center work with updates? So many features still missing.

I can't see any store updates :(
How to get this update? please help

when i opened the store to update, the content appeared very fast... i was suspicious... turned out that it had already updated itself, so you better check the version number on the app's settings. :3

Yep it loaded fast, but the version is still 7.6.2

Windows central app can't load pages...please update it soon

Live tiles showing now properly

is it a store issue in which some apps are constantly having updates?

It has been a week since the store app opened on my PC. Always says it is stumbled. *sighs*

still hate it. I'm downloading a 3mb apps in 1hour. just what the fuck

Payment option
Purchase history
And few more tabs redirects to MS store online. Still broken store

I believe the interface was updated slightly. At the bottom of an app description, under "Additional Information," I think the text for the publisher was a little messed up. Also your profile pic in the top right corner glows a bit when you hover, and the menu that comes up when you click it has changed a bit as will. Just some more spit and polish, I guess.
Windows Central Newsletter
Thank you for signing up to Windows Central. You will receive a verification email shortly.
There was a problem. Please refresh the page and try again.