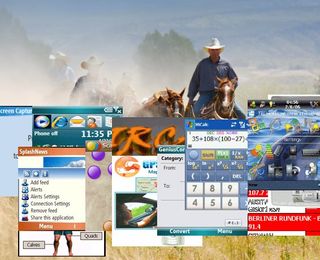 File this one under "Really? You don't want to just do that on your desktop?" Adisasta Software brings us WinMobile Torrent - a BitTorrent client for the Pocket PC. If you just can't wait to get to a full-fledged computer to get your stolen movies torrent files, then I suppose you could take a look.
WinMobile Torrent
Eh, it's kinda cool. I have it on my Ipaq RX3715 and just use it to download TV shows or sometimes movies onto my SD card. Everything works reasonably well, and the speed of download/upload isn't affected very much by the limited resources of the device(at least my device, anyways). Speed seemed to be around 85 of what my laptop was at(both were on the same wifi network and downloading the same torrent at the same time). It is pretty cool because I use my Ipaq for everything when I'm not at my house or don't have my laptop, and this is just added convenience. Also, the new version allows you view individual files if they are finished, you don't have to wait for the whole torrent to be complete. Very nice if you just wanna watch one episode but the torrent is for an entire season! All in all, it just makes my PDA more of an all around convenient device.

Very good site. Thank you.福田沙紀福田沙紀 画像

@chris#WP, I don't understand your comments. I mean that's the point of having a smartphone. Anyway, if you're watching or listening to the media on your phone then this is much easier than hooking up to a desktop. I'll check this one out,, so far wpTorrent is my go to
Windows Central Newsletter
Get the best of Windows Central in in your inbox, every day!
Thank you for signing up to Windows Central. You will receive a verification email shortly.
There was a problem. Please refresh the page and try again.