WinTV app launches for Windows 8.1 to let users DVR TV shows without a connection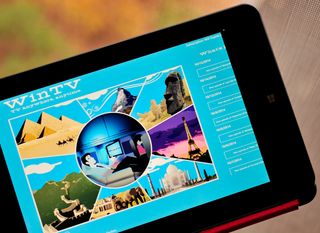 Although cable and satellite TV today is rather ubiquitous, there are still many people who do not have either the time or the money for such a luxury. Likewise for people who are often traveling, the tethered subscription does not make much sense.
Luckily, there is now a service to cater to those people too, and it is now on Windows 8.1: Win TV.
WinTV is the Windows version of the popular DroidTV app and it "allows you to legally record Primetime TV shows with the flexibility and unlimited storage of the cloud, then plays it back in beautiful HD quality, without the need for WiFi or a data connection."
The shows are later downloaded automatically in the background to the user's computer in MP4 format. Episodes remain in the cloud for later access.
Of course, the service is a subscription-based system, coming in at various price points with an open 14-day trial. Likewise, users can continue to use the app for free, but with a limited number of shows available. Here are the rates:
$6.99 for 1 month
$12.99 for 3 months
$39.99 for 1 year
Obviously, that is much cheaper than paying for cable. The downside, of course, is that you evidently cannot watch live TV, as this is a DVR-type solution.
The company behind WinTV, Zero Mass Energy (ZME), does plan to release a Windows Phone and Windows 7 app early next year to complete the Microsoft ecosystem for customers. For now, WinTV is available on Windows 8, 8.1 and RT operating systems.
Windows Central Newsletter
Get the best of Windows Central in in your inbox, every day!
Daniel Rubino is the Editor-in-chief of Windows Central, head reviewer, podcast co-host, and analyst. He has been covering Microsoft since 2007 when this site was called WMExperts (and later Windows Phone Central). His interests include Windows, laptops, next-gen computing, and for some reason, watches. Before all this tech stuff, he worked on a Ph.D. in linguistics, watched people sleep (for medical purposes!), and ran the projectors at movie theaters because it was fun.
They need to make an Xbox One App.

As does every company. Problem is, making an Xbox One app is hardly trivial. See how long a company like HBO is taking. Until that is addressed (likely Windows 10), it is unlikely you will see startups making an Xbox One app.

"making an Xbox One app is hardly trivial. See how long a company like HBO is taking" I'm pretty sure HBO is just slow as hell in making apps. See Fire TV.

HBO Go has been on Roku for quite some time.

HBO is on everything except Windows. Unless you count the Romanian HBOGO Windows Phone app. I think the deal Amazon made to include HBO back catalog in the Amazon Instant muddied the waters for the HBOGO app.

Soon to be sued by a bunch of number crunching douchebags.

That was my thought exactly. Kind of like Aereo....

Im surprised Hauppauge hasn't sued them

Was thinking the same thing. They already have the name trademarked and have used the technology (from your own PC, not the cloud) for years.

aero rebroadcast live tv. these are recordings and probably fall under the supreme court ruling that allowed VCRs.

VCR was for personal use, not for resale. These guys obviously have to have some type of liicense for this.

They are selling the service and not the shows, so they might have some leeway

...and possibly by Hauppauge.

Crash, crash, and some more crashing.

Make sure to leave a review.

I just contacted them . Hope they get this going. Anyone know if it allows you to keep a few episodes locally in a locked location for offline viewing? Also wish Microsoft would cut some nice deals on Surfaces for legitimate repeat developers so they can make sure the apps run flawlessly on their own front and center products.

Same here. Got as far as the tv guide. Crash. Crash and more crashes.

Windows Media Center with Ceton card is still the best DVR (including protected DRM shows on networks like HBO) + Live TV + all your other media + whole house access with Xbox 360s connected media extenders.
That said, this sounds promising.

Wouldn't you need cable subscription for that solution? WinTV does not seem to require it.

Windows phone app next year oops...y they don't develop universal apps....

Is it just me, or the shows listing in the pic above looks like it could definitely benefit from an aesthetic / layout improvement? As it stands now, it looks a bit draft-y... :-)

how backwards and inconvenient this DVR thing is. A million of people record the same show, there is a million of copies. What a waste of space! Then you are watching your copy and you fast forward commercials! once legal becomes irrational it's time to change the laws.

I agree, once I can pay for a subscription service that streams same day shows with no commercials ill dump xbmc....but as long as the current standard is horrible...ill pass.

The internet isn't actually available everywhere, all the time, at consistent fast speeds, for free or at affordable prices.

This is what makes WinTV and DroidTV legal. Each episode is automatically recorded to your own personal virtual DVR. Also there are no commercials so viewing is vet efficient.

I use PlayOn and PlayLater. It requires a server side app but it basically does the same thing and they have free apps for WP and Windows. One time pricing too.

Interesting...can you install the programs on Windows 8.1 and Windows RT tablets?

RT yes. http://apps.microsoft.com/windows/en-us/app/b0efdd03-a30d-44fd-a545-280f...

Thanks! Though I just wish Tivo would have more support for Windows, then I wouldn't have to worry about it. I'll be set the day Tivo starts allowing shows to be recorded/saved to the cloud and can be watched on any device.

Does anyone have a network or show list? I've been all over their webpage and I see nothing...

How is this legal? Also, what channels are available. Something seems fishy, and the information available in the description seems incomplete.

You cannot download if you're running the Windows 10 Tech preview. The download screen says you must be running Windows 8.1.

Cable in India is 2 dollars :'D

Since I have Satelite but don't watch anything real time, only after its recorded, if this lets me record everything I want and play it back on the TV with miracast, I might switch. Haven't looked yet but suspect the programing choices are pretty limited. Whoops thought this was for phones. But might still work for me with the HTPC.

Has anyone here summarized what their perfect TV setup would be?​ I'm talking logistically. Not some "free live TV everywhere all the time" kind of answer. Something feasible. I can't seem to figure it out. And until we verbalize it, cable companies will just keep doing what they are doing. This sounds like a good start, buy it's not perfect, since sports would suffer from always being pre-recorded. ​ ​ ​ ​ ​ ​ ​ ​

Sure...free live tv everywhere...jk, seriously though? Pay by show is the 'ideal' setup for us. Will never happen, but we can only dream.

Yeah, perfect setup for me is dvr with cloud storage and the ability to watch shows from the cloud on any device. I'm sure it'll be extra money, but it will be worth it not to have to worry constantly about my dvr getting full and the convenience of watching anywhere. It's a feasible solution that I'm sure Tivo and cable companies will start adopting within the next few years.

Do not download. App does not work, constant crashing. Can't get past main screen.

Actually, Zero Mass Energy owns the trademark for WinTV: http://tmsearch.uspto.gov/bin/showfield?f=doc&state=4804:2kznq9.2.1 Looks like Hauppauge never got the trademark for the name.

Poor HD quality. Looks highly compressed.
Windows Central Newsletter
Thank you for signing up to Windows Central. You will receive a verification email shortly.
There was a problem. Please refresh the page and try again.