Wireless charging tech off to rocky start in the wild?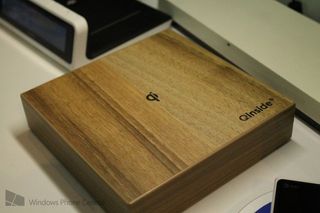 You're missing out if you have a Windows Phone with the ability to charge wireless and you're not using it. But it's probably in the comfort of your home or office where you're enjoying it day-to-day. And that's probably because you've invested in a wireless enabled charging pad. Go out in public and you'll have a hard time finding businesses that offer them.
What about those partnerships Nokia made companies like Virgin Atlantic or The Coffee Bean & Tea Leaf? Jessica Dolcourt shares her experience after finally seeing wireless charging in the wild.
Many of us were excited back in October when we first learned about the partnership between Nokia and The Coffee Bean & Tea Leaf (CBTL). However, the rollout hasn't been as fast as we'd all hope. One coffee shop here in the US to get wireless charging first was the CBTL location at the Venetian in Las Vegas, conveniently in time for CES.
I've been to dozens of their shops across southern California the past few months and haven't seen any wireless charging stations. Apparently I need to drive up the coast to Jessica's city of San Francisco to see it. Earlier this week she went to her favorite CBLT and finally saw the partnership with Nokia in action. It didn't leave a good first impression. The sign was obscure and hard to view, with the Lumia 920 below the table it was next to. Under the table you could see the charging pad, but that's not really a big deal. On top the locations to place your phone were marked by a sticker. Sadly, that sticker was frayed, discolored, and dirty.
Obviously infrastructure takes time to roll out, but I'm curious if any of you guys and gals have seen tables with wireless charging at a CBLT near you. Any in southern California I'm missing? Share your experience and pictures below.
Source: CNET
Get the Windows Central Newsletter
All the latest news, reviews, and guides for Windows and Xbox diehards.