WM 6.1 Updates for Touch and Mogul are Official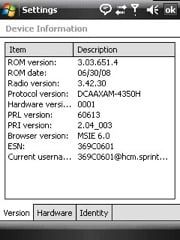 Likely you've already managed to snag your update because we caught these upgrades early as they were posted (early) late last week (Here's your Mogul Update and here's your Touch Update). If you haven't or if you're the sort who rigorously follows the rules, now you can get the official Windows Mobile 6.1 update for the Sprint Mogul and the Sprint Touch. Both will get you EVDO Rev A, A-GPS, and some Sprint TV Action, but strangely the Touch gets an on-board Opera browser while the Mogul is left out in the cold, freezing (literally?) winter of PocketIE.
Anybody applied this yet? We'll hit up the official update ourselves in just a bit, but we're curious to know exactly which version of Opera the Touch is rocking, let us know in the comments!
Re: The Touch, the difference in the Device Info screen is that the ROM is 3.03.651.4. The "official leak" from two weeks ago was 3.03.651.2. In process of downloading and will apply; maybe it will fix a few quirks.
I can say using the new ROM has been great. the GPS and EVDO rev A are great. Live Search with the GPS integration has saved my butt a couple time this past week.
Will let you know how it goes.

Thanks, Mike! Our Touch is sitting at 0% battery life right now, so it's going to be a little while before we can apply the update here.

Okay, update complete. Took about 20 minutes. 118.63MB Storage, 72.11MB Programs available after update. Device info looks all correct and updated. After update, it had to do Sprint customization, which went fine.
EVDO Rev A seems good. GPS works great; picked up initial position within 10 seconds. New QWERTY keyboard is okay, but I still like the Diamond Touch keyboard due to my fat fingers. However, it does have that ABC/T9 switch key, which is nice.
Other than that, all is good. Makes the Touch a lot, lot better.

So far it does seem much improved all around.
It's Opera 8.65, btw, and I like it a lot. :D

could it be due to the double the ram the touch has? perhaps opera doesn't work well enough on the mogel to include it?

Dieter, I love you like Opera 8.65, you really need to try Opera 9.5 beta. Waaaaaaaaaaaaaay better than 8.65, which I found for be a bit klunky. 9.5 is almost Safari-esque, and actually works on some sites better than Safari. On the Touch it is amazing (despite a few beta bugs).

The above should read "I love you like a geeky brother, but if you love Opera 8.65..."

I think I messed up my mogul lol now it doesnt make calls or txt. Lets not say web browsing... anyone else with the same problem?

Damn sprint was closed now I have to wait til tomorrow to take it to a store!!!

@mikec:
Opera 9.5 beta: love it, wish it didn't toss up memory errors every 2 seconds. Will have to try the cache hack. Also -- when are they bringing back dynamic text wrapping?
http://www.wmexperts.com/reviews/software_reviews/hands_on_with_opera_mo...

@Dieter:
I'm not seeing memory errors; a very occasional hang, and sometimes I bit slow on "button" response (it's never fast enough for me :-) ), bu overall it's okay. When you say the cache hack, do you mean putting the cache on the microSD card?
Re: text wrapping, when you zoom, if automagically resize and wraps to fit your screen. Granted, it's not perfect, but it's decent enough for beta.
The most annoying thing of the 9.5 beta is the SIP incompatibility / and ocassionally not taking the keyboard input. Hopefully they will fix that stuff

ok so my phone worked again (on its own?). But now, you know the youtube TCPMP? well now that doesnt work? could it be that TCPMP is not compatible with 6.1? anyone having the same problem?

I'm afraid to update because of si_sedan07's exact issue. Can anyone with the Sprint Touch or the Sprint Q9c confirm that the youtube TCPMP hack done by zbop is compatible with 6.1????? someone please help

EliteChingon,
If you love your TCPMP, please dont do the update. The 2 OS are pretty much the same. I like 6.1 dont get me wrong, but I'll take the TCPMP over it any time... I wish I could go back to the old ROM... anyone has a link for it?

How long have I been waiting for this release???? And then it comes out the day I leave for vacation. I just got back and after I catch up with work, I will update my Mogul. I will report back early next week how it does with the Mogul, after I have had a few days under my belt with the new release.

Actually, I realized that it didn't work w/ WM 6.1 right after the update on the 27th of July (a day after my birthday). Just as I searched on Google for TCPMP for WM 6.1, XDA Developers had already solved the problem and made the video rendering 5-10% faster for .flv files. Streaming has been way better for me since then. Of course the best experience for streaming is Wi-Fi unless you have all 4 bars on the EVDO network. I'm not sure if my Rev. A has kicked in, or if the Rev. A towers are available in Houston, TX. I'll have to research that. Anyways, enough of my rambling. Here's the direct link to what I was refering to earlier:
http://forum.xda-developers.com/showthread.php?t=367070
This pack contains the lates TCPMP + FlashVideoBundle + the latest AAC & AC3 Codec plugins.
Mogul and Touch users alike, have fun w/ the new offical WM 6.1 update. I'll be awaiting the upgrade for my Mogul which of course is the infamous HTC Touch Pro which will release for Sprint.

This just in. I called Sprint today and found that the Sprint Touch Diamond is apart of the September 2nd release. I was initally calling for the HTC Touch Pro, of course, but the rep said that she had no official memo for the release of the "Pro". So with September 2nd being one of the releases for the Diamond, the pro should follow sometime after. But you don't have to take my word for it. Just call Sprint yourself to verify this fact if you don't believe me. Just don't waste time talking to Sprint Customer Service. They forwarded me to a local store.
Windows Central Newsletter
Thank you for signing up to Windows Central. You will receive a verification email shortly.
There was a problem. Please refresh the page and try again.