WMExperts Podcast 14 - Diamond, WCDMA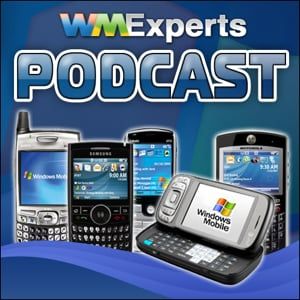 Dieter's not going solo every other week anymore, Malatesta has joined in. This week we discuss the news and focus on what exactly WCDMA is and why it matters to both carriers, manufacturers, and -- yes -- you. Listen in!
(Note that we recorded this before the latest 800w images broke out -- we're definitely be discussing those next week!)
Diamond approved by fcc, ogled by Dieter
HTC Graphics Driver only for TYTNII?
40% Market Share? BWAHAHAHAHAHAHA!
Let's be quick about it: Sprint Fail and Fail Harder. But hey, at least there's a Mogul 6.1 leak right?
And of course: Treo 800w spotted on DSL reports
Community
Thanks to Harold and Mel for the emails and voicemails!
Credits
Thanks to the WMExperts Store for sponsoring the podcast. Thanks also to these great artists for the music and to CCMixter.org for offering a great database of Creative Commons music!
For those interested, you can find some Diamond "Unboxing" photos here:http://www.eprice.com.tw/mobile/talk/?prod_id=3090&tid=3698565
Hopefully, this is a pre-unboxing. One thing that I've always liked about HTC is that you get pretty much everything you need right in the box. For instance, my HTC Touch Enhanced came with a screen protector, carrying case, and ear phones. The contents of the box in the photos looks a little light in comparison. Hopefully, HTC isn'y trying to make a few extra bucks per unit by stripping out the extras. You can only imitate Apple so far...

P.S.
I'm a little curious about that thumb-screw looking device adjacently to the camera lens on the back of the cover-less Diamond. Is that the camera auto-focus assembly?

One more question:
In the Podcast you talk about the FCC's certification of the Diamond. The 900MHz Diamond isn't intended for the North American Market. The FCC only approves electronic devices intended to be sold in the U.S. Why did HTC submit a device that won't be sold in the U.S. market so the FCC could approve it to be sold in the U.S. What am I missing?

Oh, & the link to the microsoft podcasting thing is broken =]

@LL23:
MS moved their page! Jerks!
@pelona:
I am fairly sure that HTC has had other-non-us stuff approved by the FCC before... I guess I'm not 100% sure. Either way, though, they would definitely need re-approval for one with the US 3G bands.

I finally had the time to listen... Happy Birthday Dieter
Windows Central Newsletter
Get the best of Windows Central in in your inbox, every day!
Thank you for signing up to Windows Central. You will receive a verification email shortly.
There was a problem. Please refresh the page and try again.