Machine Games: Wolfenstein 2 doesn't include multiplayer because it would dilute the story
Multiplayer games seem to be the focus of many studios nowadays because they keep players coming back for more.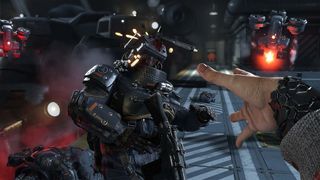 For example, EA recently decided to shift the focus of Visceral Games' Star Wars project away from its single-player, linear experience, possibly indicating a switch to a more Destiny-like model. It wouldn't be a stretch to say that publishers who work on solely single-player titles with linear narratives are rare. The good news is that MachineGames—the markers of Wolfenstein 2: The New Colossus—are doing the exact opposite.
In a recent report on GamesIndustry, MachineGames' Tommy Björk said that adding multiplayer to their upcoming game would take away from the story they're trying to tell. Björk added:
It's great news that at least one studio is focused on such titles. Splitting time between a single-player portion and a multiplayer mode can stretch resources. Considering that many games have deadlines, budgets, and other goals they must meet, focusing on one results in a much better experience. In the case of Wolfenstein 2: The New Colossus, developers can devote all of their time to making sure that the story and gameplay are stellar in the campaign.
Strong single-player games appeal to many gamers and they sell well even if they are linear and don't offer much replay value aside from varying difficulty settings. Whenever we think of innovation in games, for some odd reason we always discuss multiplayer titles. However, there's a lot of innovation which takes place in single-player experiences too. You have to find new ways to tell a story and new ways to immerse the player. Changing up what they can interact with in the environment is just one mechanic. Have better voice acting is another. The list goes on and on.
Wolfenstein 2: The New Colossus is the sequel to the critically-acclaimed Wolfenstein: The New Order. The game is set to launch on October 27, 2017 on Xbox One, Windows PC and PlayStation 4. This time around you fight the Nazis in iconic American locations, equip an arsenal of insane guns, and unleash new abilities to blast your way through legions of Nazi soldiers. You have to trigger the second American Revolution! No pressure.
Keep an eye on WindowsCentral.com/Gaming for all the latest in Xbox and Windows 10 gaming, accessories, news, and reviews!
Asher Madan handles gaming news for Windows Central. Before joining Windows Central in 2017, Asher worked for a number of different gaming outlets. He has a background in medical science and is passionate about all forms of entertainment, cooking, and antiquing.
Good on you! I think I now need to start playing this series. Story and gameplay should ALWAYS come before add ons. Multiplayer shouldn't be forced to exist, we don't need it in EVERY game. Some games just don't need it.

The recent Wolfenstein games have had exceptional stories too, so I am all for this. I'm really looking forward to this game as a result.

I misread the title, so I need to check out the other games by the dev. I haven't played Wolfenstien since back in the original PC days. This one sounds promising as well.

Totally agree. lm buying this, I just luv single player. Might be one of my last tho, so disappointed with the complete lack of shooters this gen, especially anything single player. So loved my 360 and the never ending stream of quality single player shooters, the XOne is a very poor imposter by comparison.

I agree with this. Also, that whole grinding, money-milking, and loot-crating that multiplayer games offer nowadays, this is actually refreshing and thoughtful.

Also, every multiplayer game ends up being the same game about people running and shooting at each other. The graphics change a bit but the game plays mostly the same. There, it had to be said.

I do have to admit the even though I said not every game needs MP, I did rather enjoy it when they brought it to Assassins2 Creed. I also enjoyed that they made you play just enough of it so it wasn't a total grind to finish the achievements. I can't attest to the latest ones though. This game had a bit different of a MP game mechanics though, it didn't feel forced, and certainly didn't feel like they skimped on the SP for it (Here's looking at you ME2!).

Not played any games from this series, definitely will look into it as I never play online these days.

What's up with the big games this week releasing on Friday and not Tuesday? That's odd.

Not a bad idea though, pick it up Friday arvo and you have all weekend to play.

Loved the first Wolfenstein back in what... 1990? Haven't played the series since. It's pretty rare that I want to play a multiplayer game. Currently playing Rainbow Six Siege, and definitely don't need another one to add. But I'm all for single player campaigns. Especially one that almost feels like you are interacting with a movie. Reminds me of what the Wing Commander games of the 90's were like. I might have to actually look into getting this one.

I hadn't played Wolfenstein Since 1990 either until a package deal for The New Order and Old Blood made it reasonable. If you like a FPS with lots of explosions, action and killing dudes with Swastikas, its for you. Pretty decent story but I enjoyed being able to jump in and just play without much for brainwaves needed.

I have no problem with this. Theirs too many online shooters anyway, and online games really destroys the whole game as a whole. This is why I've enjoyed many of the ACreed that stopped adding online play.

Yeah that's I like, I'm not against multiplayer but I'm very revolted with studios giving to much attention to online $$$

Considering this news, I might buy and play Wolfenstein after all.

I only choose games that have a single player option. Multiplayer is for kids....
Windows Central Newsletter
Get the best of Windows Central in in your inbox, every day!
Thank you for signing up to Windows Central. You will receive a verification email shortly.
There was a problem. Please refresh the page and try again.