Wordfeud now available on the Windows Phone Marketplace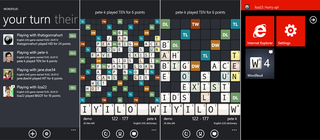 Seems as though we've been taken by surprise with Wordfeud as the title is now available on the Marketplace. We previously looked at the app when the developers noted that they were looking at a February 1st release, but one could assume they couldn't wait much longer.
The multiplayer Scrabble clone comes packed with push notifications, Live Tiles, opponent chat, cross-platform support and more. Check out some highlighted features below:
Choose to play with friends or be matched up against random opponents
Play in 30 simultaneous games
Random board option to mix up the DL, DW, TL, TW tiles
Push notifications informing you of opponent's latest move
Uses English, Spanish, French, Dutch, Norwegian, Swedish and Danish dictionaries
Chat with your opponents
You can download Wordfeud from the Marketplace fully functional and free with ads or $2.99 with no ads. (Update: Link fixed)
Via: WP7.nl, thanks Mark for the heads up!
Rich Edmonds is a word conjurer at Windows Central, covering everything related to Windows, gaming, and hardware. He's been involved in technology for more than a decade and knows a thing or two about the magic inside a device chassis. You can follow him over on Twitter at @RichEdmonds.
its a very nice looking game. The ads are just annoying enough to convince you purchasing the game would be a good idea and the live tile is well done, how it trasitions from the "W F" to "W" with the number of games it is your turn in,is really nice.


Hope the developer straightens up the edges of those tiles.
Can someone tell me if it's possible to play against someone on the same device? Will buy if that is the case.

Yes it is possible to play a local game against a friend in the paid or trial version.

What's better alphajax or this?

Alphajax is Windows Phone exclusive so although I really like it, Wordfeud is better because you can play people on other platforms. The better comparison is Wordfeud and Words by Post and even there it's an easy win for the former. The app is just very well done, includes several dictionaries in several languages and has a larger user base. It's a no brainer.

I've been enjoying Spell It, but I'm gonna give this one a try. It looks pretty slick.

Download link is broken through the application

Sorry about that. Link fixed.

Wish I could find it to download it

Scroll down, should gave an icon with WF letters in it

Im glad to see this arrive although I still prefer Words By Post. Words By Post allows you to play people with other platforms and your FB friends too all for free.

This one let's you play people with other platforms too (iOS & Android) and hooking up with your FB friends shouldn't be too difficult either.

Ok thats cool. Does the trial offer all the features of the paid version?

dl link through wpcentral crashes the app.. please fix.

Do a search in the market for wordfeud and it should show up.

Its not coming up when I do a search.

It didn't show for me the first time I looked because I was spelling it wrong.

I think u could what device do u have

Might be nice to add to the post that the trail version is the same as the full version but features adds.
Seems like a decent version. Very clean and fast. Unlike other major apps that were ported recently (like Whatsapp, thats still a big mess)

WhatsApp is not a mess by any means. What makes you think that?

I really like spell it the best...sorry.

Will they do a comparison between words by post and wordfeud?

Wordfeud trial doesn't have ads wtf?

Great game. Tried it and bought it:-)

Are there any other cross platform games? I play words by post but I would like to play my friends with other phones.

I don't like that it doesn't tell you the amount of points before submitting the word you put though :/ other than that it's awesome

Excellent! Been waiting for this app! Great job!

Funny, in the Marketplace it says version 1.28.0.0 while in the app it says it's version 1.0.0.0 ... #weird

Clones are fine I guess but it sure would be nice to play what the rest of the world is playing, words w friends and hangin w friends.

Here in Holland, everybody plays Wordfeud. Why? Because it's cross-platform and it has a Dutch dictionary. It also has great gameplay and nice app design (at least for the iPhone and Windows Phone version, don't know about Android). Although there could be some improvements, like adding the ability to see the points before you make a move and different playboard designs to choose from. But bottomline is that it's a great app and very nice to have on Windows Phone as well :)

No incentive to buy it to replace Words By Post. Sure there's a larger user base on WordFeud but I never struggle to find a game on WBP.

No Greek dictionary? That's a shame...

I have been playing Words By Post with my iPhone and Android friends for like a year. I like it better than WordFeud.

Here in Sweden a lot of people used to play it, but now almost no one plays it:S, I don't know why thou.
Windows Central Newsletter
Get the best of Windows Central in in your inbox, every day!
Thank you for signing up to Windows Central. You will receive a verification email shortly.
There was a problem. Please refresh the page and try again.