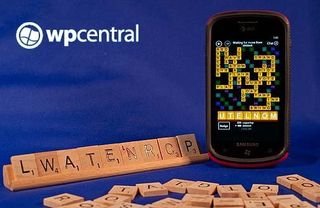 We've covered our fair share of word games for the Windows Phone. Some may argue that there are way too many word games in the Marketplace. But, word games are an easy way to pass the time and can be entertaining, challenging and competitive.
Words by Post is such a game. Sure, it's another scrabble type game but Words by Post expands your opponent base by jumping platforms. Words by Post is compatible with the games iPhone and Android versions.
Among the scrabble-type games, AlphaJax may be the front runner with its fantastic appearance and large player base. But the cross platform feature definitely makes a case for Words by Post to be the top dog.
Head on past the break to see how Words by Post measures up.
Game Layout
When you first launch Words by Post you will be prompted to register or, for existing players, log in to your account. Registration is free and painless.
Words by Post is very similar in layout to AlphaJax and Spellit. The main hub layouts out your moves, your opponent's moves, and finished games. You have three buttons at the bottom of the main hub where you can start a game, view player rankings, and access the game's settings.
You can start a new game four ways. You can have Words by Post find an opponent at random, you can challenge a player by username, you can find an opponent through your contacts list, and you can choose a "hand-off" game where you pass the phone back and forth.
Words by Post's settings mainly deal with how Push Notifications are handled. You do have the option to turn off the "shake to shuffle" feature and contact the developer in the settings menu.
Game Play
The playing board of Words by Post is dark. Black tiles and dark, colored bonus squares. After playing AlphaJax for the past few months, it took a little getting used to.
Up top you have directional arrows to navigate through the various games where it's your turn. There is also a chat button to let you conversate with your opponent.
Down low you'll see buttons to delete the game or resign, your current scores, skip turn, and swap tiles. Once you place your tiles, a button to submit your score will appear with the point totals for that move displayed and a recall button to cancel the move.
Beyond that, Words by Post is a game of scrabble. What makes Words by Post an attractive option is the cross-platform ability. My wife uses an iPhone and we can now see who's the best speller. She helped me test the game out while on vacation. Not only could we play a friendly game while she was on the beach but the chat feature helped us keep in touch.
Overall Impression
Words by Post is a very good scrabble game. I'll give AlphaJax a slight edge based on the games appearance. I just like the lighter colored game board.
However, when you take into account the cross-platform ability Words by Post pulls slightly ahead of the competition. Words by Post ran smoothly, moves were registered quickly and the chat feature performed well.
If you have friends who use other platforms and are looking for a good game of scrabble, Words by Post will do just the trick. Even if you hang with a crowd that's exclusively Windows Phone only, Words by Post is worth a try.
Words by Post comes in two version. There is a free, ad-supported version that you can find here (opens in new tab) and a $2.99 ad-free version that you can find here (opens in new tab) (both links opens Zune) at the Marketplace.
Update: Words by Post was recently updated to give you a light colored playing board that improves the appearance (in my opinion) greatly. It makes the choice between AlphaJax and Words by Post all the more difficult to make.
Windows Central Newsletter
Get the best of Windows Central in in your inbox, every day!
George is the Reviews Editor at Windows Central, concentrating on Windows 10 PC and Mobile apps. He's been a supporter of the platform since the days of Windows CE and uses his current Windows 10 Mobile phone daily to keep up with life and enjoy a game during down time.
Cross platform support makes WBP the clear winner here. I have played the free version of each game and purchased WBP. I am able to play with any of my friends and family regardless of platform. Great game.There is also an update that adds definitions to the words on the board via wikipedia. Again, just another reason this app is above the rest.

My GF and I have been playing WBP for weeks - her on her Epic 4G and me on my Arrive. It works amazingly well. Love this game.

Now if only they'd revisit its appearance and get rid of the ugly...

The recent update allows you to change the background color to white.

also to mention, the new update allows you to click a word to see its definition!Definitely one-ups alphajax with that

I did notice the definition feature this morning. You tap on the word and a question marks pops up. Tap on the question mark and it pulls up the wiki definition. It's a nice feature but I'm not sure if it's a "must have" feature. I still think it's a close call between Words by Post and Alphajax but I don't think you can go wrong with either.

It's easily the best. Alphajax is ok, but not really in the same league as WBP. I've played friends on iPhone's and Android phones. How it didn't get a 10 is beyond me. Wonder if the author of this post a dev for Alphajax. /jk

By far one of the games I've played the most on my phone. I currently have games going against friends and co-workers on all 3 platforms. Just wish we could all play in one game.

is this the wp7 version of words with friends or is this a different game?

It's the wp7/android/iphone version of "words with friends" :)

This is one of the best games out there and they keep improving it with updates. I wished they had even more cross platform games out there!

"The playing board of Words by Post is dark."And my battery thanks the devs for that.

My Rating: 9.5/10 visually not great, certainly less attractive than AlphaJax, but:-The ads are hardly noticable and dont COVER UP THE SCOREBOARD!!-Crossplatform, i can play against my friends-Great for staistics, shows you your rating and a graph of it-Live tile is more reliable than alphajaxOn the other hand:-I feel an excessive amount of multipliers-AlphaJax's visuals are way betterI have both pinned to home and play each everyday, If I had to choose one I would go with WBP.

unfortunately this isn't good enough for SOME people.

I invited my friends and family who use Android and Iphone to join in on the fun. Since then, we are constantly playing each other and have become addicted. Love the fact that we can play cross platform. That is a major plus for this app and what makes it so awesome. I've also noticed that only the WP7 phone is able to change the background color and provide the definition for a word that is posted. This feature is not available on Iphone. As to Android, I haven't check with my friends yet to see if those features are available so major score there for WP7 version of this app. Also another great thing to report, my friends with Iphone both 3gs and 4G have said they love the way the screen/colors look on my phone so much better than it does on their phones. I'm using the Spring HTC Arrive. SCORE! Keep up the great work developers. Windows Phone will soon no longer be the sleeping giant and will take the planet by storm!

I've played a ton of AJax and a good amount of WBP (and purchased both)and while they are very similar, I've definitely started to prefer WBP. IMO, the board layout gives each a distinct flavor. I find that with AJax the lesser amount of special tiles makes me play more defensively to avoid setting up my opponent. With WBP there are special tiles all over the place so I play a much more aggressive style simply trying to maximize my score and defense be damned. It feels more fun to me. Also, I think WBP does a much better job of handling movement of tiles in your rack. A little detail, but an important one.
Windows Central Newsletter
Thank you for signing up to Windows Central. You will receive a verification email shortly.
There was a problem. Please refresh the page and try again.