On World Hindi Day, Microsoft reiterates their commitment to empower Indic language computing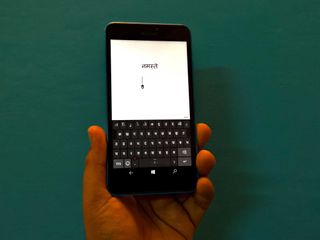 Hindi (हिन्दी) is the official language of India, and one of the most natively spoken languages in the world along with Mandarin, Spanish, and English. Every year on January 10, the Ministry of External Affairs of the Government of India with Indian Missions abroad observes World Hindi Day to promote the use of Hindi language.
On the occasion of World Hindi Day, Microsoft is revisiting the key breakthroughs that have helped bridge the language divide in computing. It all started in the year 2000, when Microsoft announced Native Unicode support for Hindi. Unicode is also supported as a part of Microsoft's server operating systems, Exchange, SharePoint, and SQL – entrenching the Hindi use case across most Microsoft products and services.
Since then, the company has taken several steps to enable technology to help people use Hindi across devices and services – of course, this is a constant work in progress.
Product localization
Microsoft has localized Windows and Office in 14 Indian languages including Hindi. Microsoft also provides Indian languages' support throughout the platform and across the range of products.
The Office suite of apps offers Hindi language support across iOS and Android as well and offer features like proofing tools for the Hindi language to enable seamless consumer experience.
Hindi language support on Windows Phone
In Windows 10 Mobile, Microsoft has included new phonetic keyboards for 10 Indian languages including Hindi that allow users to type on a familiar QWERTY keyboard layout and the IME converts what they type into their native script.
Bing Support for Indian Languages
An Indian language experience is available on Bing.com both on desktop and mobile devices. Users can not only use Bing to enter their search queries in Hindi but also use it as a translation tool. A virtual on-screen keyboard helps users in typing their preferred language without requiring additional keyboard installations.
Skype Translator Messenger
Skype Translator Messenger instantly translates conversations from English to Hindi.
Language Interface Packs
Microsoft has localized its Windows and Office products into more than 40 languages and dialects globally. In India, the company has localized Windows and Office in 14 Indian languages, including Hindi.
These Language Interface Packs (LIP) can be downloaded free of charge. A LIP language has translations for up to 300,000 words in Windows and for 600,000 Office.
Indic Language Input Tool
The tool facilitates users to input localized text easily and quickly, and is available in two versions. The desktop version enables the user to input localized text directly into any application while the web version allows the user to enter text on any web page without requiring software download.
The tool is available for free download and currently supports ten languages, including Hindi.
Microsoft Translator
Microsoft has also introduced a translator app that works across smartphones, tablets, Apple Watch, and Android Wear devices which supports up to 50 different languages, including Hindi.
Project Bhasha
A cohesive program that brought together the governments, the academia and the research institutions, the local ISVs and developers and the industry associations on a common ground for promoting local language computing.
The website bhashaindia.com is a one stop shop for consumers to download and get access to Hindi software, tools, content, and code. It looks dated though, and I'm not sure if some of the initiatives listed on the site have been updated in recent times.
Interestingly, it's not just about Hindi since the linguistic diversity in India is mind-boggling. India has 22 major languages, written in 13 different scripts, with over 720 dialects. As I said, this is a constant work in progress, and Microsoft still has a long way to go to enable computing with more regional languages across devices and services.
Source: Microsoft India Stories (opens in new tab)
Windows Central Newsletter
Get the best of Windows Central in in your inbox, every day!
Seems faster™ - above comment

आभारी आहोत .....माइक्रोसोफ्ट

Lol with all that Hindi comments :P:P

Look at those comments -.-

Is that, THANKS MICROSOFT? :D

धन्यवाद माइक्रोसोफ्ट
देवनागरी लिपि न केवल हिन्दी, बल्कि संस्कृत, सिन्धी, नेपाली , मराठी इत्यादि लिखने में साहयक है । एक फांट, अनेक भाषाएँ..

कखगघडचछजझटअइउएओठढतथदधनपफबभश्रहसशवलरयम

MS needs Indian Market to grow, especially in phone business. If it goes successfully that's all MS needs to be an important phone player in the world....

Completely useless to do all this.. You can't just make a language take place of English. It's completely PLANETWIDE.. there is no spot in this planet where English is not available.. So no use of doing all this time pass.. Rather focus on development.. :/

Having different languages around the world is one of the humanity facts, you just can't impose english all over the world just because you can. You gotta give options, if people tend to leave it for another one then it will be fine.

You're saying they should just stop all localization and make all their products and services strictly English only?

Kamesh. Kotwani
This is one of the most STUPID comments I ever saw.

Yeah lol. Seriously. And he even implied MS to focus on development. Wut?!

I just kept my view. I have really started hating Microsoft after January 7. If you find my comment stupid... Deal with it.. It's my personal opinion.. I felt like that.. I wrote.. Find it stupid.. Not my problem.

What hapened dude? Its very specific fom you that you started hating MS afte Jan 7. Did they break a promise or treat you badly?

Yeah, what happened on the 7th? Honest question.

He qualifies for the Darwin Award!

A year on windows central,and yours is the worst comment I came across

Yes Kamesh Kotwani has written 2.5 years worth of bad/ stupid comments

At least I'm not scared to keep my view.

You shouldn't be scared, but rather embarrassed. We're all laughing at you man, not with you. Posted via the Windows Central App for Android

Today all languages are there bcoz of Sanskrit.

Kamesh most of the comments here just because they want only Hindi languages to be world wide...i think there other languages which are spoken by more people as compared to people speaking Hindi.

Exactly What I wanted to say!! Thanks... THIS IS NOT POSSIBLE TO MAKE HINDI WORLDWIDE.. then why saying time on it? They have proposed so many projects.. I don't see any of them coming love which simple consumers can really feel in India. Thanks for understanding my view .

भाई तु रैन दे। काहे का दीमाग खा राहा है। विनडौज़ पसंद नहीं तो जा ना, उठा ले आई फोन या एन्ड्रऐड। बेकार । Hope you understand Hindi kamdev kotwani.

And, we still don't have a native touch Urdu keyboard available on windows phone. What a shame!

I have to use 3rd party apps to write Urdu like "Urdu Writer" , "Urdu Notepad"

I had looked into this and Microsoft is looking to support Urdu, Farsi, Sanskrit, and Greek in the near future. Some of the languages take more time and effort to get it right.

Lol. Coming soon.
It would not happen anywhere, anytime.
Just go to bed and stop daylight dreaming.

There is a built in Urdu language keyboard on windows phone 10 in keyboard settings. I've got it on my device. Sadly it doesn't have any word predictions yet. سیٹنگس میں ریکھو

Oh thank you so much. I don't know when they added it because last time I checked it was unavailable. But it is indeed available now in latest build of w10m. That's great news.

If it really exist, It is a great news.

But WEN IN INDIA???
Uh nevermind :P

Will the U.S. adopt a World English Day? That'd be sweet.

English is not of the U.S.

It's still our national language. It's just that if the U.S. tried such a thing, there are several groups of people who would call it racist and an act of exclusion. Just kind of gives a weird angle of how other nations look at such matters.

Indians pride themselves with the languages because of Sanskrit. It is the mother of all languages, the very language of their pantheon of gods. That's something to be proud of, I guess.

Utter nonsense. Sanskrit isn't even the source of all Indian languages, forget ​all.

Apply cold water to burnt area

Oi, there's no need to invoke hostility mate. Just because your country has a chosen to officialise a day for the native languages doesn't stop other people to wish for the same.

If anything US should adopt Islam history month (just like Black history month). just saying that will be better than devoting a day to a language

If ever there were something to convince me to leave the U.S., that would probably be it. Actually, on second thought, if it tells things accurately, then I'm all for it. I'm sure it'll rose-tint everything, though.

Well there is a English Language Day which is on the 23rd April.

हिन्दी टिप्पणी का आनंद लीजिए।

Hindi is not the official language of India bro. It is one of the many official languages.. There's a difference :/

I was going to comment the same :-) it's a really big difference which is neglected by many...

Official language, yes. National language, not. https://en.wikipedia.org/wiki/Languages_with_official_status_in_India

Yes. Hindi is "one of the" official languages, not "the" official language.

i logged in just to comment that, it's just ignorance and superiority attitude which some have, which leads them to believe hindi is THE official language and not one of the official language. some try to enforce it on other just like our previous rulers did for english.

MS Indic/phonetics keyboard is far better than google's on mobile. Hope to see phonetics keyboard to come to desktop too!

विन्डोज़ फोन पर भी उपलब्ध है।

Hindi is NOT official language of India.. There's difference between most widely spoken and official language

Hindi is one of the official languages of India, get some education.

Yes Hindi is an official Language. You are confused between official and National language. There is no national language in India.

Microsoft's commitment and support for Indian languages including Hindi is woefully inadequate and is a little more than a joke. Microsoft Indic Language Input Tool has not been updated since Windows 7 days. Trying to install it on Windows 8/8.1 showed a lot of errors and warnings though it did install if you persisted. Same is the case with Windows 10. Also, the ability to use the Desktop version MS ILIT is very inconsistent as it does not work in most of the apps including Microsoft's own OneNote and Edge browser. I have to use Internet Explorer just to write comments in Hindi on social networking sites. Really it is a shame that such a wonderful tool has been left out of development for so long. ​Microsoft should actually bring the Phonetic Hindi keyboard from Windows Mobile 10 to Windows 10 too. Its a huge downside not being able work in Hindi on a PC, like its possible on a Windows phone. Just for that reason, I'm waitng for Windows Mobile 10 version for small tablets to install it on my Dell Venue 8 Pro.

In Windows 10, you can install different languages directly from SETTINGS

I'm not talking about installing languages. It was always possible since Windows 98. I am talking of lack of support for typing in Indian languages, including Hindi, if you don't have a separate dedicated Hindi keyboard.

Now please make Windows Store gift cards available in India, Microsoft! Not all debit cards work here with Microsoft accounts. Make it easy for consumers to purchase apps and support devs.

it's obvious because the ceo mr staya nedalla is from india there are other languages as well but they never get a chance no offence to any body Msft have to look round the globe

World Hindi day...??? How Hindi day can be a world day..like AIDS day etc..?? How many countries do speak in Hindi..??

Don't look at the number of nations that speak Hindi, but get some education about how many people on this planet speak Hindi. I guess enough to define the difference that you have been looking for.

They just need to think out of the box in all of those key areas.

I wonder when Hindi will be supported for text-to-speech on Windows 10, I want to include it in my apps ...

Mandarin, Spanish, English and ARABIC. How can one forget that? A language that lends so much to so many others, including English and Spanish, and Spanish quite extensively.

It surprises me how they ommited the Phonetic Indic Keyboards from Windows 10 PC, and included them in Windows 10 Mobile. I have been using MS Indic Language Input Tool​ for so long, but after update to Windows 10 it's not usable because Store apps do not support it.

Microsoft Indic keyboard Windows 10 પર download કરવા માટે ઉપલબ્ધ ન હતું. શું હું એક માત્ર વ્યક્તિ હતો કે જેને આ સમસ્યા નો સામનો કરવો પડી રહ્યો હતો? View Source option એ મને download link ગોતવાં માં મદદ કરી.

Microsoft Windows 10 Mobile = अतिसूक्ष्मकोमल खिड़किया 10 गतिशील

विन्डोज़ फोन में हिन्दी में टाइप करना अब भी सुविधाजनक नही है जैसे अक्षर टाइप करने के बाद मात्रा ढूंढना पड़ता है उसमें थोड़ा समय लग जाता है.....मेरे tab में जिसमें google hindi fonts app है उसमें हिन्दी में टाइप करना बहुत ही आसान है जैसे आप हिन्दी में 'namaskaar' type करें तो वो अपने आप 'नमस्कार' मे convert हो जाता है।
ऐसा ही हिन्दी keyboard हम माइक्रोसोफ्ट से उम्मीद करते हैं।
दोस्तों आप भी फेसबूक, ट्विटर और वाट्सएप पे हिन्दी का अधिक से अधिक प्रयोग करें और अपनी मातृभाषा का मान बढ़ाएँ। धन्यवाद

मित्र, विंडोज़ मोबाइल 10 में ऐसा keyboard उपलब्ध है जिसमे roman अक्षरों में टाइप करने से देवनागरी में convert हो जाता है। Settings > Time and Language > Keyboard में Add Keyboard करिए और लिस्ट में से Hindi Phonetic ढूंढ कर उसे install कर लीजिये। आप पाएंगे कि इसका इस्तेमाल Android के hindi fonts app से कहीं बेहतर और आसान है।

ऊपर लिखे कमेन्ट को ही लिखने में ही 10 मिनट लग गए।

The Keyboard of HINDI Input in Windows Phone 8 is better than Indic. Microsoft should bring HINDI keyboard of Windows phone to PC.
Of course (Tap & Hold has to be replaced with Shift+Character) मुझे विन्डोझ फोन का हिन्दी कीबोर्ड बहुत अच्छा लगता है ओर इन्डिक से बेहतर हे। Windows-Phone के हिन्दी Keyboard को Tablet ओर PC पे लाना चाहिए। ओर लिपि मे हिन्दी के समान भाषाओं के Keyboards को भी शामिल किया जाना चाहिए।

Dude, Get your facts correct. Hindi is not the official language of India. It is just one of the official languages along with Telugu, Tamil, Marthi +13 other languages. So, don't give wrong information.
Windows Central Newsletter
Thank you for signing up to Windows Central. You will receive a verification email shortly.
There was a problem. Please refresh the page and try again.