WPCentral App nominated for Nokia Conversations' March Madness contest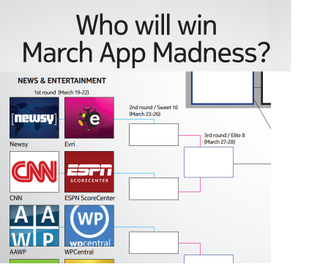 We're both flattered and excited to see that our own WPCentral App has been nominated in the 'news & entertainment' category for the March Madness contest by Nokia Conversations.
A total of 32 apps have been pitted against each other ranging from Carbon to Plants vz Zombies to IMdB. Voting will take place through out the week for the various categories with 'games' going on now. Our app is up against All About Windows Phone, which should have an interesting result (voting is in a few days). The winner will be crowned on April 2nd making this an exciting two-weeks of voting and teeth gnashing for all who are nominated.
We'd just like to extend our congratulations to our developer Jay Bennett and Rich Edmonds (who handled the graphics), as well as a thanks to Nokia Conversations for the nomination!
Source: Nokia Conversations; Thanks, Residing, for the heads up!
Daniel Rubino is the Editor-in-chief of Windows Central, head reviewer, podcast co-host, and analyst. He has been here covering Microsoft since 2007 when this site was called WMExperts (and later Windows Phone Central). His interests include Windows, Microsoft Surface, laptops, next-gen computing, and for some reason, watches. Before all this tech stuff, he worked on a Ph.D. in linguistics and ran the projectors at movie theaters, which has done absolutely nothing for his career.
Make sure to put up a post when voting is up for the WPCentral app so we can all show our support!

Best of luck! Bit.ly/eliteonline

I'm curious as to whether the app delivers anything that the site doesn't. I always just go to the site from my phone.

yes u're right. but on a small screen having full fledged website displaying every content including advert that are not relevant to you. With app you get just what u ask for.

I'd like to think that the app delivers a mobile experience above the website, but of course I'm biased... We have a free, unlimited trial available for you to download and use to decide yourself, let me know how you find it!

I like the looks of it. I prefer just the regular website, though. If you want constructive criticism, the cropping of pictures is stylish, but less functional. That VP of Marketing guy's picture was cropped so you only see his hair, for example. Zooming into text on the website is easier and smoother (on the site I double-tap the text and IE sizes it nicely). Also, I can more easily avoid the ads on the website (the double-tap on the text basically makes the ads go away). I really am not trying to be mean to you; these are just my opinions and you asked for them. I wish you well and am glad you're being honored by Nokia!

Thank you for the feedback, and of course the reason the site is there is to satisfy everyone's different needs. Improvements to the text zoom situation are part of what I hope to bring in the next update

Significantly faster loading in app form over mobile web, and pretty transitions ;)

GO WPCENTRAL! I READ THE POSTS EVERY DAY!

Yes, WPCentral Boleh! Let us know where to vote :)

I'd love to vote for Carbon, but I think Jay wins this one for downloading articles in the background. So peeved that no good Twitter or RSS apps I know of do this, and heck - both Weave and Carbon are pretty poor on the Live Tile front too.

Best of luck can't believe imdb is on there... A sub standard app compared to other platforms. Not signing in to account still is pathetic when android users can...

I like all about window phones have app..also i have the paid wpcentral app...both are nice apps.but overall wpcentral app has the big edge..i really feel that the wpcentral app is one of the top 5 apps overall for wp7 ..

Im a developer and I can tell ur app in one of the most well designed over the wp market. Its really fluid, thinks about the dialy user, his fluctuant connections, offline reading, etc. Sticks on metro design, and doesnt ruin it. Has 2 versions. Fast loading. WHat else can i say.!!
Facebook app, we are talking about the OFFICIAL, and even tho, if u see the inbox, when u reply a message from a friend, it doesnt show ur friends name, but instead shows the last persons name, meaning, your name. And thats odd cuz u cant see who u sent the message to.
IMDB its a great app too.very fluid but not too metroish.
KIK, on the not metroish apps, is really cool, and works like a charm. But its strong cuz its backend.
Fruit ninja rocks, xD
Cant comment about all the apps but, im pretty sure u have one of the best , and thats why u are there. Probably u wont win, but ur app deserves it.
Cheers,
Juan.

The official Facebook app is a piece of garbage.

Well deserved nomination. The app is one of the very few (err....only?) I fire up multiple times everyday. Two things I wish for in the WPCentral app are the ability to reply to a comment but most of all I wish the app had a funkier tile. The live tile is the only aspect where Engadget's app is better--I really like how the top 80% of their tile keeps changing all the time--it's even better than Groupon's live tile which used to be my favourite. Good luck on the voting.

Replying to a comment is there :) Just tap and hold the comment you want to reply to, then tap "reply" when the option pops up! As for the funkier live tile. I'd like to do that too... Thus far everything we've done is calculated on the device, I've not tried doing any clever image manipulation to create the a live tile on the server then send it down to the device because I don't own the server or have access to develop for it. I'll certainly try delving into it if I ever add an Azure layer to offer a push notification live tile service, but running a cloud instance on this scale would cost me a fair penny, and right now there are a few other feautes (like Forum access) that are in greater demand

Duh, that was intuitive enough that I should have figured it out, thanks. I did not realize there was so much involved in getting a live tile with dynamic images.

Breaking news from the BBC: All doorways in London to be enlarged for Jay's massive head due to ....

Devlope something as nice as the WPC app and you can have bragging rights too. Until then pifffff.

I love this smartphone as well as I love my electronic cigarette.

I was trying to go for humbled, but yeah I'm proud of it

AAWP? Never Heard Of It. Your a shoe in!

Yeah WPC is my favorite 3rd party app!

AAWP it is a decent app nowhere as fluid as wpc but good none the less the website is good as well it is done by a Nokia employee very good info and well written articles

Fairly sure AAWP is independent. Both are decent apps - each with strong points (e.g. WPCentral's Live Tile design, AAWP's Podcast handling).
Rather a shame they are up against each other in first round.

I think I will agree with you on that.

As there is no marketplace in my country, i can't buy apps, the free WPCentral app has too many limitations , plus the ads, biggest one is downloading an app, i always have to go out and lauch the marketplace, search and download. I love WPCentral but too painfull sometimes to use the app, at least for me.
Windows Central Newsletter
Thank you for signing up to Windows Central. You will receive a verification email shortly.
There was a problem. Please refresh the page and try again.