The WPCentral Canada Store is now open for Business!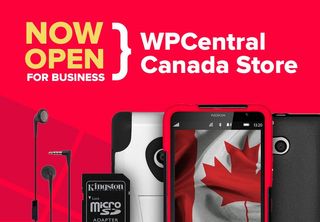 Calling all Windows Phone and Microsoft fans... Today, on behalf of Mobile Nations and the WPCentral team, I'm extremely happy to announce the opening of our WPCentral Canada Store . The store resides at http://ca.wpcentral.com, but don't worry - if you're on a Canadian IP address we will automatically redirect you to the Canada store when you click on WPCentral's site navigation links (once in the store you can easily toggle between Canada store and main US/International store should you want to switch).
With our WPCentral Canada store warehouse physically located within Canada, shipping is now provided by Canada Post (UPS also available) and FREE SHIPPING is offered on most orders over $50. Shipping on smaller orders is a flat $5.95. The best news of course is that with your shipment never crossing the US/Canada border, you no longer have to worry about things like duty charges. And as you would expect, all pricing and transactions are conducted in Canadian dollars and we have lots of payment methods available. Beyond credit cards, PayPal and Bitcoin are also accepted!
We have a solid selection of cases and accessories for Windows Phone available now and over the weeks ahead you're going to see us increase our assortment of accessories in both our Canada and main US/International store. We'll soon have many more OEM Lumia accessories available for purchase, and we're looking to scale up our offering to include more accessories for other Microsoft ecosystem products as well, including Surface and XBox. For those who also own mobile tech from other platforms, some of those popular items will also be available helping to make WPCentral your ultimate one stop shop. If there are any specific products you'd like to see us offer, be sure to let us know in the comments. We're building out our store offerings to make it the best online shopping destination available to you, so don't hesitate to let us know what you'd like to see.
We hope you enjoy this new service offering from WPCentral, and we appreciate your ongoing support!
Awesome, now if only Microsoft start selling their latest devices here too lol

Umm what are you refering to. There are Microsoft stores in Canada.

But carriers only sell old and cheap Windows Phones like the 520. (At least that's how it is in Québec.)

Honnêtement c'est banal. But ya in Quebec there's no more 1020 it's only the 520 and now the 635 from Telus.

The Lumia 925, 930, 1520, 2520, 830, 735, and HTC One M8 to name a few.

Yeahhhh!! I have a friend who wants to switch from iPhone to Windows Phone but he can't because the only Windows Phone currently available in Québec is the cheap 520. How can we get more Windows Phone user if we don't have any phones to sell them!?

It's a fool's game to only get phones from your carrier. Just get whatever you want unlocked, keeping your grandfathered old (and better) plan, or taking a bring-your-own-device discount.

I've never seen any carrier offer a "bring your own device" discount. Here the plans are the same price if you get a phone or keep your phone so you're better off getting a new phone while you're at it. And we've never had any read good plans here so keeping your old plan isn't always the best idea and definitely isn't worth paying the full price for a new phone.

Fido, Rogers, Telus, Koodo all offer 10% discount for bringing your own, unlocked phone - juust FYI. And that's just off the top of my head. I've been buying unlocked phones for a while now - got a L1520 from B&H in New York....but it really would be nice if Microsoft would bring the 930 and 1520 here officially. Oh, and it's definitely worth buying phones at full price - you'll save money over a year or two. Plus the big bonus to not being in a contract - at any point in time you can go find a better plan and just switch.

Oh cool! Nice to know! Thanks!

Rogers, Fido, Telus, Bell, and Koodo have offered a 10% BYOD discount for a while now. And as the carriers have created crappier plans over the last 9 months, and forced people onto them if they want a device subsidy, getting a phone at contract renewal time has become pointless on most of them.

Cool, thanks for the info!!

Thanks. I didn't know that this was offered. Just moved and I am on Wind which doesn't offer coverage at my new address.

Je me suis pogné un Icon sur ebay quand j'ai su que personne comptais vendre le 930 au canada

Jaurais bin voulu me pogner le 1520 mais yon annoncer le 1525. Jattend juste ca sortie pour remplacer mon 920. Pendant stemps la je rebuilt mon 920 pour qui toff lol jai bin trop gamer aur mon 920. Jle charge de 2 a 3 fois par jours maintenant. Si le 1525 sort pas ici jmen va lchercher au states :D

T'es tu avec Rogers pour ton 920? J'ai débloqué le mien pi je suis avec Bell... pas une bonne idée mais bon. J'aimerais ça que ca marche chez WIND mobile ou quelque chose.

Oui jsuis avec Rogers mais jvais pt les quitter a la fin de mon contrat. J'achète le 1525 pis chow bye. Jvais surement aller avec Vidéotron ou Telus.

Moi je suis avec Telus. J'ai pas de troubles. Mon Icon pogne pas le 4g par contre, c'est soit 3g ou LTE. Ça gosse un peu, mais c'est toujours mieux que mon 1020 qui surchauffait et qui avait crissement pas de batterie :/ Avec mon Icon je vais pouvoir le toffer jusqu'à ce que la nouvelle version de Windows phone sorte

T'as acheté ou ton icon? Moi je pense je vais changer mon 920 quand WP9 sort

Lumia 635 available at FIDO http://www.fido.ca/web/page/portal/Fido/devices?PhoneSKU=LUM635BLK

True. However they do sell unlocked devices at their store. Not the device we want though :( http://www.microsoftstore.com/store/msca/en_CA/cat/categoryID.64516700

Great news! Now i dont have to ignore all the store related sales =)

MN has had a few different etail sites in Canada for a while including one they launched a while back blueshop.ca so as long as it is an universal accessory you can find it

Awsome, now we need more then accessories, we need the phones :-)

Do you guys ship to Malaysia?

Yeah keep on dreaming dude.

They probably do if you don't mind the import charges.

Wish there was a wpcentral India store!

Would it be in $cad price?

As mentioned in column, yes.

It would be great if you could get charging covers for the 1020; I'm having a hard time finding them. And some qi charging stations

I seen that a few weeks back. Ive been using blueshop for a while now but I guess having custo. Filters for my icon is a plus. Out of curiosity why haven't I been receiving email from them(didnt want to comply with antispam law?)

Is Dan opening a celebratory Moosehead or Molson?

I'm sure he is.. I mean, it's Monday morning. No better time to crack a Molson Canadian than at the start of the week!

Please, ship to greece! Are you doing that?

I think they ship internationally, but of course the shipping price is far from cheap, along with bank charges for currency changes.

Thank you for not forgetting the folks up north. I will check it out since I need a case.

Will it have the same gear? Looking for a reliable place to get 1520 accessories since the phone itself isn't available here. Pissin in the ass finding cases, covers, screen protectors etc.

What about unlocked phones?

This is great news. Nice to know I have a good place to grab a Qi charger when the new Windows phones are released.

Let me guess, the warehouse is in Markham? :P EVERYTHING IS IN MARKHAM

Glad to hear you're opening up a shop in the Canadian space. Look forward to seeing more OEM hard to find accessories for Lumia devices.

This is awesome... Yay, WPCentral!!

Thank you for the Canada love :D

Wpcentral India store please!

YES! Way to go WP Central!

The nearest Microsoft Store fom Montreal is located at Salem,NH (4.5 hours drive). They have the Lumia 635 UNLOCK for $199 USD and the BLU WIN JR UNLOCK for $89 USD. THERE IS NOT SALE TAX IN NEW HAMPSHIRE :-) FIDO also have the Lumia 635 LOCK for $200 CAD and you can UNLOCK IT 3 months later for an extra $50 CAD (+ taxes) WPCentral should start selling unlock phones on their Canadian store !!!
Windows Central Newsletter
Get the best of Windows Central in in your inbox, every day!
Thank you for signing up to Windows Central. You will receive a verification email shortly.
There was a problem. Please refresh the page and try again.