WPCentral Forums: Our most popular threads year-end review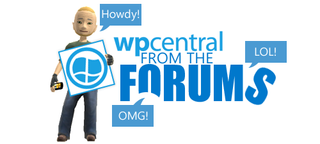 2011 has been a big year for our forums. We started out watching Windows Mobile fade away as Microsoft continued the roll out of Windows Phone 7. Yes, that all happened this year, though it really seems like it was longer ago. As we move forward to 2012, a year that we expect will be huge for our operating system, we just want to remind our members what threads were the most popular while making a couple of comments about why we think these topics were on everyone's mind.
Our biggest threads of the year was this one: 'Called Verizon Today'. Verizon was the last US Carrier to join the Windows Phone game and there were plenty of our forums members anxiously awaiting the release of the HTC Trophy, Verizon's first and only WP7 device to date. So we talked about it. That thread went 51 pages deep and has over 1,000 replies. Evidently, Verizon users want Windows phone too. Verizon are you listening? Probably not.
One of our other more popular topics in the forums was wallpapers. We have had many threads on this topic this year but none were more popular than this one: 'Post Your Wallpaper'. That thread was actually started in December of 2010, just making it to the one-year mark, so it earned its place in our 2011 review. Who doesn't love wallpapers? Heck for a lot of us the lockscreen wallpaper on our device is the first thing we see in the morning. This thread is 16 pages deep with over 300 replies and growing every day--maybe add yours?
Then came Mango. You know what we're talking about. The forums exploded on "Mango day" with thread like this one: 'It's September 15th - Mango Day!' This thread has 13 pages and close to 250 posts. Then there was this thread: 'Trick your phone to update to Mango!!!'. Threads like this one is what make our forums such a special place to be--members helping each other out. This thread is 17 pages deep with over 300 posts--very impressive.
Finally, we are ending the year on a high note with a free Samsung Focus S. WPCentral gave away a Focus S in this thread: WPCentral Samsung Focus S Giveaway. The idea here was to create a WPCentral-themed wallpaper with the top-designer winning a Focus S. What a great idea and our forums members got it done. This thread is 11 pages deep, has over 200 replies and is a great place to grab some new art for your screen--some seriously original work went on there. A big thanks to all our people who participated!
That's the forums by the numbers in 2011. What will 2012 bring? What do you think will be the most popular thread in 2012? Will it be a thread about Nokia, Apollo, maybe something new form Microsoft? Let us know in the comments and when you have a chance, jump in the forums and get that thread started. Who knows, maybe it will be your thread we are talking about next year.
Get the Windows Central Newsletter
All the latest news, reviews, and guides for Windows and Xbox diehards.