WPG, Microsoft, and Intel launch 'Made in India' PC Experience - NuPC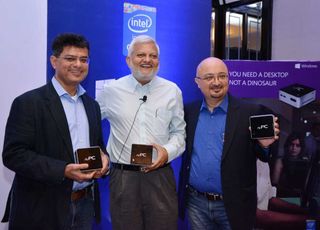 Vineet Durani, Director – Windows Business - Microsoft Corporation India, Rajeev Bajpai, President - WPG C&C Computers and Peripheral, Rajiv Bhalla - Director, Sales - Intel South Asia
WPG, the Taiwan based largest electronics distributor in Asia, has partnered with Intel and Microsoft to launch NuPC in India today. NuPC is one of the smallest form factor PCs and combines affordability with infinite customization, powered by Intel processors running Windows 8.1 with Bing.
The NuPC is an energy efficient, fully functional PC that fulfils the performance needs of average consumers but fits in the palm of your hand. It takes up a roughly 4x4-inch footprint on a desk and is just 35m thick.
From a home user to discerning enterprise users, the variants of NuPC meet the needs of both. The device can be used in kiosks, digital signage displays and other scenarios where a small, well-featured computer is required.
The NuPC is available in two variants. The Intel Core i3 processor one is available for ₹29,999 for the 2GB memory and 500 GB storage option ₹32,999 for the 4GB memory and 1 TB option. The Intel Celeron processor variant is available for ₹18,990 for the 2GB memory and 500 GB storage option and ₹21,990 for the 4GB memory and 1 TB option.
Rajeev Bajpai, President - WPG C&C Computers and Peripherals said,
With NuPC, WPG is driving form factor innovation in partnership with Intel and Microsoft. It is an important milestone in the government's 'Make in India' vision while catering to consumer needs and enabling an empowered ecosystem of innovative devices.
It's amusing how it's only the sarcastic "when in India" ones that are appearing now. I think it may have had the desired effect. Thankfully

Like seriously, like 10 people say that on an article everytime something new is released. No one knows yet, be on patient, look into yourself when its released in your country.

More than half are just non-indian trollers.

I thought at a glance the article said "wen in India" rather than "made in India...

Why would anybody be proud of a computer made in India?

You mean to say things made in India doesn't meet international standards?

This statement doesn't make much sense and many good quality products are made in India, and the Indians are very intelligent people capable of building anything the Chinese do, and probably better.

India made better products than china, what matter is ,India is not a hub, that's why "make in India" project has started.
INDIA INDIA INDIA.

Mango.lover doesn't know that google and Microsoft and every big it firm in us is alive and smooth because of intelligent Indians working there..

Alive? Barely! Smooth? Not really! Stable? Get out of town! Assembly Line Mentality? Definitely!

Should have mentioned that non the less, better than China made product! I used to love my Red Tape shoes, but they dont make the only I used to like anymore!

You see, when people create things by themselves, they usually feel proud of it, maybe your parents aren't proud of their creation, but these guys are..

"You need a PC, not a dinosaur" haha nice.

More expensive than an i3 laptop. But I guess the form factor matters.

Yup form factor matters for some.
I recently build a pc with i5 and gtx 750ti in that same budget

Better than China Made products, in my opinion!

Hahaha! How funny! I died laughing.

Justin flaviano1= little girl

Made in China = What the F is this? What the F is that?

OMG THERES BLOONS TD 25 ON WINDOWS STORE!!!

As per specs it's expensive...

It should be "when in India" ...

These are just the Next Unit of Computing, NUC, that Intel has been selling for a couple of years. I have an i3 and an i5 model that I use with Windows Media Center. They are quite competent as media centers. Intel recently added an i7 model as well. Here's a link to them: http://www.intel.com/content/www/us/en/nuc/overview.html

NuPC specs include no connectivity with display :) Perhaps in next version.

And apu s would have been better

Amd apu would have been better

so small, that won't be overheat ?

What's the difference with Intel NUC? Corruption pricing?

Excellent as long as it doesn't bend at 4"x4" and 35 meters it will make a excellent roof truss too :)

AMD should also come up with their new carrizo chips later this year.
Windows Central Newsletter
Thank you for signing up to Windows Central. You will receive a verification email shortly.
There was a problem. Please refresh the page and try again.