Wunderlist is back up and running, but still dealing with slow sync issues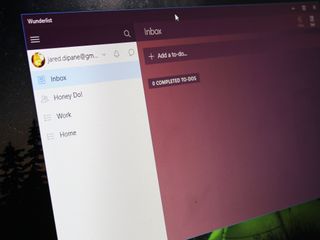 Access to Wunderlist, the popular online "to-do" list service owned by Microsoft, is now available again after close to two days of downtime. However, the service is not yet working at full capacity.
Wunderlist users were unable to log into the service starting early on Wednesday, and the outage continued well into Thursday. The Wunderlist status page offered continuing updates on this outage, indicating late on Thursday (ET) that the service came back online but then went down again early this morning as part of a planned outage "to allow our servers to catch up and to reduce the load."
The servers went back up again earlier today, but Wunderlist is still dealing with some issues. The latest update on their status page says:
Wunderlist has still not offered a detailed explanation on what caused this extended outage.
Get the Windows Central Newsletter
All the latest news, reviews, and guides for Windows and Xbox diehards.
All 3 people must be relieved :P

Great deal, you mean all of the windows 10 mobile users right?

Im on windows 10 and know at least 30 others so no :P

Given these issues it's probably best if they stop supporting the app and send the remaining users to a website instead. It's the new MS.

Try Todoist...its like a gazzilion times better than this Wunderlist BS. They lost thier CEO to MS recently, no updates, no clear roadmap, very VERY basic features.

Except Wunderlist does stuff Todoist cannot. Subtasks, attach files, share with co-workers or family . . .

Errrm. what?! Todist has subtasks, you can attach emails, files to todoist, you can share with anyone...no idea what you have used....can you create a recurring task in Wunderlist to repeat weekdays? It is soooo basic and flawed. Its a list manager, not a task manager built from the ground up ewith Outlook integration, very very powerful and flexible in its implementation. Ive used both extensively (and most other things out there)

I want to like Todoist, I really do. But there are two big things that it doesn't do, even after paying for premium. The first is that the live tile doesn't show a list of items, only a count. So that part of doesn't work to remind you. Also, reminders are currently broken (according to customer support). So you aren't reminded in any way other than going into the app. Not good enough-that's what a to-do manager is for. With premium, there's at least a calendar feed, but this seems to update once a day at most. Todoist support insists that it's the fault of the calendar, but at least before this week Wunderlist would sync with my outlook calendar way more often.

Hmmm works on mine, i set it up to send me text messages, tbh I use it contextually with a GTD implementatin, anything that has a solid time I add to calendar, if im in front of a PC I pull up todays actions in front of a PC, calls, morning, evening, home etc. Your right about the live tile, with the number of tasks each day it wouldnt display them anyway as the tile is way too small. Different people have different needs though.

No. The best features are behind the paywall, while the same features in Wunderlist are free. Wunderlist is better if you are a free user.

Yes you are right. Its soo basic that its unusable for me.

Ms should just discontinue win10 mobile and send users to other platforms. It'll be far easier to deal with than to deal with what remains of the fan base everytime they do something that gives people further impression of internal abandonment

I really need a good to do list app for me and the family to sink together. Is this the best for windows phone and pc, or is there a better one? Right now we share a shopping list with the whole family, and we add things to it throughout the week. Then at the end of the week we just go shopping for everything on the list. Convient for a large family with many needs. It would be nice to keep a list going of things to do and fix around the house as well, and even keep track of when our vehicles need oil changes tire rotations and such. Not sure if Wunderlist can do all that, but I can't find anything built into windows phone that does this, unless I set up a OneNote share or something but not as intuitive.

I have a Onenote shared for basic things like shopping, try a shared calendar that all can access and see, great way for actions on a specific date. Todoist is great, perhaps overkil and you may have to pay for the sharing of projects to more than 5 people per project as I think thats a premium feature. Maybe Skype Teams will be useful when its out.

A E-mail coming soon that Microsoft has ended support for Wunderlist as it was not working properly. I salute you MS, keep doing it we want it more :(

Either that or a massive update to bring it into the 21st century to compete with everything else out there. They have been making a lot of noise for over 12 months with little or no updates.

And that right there is why I chose Todoist. I researched a lot of options and seriously considered Wunderlist since is owned by Microsoft. But I kept seeing all these promises from Wunderlist to bring requested features and several of those promises were from a year ago if not longer and the features still aren't there.

If MS owns Wunderlist, why we havn't had an update on a really long time?

I spoke to them and a developer, they all say the same thing....its coming its coming, they wont say what. If you look at thier feature list on the website they are implementing the most requested features.....BUT..... Many of the requested features that THEY SAY are being implemented have had that status for 12 months, some even more and NOTHING has happened. Honestly, something really basic that can be done by 2 people in 30 minutes isnt even being done. They lost thier CEO who went to Microsoft and with all the changes accross the Microsoft stack I see it impossible for them to keep up to date with all of it. I think it will die a death before they throw the resources at it that it clearly needs. I like MS and I switched from Todoist, after several months I just couldnt bear it anymore. I spoke to them again and they wished me well with Todoist, again not being able to say what/when update is due. Coming Soon TM

Check out Todoists change log and frequency of updates, you can also access this changelog from the app itself. https://win.todoist.com/changelog

actually its https://todoist.com/changelog

Still no live tile on Windows 10. How hard can that be?