Wunderlist gains desktop app for Windows, updates Windows Phone app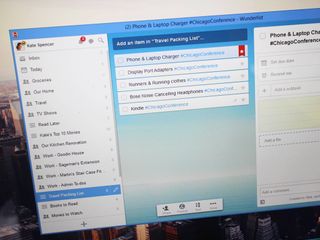 Popular list-making app Wunderlist is now available for your desktop. Wunderlist officially released updated apps for Windows Phone and Windows 8.1 this past September. Now your cloud-synced lists will be available on your desktop, especially useful for any machines you have still running Windows 7. To top it off, the team at Wunderlist has updated their Windows Phone and Windows 8.1 apps!
Wunderlist for desktop is a new app from the list-making company out of Berlin. This new desktop version of Wunderlist works on either Windows 7 or Windows 8. So don't feel like you have to just use this on Windows 7. You can find all major features of Wunderlist in the desktop friendly version.
Here's what's recently new in the Windows Phone and Windows 8.1 Wunderlist apps:
Snapped View in Wunderlist for Windows 8 allows you to keep your to-dos in view, while working in another app. It's the perfect productivity set-up.
Landscape view in Wunderlist for Windows Phone 8 lets you take advantage of your entire screen and is perfect when you're typing a long Note or using Comments in a conversation.
Complete Live Tile support lets you have both your lists and Smart Lists — like 'Today' — pinned right on your Start screen so you see your most important to-dos at a glance.
Calendar Feed integration has now arrived on Wunderlist for Windows Phone 8 and Windows 8. You can now add your personal Wunderlist feed to your calendar appt.
Facebook and Google+ support makes it even easier to sign in to your Wunderlist.
Grab the new desktop Wunderlist app and let us know what you think!
Via: Wunderlist Blog
Get the Windows Central Newsletter
All the latest news, reviews, and guides for Windows and Xbox diehards.
Well, better than "first". You know what, I didn't get that. It's a list with reminders. Looks like a mixture of Calendar and OneNote.

It has a lot of features for mobile that outlook and OneNote don't have,

Like creating a list and conveniently sharing the list in real time with users of the three major platforms. Which is the whole point of the app.

As far as I know OneNote does this too. I have a list shared with my wife.

Actually no, it doesn't update in real time. It should but it doesn't. Also Wunderlist allows reminders for specific items. It also allows setting repeating tasks, assigning tasks to a specific person, setting alarms for specific tasks. It's vastly superior to OneNote and outlook for list making purposes. Don't get me wrong I use OneNote and outlook all the time. Have you used Wunderlist?

Each task in Wunderlist's has subtasks, notepad, chat, and attachment capabilities. And it has an app for both Win8 and iOS that work together seamlessly. Indispensible for my family, because my wife is an Apple acolyte.

Actually no. I use OneNote for mostly for lists with checkbox (supermarket, vacation etc) and everything else related to alarms and so on in calendar or tasks ( actually no so much tasks). Wunderlist sounds to me Google Wave to lists. A lot if things I will end up using just the basic. So keep the basic. Don't get me wrong, probably you are a power user for lists, I'm not. ;)

You should try it. It's way faster and simpler to use as a checklist than OneNote. My wife and I use it for our shopping list. It's just a lot easier than OneNote. I use OneNote for school all the time and it's a pain to have to switch notebooks to get to your list. Wunderlist is a much better app. Let's face it, OneNote hasn't had an update for three years. It's not the best app out there. On PC it's great.

They already had a desktop Windows 7 app. Just was an older version and they basically hid it on their website.

yeah i had same app for months

Downloading and installing.

The store shows last update is 11/6/2014. That's the latest, right??

Yes, no update, in India.

No update here in Canada either. Strange.

I contacted Wunderlist support and supposedly an update is coming next week. Currently the latest version is the one released on 11/6.

Downloaded but never used it. OneNote seems to be more than sufficient.

wunder list for me -i havn't used it yet- is a social network for groups not individuals like me.

What about working in Windows 10? Let's check

One thing I like about this app more than OneNote: Instant updates of list changes when shared with others.

it's good to see this support from Wunder list

OneNote updates pretty much in real time. Use it for Family lists frequently.