Xbox app update for Windows 10 takes the game streaming feature out of preview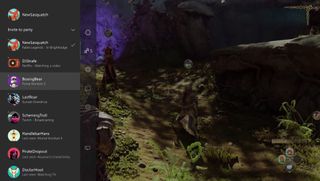 Microsoft is updating the Xbox app for Windows 10, adding some new features and improvements less than two weeks before Windows 10 itself officially launches on July 29. The biggest feature is that anyone can now use the Xbox One game streaming feature to play those console titles on a Windows 10 PC. The streaming feature launched in a preview form in June.
Here's how to enable Xbox One game streaming on the Xbox Windows 10 app:
Microsoft has also added a number of other features and improvements with this new Xbox app update:
Party Chat – Above the Friends list is a new option labeled Start a party (beta). This enables you to start a party chat or game chat with your Xbox friends across Xbox One and Xbox on Windows 10. Press '+' to invite friends, and simply click on your friends to invite them to an online party.
My Games – The app will support automated discovery of Windows Store games and a large number of older non-Windows store PC games so they get added automatically to your game collection within the Xbox app upon first launch. If a game is not automatically added, you can manually add it to your collection by selecting My games > Add a game from your PC. The Xbox team will continue to add non-Windows store games to a service-side list, so that automated discovery will improve over time.
Home – We updated Home to enable easy access to Game streaming and allow quick launch of a game from the Recently played list. Also, there is an updated Featured games section on the home screen below your recently played list, which lets you discover and install new and popular games available from the Windows store.
Profile – You can choose to use your Avatar or gamerpic to be displayed to your Friends. Additionally, you can easily customize your Avatar, change your gamertag, gamerpic, and user color, and update your name sharing settings in one place under Customize.
Share with your friends – Coming in the July release, you can upload your local game clips and screenshots for Windows store games to your shared collection on Xbox Live. Go to Game DVR > On this PC > Share to upload your local clips and screenshots and have them appear on your Activity Feed. You can capture game clips and screenshots for non-Windows Store games and access them via Game DVR > On this PC > Open folder.
Xbox Avatars – We are updating the Avatars app, so you can use the "Take a photo" feature and save a specific Avatar photo as your gamerpic. There are several ideas on Xbox Feedback that inspired this change, but this idea with over 2,100 votes and the various comments from fans drove the team to deliver this as a new feature this month. Time to head to the Avatar photo booth, select a post or a frame of animation, select a background, and select Picture size > gamepic. Then click the camera icon, and select Save as gamerpic to make your new pic visible across Xbox on Windows 10 PCs and Xbox One.
Day One Experience – For PC owners that are new to the Xbox ecosystem, we are adding a feature to the Xbox app to help you create a new account, get a gamertag, and then land in a basic user experience that helps you get started finding games, earning achievements and using your activity feed.
Source: Xbox Wire (opens in new tab)
What's the lag like on this? Assuming there's a good wireless connection.

Been working well for me. FIFA struggled mind

I assume because there was a lot going on at once. Plus a game like that would show up any hint of lag instantly. Been playing Tomb Raider on it just fine last couple days.

No good for multiplayer games then, I assume.

I've been highly impressed with this feature. Worked great with Elite: Dangerous, Diablo III, and Halo MCC. It has dropped a few frames here and there, but all over WiFi on a 5 year old laptop with an a/b/g card.

This seems to be the case, but it seems like a general issue. Using Steam Streaming gets the same results.

I play Warframe and Titanfall multiplayer and streaming is a tad slow via wifi but, connecting an Ethernet cable and there is zero lag. This while in a party and is been great.

Been streaming the new batman from a wired XB1 to a wireless Dell tablet(n)... Near Flawless!!!

Yep. The WiFi radios in both the PS4 and XB1 are pretty crappy this go around. Worse than the PS3 and XB360, so if you want reliable and fast connections you need to use a wired connection. The Wireless speeds on both consoles were so terrible on my 100mbps connection that Ethernet is basically a requirement. They are slow even over local wifi, and I think it has to do with either where the WiFi Antennas are put in the devices, or just a crappy WiFi system or firmware (the latter is doubtful, as they would have been fixed by now). I guess they used the cheapest ones they could get, to keep costs down and increase profit margins on the consoles.

I haven't seen any lag so far

Just finished playing FH2 and I drove even better straming to my PC. I guess that means none or very little lag.

Rewrite that title. I thought it meant the feature was cancelled or delayed

I thought the same thing.

Context wise it doesnt.. Depends on how you consider the word " preview " .. If it was " takes out of Technical Preview " could have been confusing.. Still, the OS we have right now is RTM version and not a TP anymore.. So the title is not confusing :)

Same here. I was about to lose my mind. I use it everyday.

Hmm, for some reason I always thought you could do other things (Netflix, watch TV, etc) on the Xbox One while someone else is game streaming to a Windows 10 computer. Guess I was wrong... That's too bad. Would've been cool.

You can only do what the console can do while attached to your TV. If you can't play a game and watch Netflix at the same time without streaming it'll be a no go trying to do the same from your PC ;-)

I suppose that does make sense (it's not like it suddenly has dual-screen capabilities). :) Thanks for the reply!

You can't with Netflix because it doesn't support snapping not because Xbox One is not capable. I read your comment while playing Assassins Creed and snapped Hulu Plus and watched a trailer while playing. I thought the whole point of streaming games was so others can watch TV or Netflix if not why bother streaming just play on the Xbox.

But definately you can now use another HDMI input from your large TV or monitor to let someone else of your family watch TV or movies. I think that a great complement for a large TV today is a Intel Compute Stick (makey your TV smart) and the Xbox One (play or stream) Just my 2 cents.

Umm... Intel Compute Stick? As a STB/Smart TV functionality for a television? Really, I think you're going a bit too far trying to push Windows 10. It's not designed for that, which is why Microsoft is using the XBox as it's Television Platform and developing a different variant of Windows to deploy to it. That's one of the reasons why Sony Dropped Linux Support in the PS3. Desktop OS needs to stay on a Desktop. Yes, we all know it's possible to use a Television as a Monitor, since last decade. Even before HDMI they were coming with DVI, S Video, and VGA Ports on them. Especially with Media Center gone, there's no point in using this for that. Microsoft killed Media Center precicely for that reason - to make sure it didn't cannabilize XBox sales. Developers could develop on top of Media Center. It's why Media Center has an XBox App. With Wireless Display Technology you could use a PC with a Television with no extender and access online services through Windows Media Center - completely negating the need for an XBox as a Media Platform. To prevent that from happening, they dropped the software and moved everyone off of Windows 7 and 8 (which is the vast majority of their users). The reason why hardly anyone used WMC except to play DVDs is because Microosft basically abandoned it after XP MCE to push people towards the XB360 as a STB instead (and it's a lot easier to negotiate with media companies when you control the entire hardware/software stack and can put whatever restrictions you can on the user - to control piracy, etc.). The fact that people cried so much about not being able to DVR in Windows 10 due to the lack of WMC... Well, that's the entire point. Kill it on Windows, add it to XBOne, and give people a reason to BUY that instead of just USE their PCs.

But we watch TV through the xbox. The hdmi signal from our satellite receiver is routed though the Xbox.
So basically if the kids are playing games, we can no longer watch tv.
You can snap tv and play a game so it shouldn't have been that difficult.
This feature has been massively misrepresented. It's actually pretty useless to us I think.
Very disappointed family.
Microsoft have really mismanaged expectations.

And this is the way Microsoft marketed the Xbox One as being the central entertainment unit for games, media and TV. Yet they release a feature to push users to have TV pulled from that concept, misrepresented alright. As usual MS cannot maintain consistency, they sell you on one vision to only change it on you.

Now I don't feel bad for kicking my son out of the Living room for me to watch a movie or catch GoT, he just go to the laptop in his room and continue playing, awesome. BTW looks like the range of the wireless controller goes far enough for him to play in his computer while the controller still connected to the Xbox one ;)

Honestly, I don't think it ever needed the preview tag. It always worked great since I first started using it. I mean, obviously streaming won't give you a good FPS experience for a while (I struggled on Titanfall), but everything else was pretty good.

It was only available to Xbox Preview members. Always gonna carry the preview tag while that's going on ;)

This is an amazingly cool feature. We have a small office, and most people here have xbox's at home. We now have one xbox here at work that anyone can stream into and use at their desk! Pretty cool. You were able to stream the tv app, which was amazing. Seems like they've clamped down on that feature. They should allow you to stream at least the TV app. Come on!

Seems like streaming the TV app is working again. Would be awesome if they keep allowing it!

I checked it out yesterday and it wasn't letting me stream tv. Mentioned my disappointment in feedback, really hope they do allow it.

This is awesome, for some reason I thought this feature was going to arrive until Fall 2015. Really amazing work from the Xbox team. I hope the same will be for the Lumia 940 and 940XL and they get the best features of Windows 10 when they are relased (Windows Helo, Xbox Streaming, Universal Minecraft, etc)

Been streaming since day one and has been pretty solid. I have been streaming my multiplayer games while the wife watches tv so now I don't have to move the Xbox to another TV when she takes over.

My cousin upstairs has a Xbox One on my network(hardwired). Can I play against him on my hardwired PC on the first floor?

Anyone know how to sign in via the App? I can power on the Xbox, but I need to sign in before I can stream, which means I need to go down two flights have Kinect take my picture then run back upstairs to play. Bit of a pain.

You just sign into the Xbox app using the email address assigned to your gamer tag. If you'd like to set it up to turn your Xbox on from the PC and sign you into your Xbox, you'll need to set that in the Xbox account sign in settings on the Xbox itself.

I live in Malaysia , South eat Asia .
When I try to download X box music here what I get :
Subscription not available
Sorry, we don't have any subscriptions available in your region.
Is Xbox music just for the US ?

Sadly no invite to Xbox dashboard preview so i can't enjoy this on my desktop, nor my laptop until the dashboard is available to me. Xbox gamer tag is CelticDraigon :D. But I am jealous for those of you who get to test this.

You don't need Xbox dashboard preview! You can test it out yourself. And it works great. I love it.

Always when I press the windows key, it opens up the start menu, even though I press win+ g eg.

This worked great on MCC.

Why I am seeing those options in my phone xbox app too? There is an option to connect to xbox in the app. Did anybody try?

It's for Smartglass. You can use your phone as a controller\remote\keyboard, you can (push) app\game purchases to your Xbox and install them, purchase any other content for your Xbox, turn Xbox On\Off..... This has been available since Smartglass was first introduced.

The title had me thinking they removed the feature >.

This is ultimate dell pro 8 tab accessory with streaming... utorcase.com Next up is home vpn for on the go gaming

I wish this feature was actually useable for me. My tv is routed through the Xbox. The only reason I would ever need this is if I wanted to play a game while my wife watched TV. I'm not going to reroute the TV every time I want to use it, and I don't want to lose the Kinect functionality by putting the TV on a different input. That all makes this feature pretty useless for me. Such a shame.

This is precisely the predicament I'm in. I don't play games very often. My XBox One spends most of the time showing TV from my DVR, Blu-Ray, Amazon Prime Instant Video, etc. Considering that the system *can* process the game and TV simultaneously, I see no technical reason why it could not stream the game to a Windows 10 PC elsewhere in the house while displaying TV on the main screen. I've even considered purchasing a second XBox One, but that seems a touch excessive.

I tried this out the other day to just see how it worked. I was playing ori and the blind forest (a game I never finished). So first attempt it crashed (the game crashed), resulting in just one note going, like it froze. So I exited out of the game and tried again. It played back fine. I was playing a Xbox one game on the PC. The volume level was really low, it seemed I had to crank up the audio on my PC to almost 90% to get a good volume but, othewise it ran very well.

No issues with sound here. Check your game sound settings in your xbox one settings.

Hey I'm having an issue. The MS blog post says there are two was to do this.
1. You can go to a recent game and only stream the game.
2. You can stream the whole console, and it'll make it play on your TV as well as though the person is right there playing on the console.
Here's my issue. When I go to a recent game, for example Titanfall, and click stream game it streams the whole console and streams it on my TV at the same time which is the exact same thing as if I opted to stream the console rather than just the game. MS specifically said there's a difference between the two options, so am I doing something wrong? Posted via the Windows Central App for Android

Yes it mirrors the image to your pc. Did you expect something else?

Yes since they said its only supposed to do that if you stream the console not the game Posted via the Windows Central App for Android
Windows Central Newsletter
Thank you for signing up to Windows Central. You will receive a verification email shortly.
There was a problem. Please refresh the page and try again.