Xbox (beta) for Windows 10 updated with Facebook friend finder and more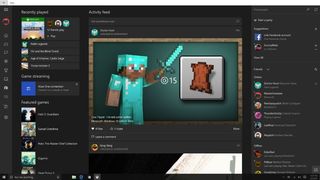 Microsoft is currently rolling out a new version of its recently-released beta version of the Xbox app for Windows 10. It adds a number of new features, including one that's meant to make it easier to find friends online
Larry "Major Nelson" Hryb talks about the new Facebook friends finder in the Xbox beta app:
In addition, people who have the Xbox beta app installed in the Windows Insider program version of Windows 10 can try out another new feature that allows users of the Game DVR feature to add their own voice to the game clips:
There are many more new features in the Xbox beta app, according to Hryb:
The Store link in the Xbox beta app will now bring you to the Xbox Store—a launching point for browsing and searching for both Windows 10 and Xbox One games. The new interface allows you to see more products at a glance and brings you the latest crop of most popular Windows 10 and Xbox One games, sales and specials, plus your Deals with Gold and Games with Gold games.
In the Xbox One section of the redesigned Xbox Store, gamers will enjoy a persistent search box, reducing clicks between searches. Also, when you type in the name or a description of the Xbox One content that you are searching for, the search box will suggest some top matching search results.
Once you've found the content you are looking for, fans will enjoy quicker and more contextual actions. Own the content already? Click the 'play on console' button and kick off a game streaming session. Don't own the content? Just click on the 'buy' button to purchase.
Redeeming codes gets easier too! Just like on Xbox One, when codes are sent to you in a message, simply click 'redeem code' to redeem. The 'Redeem a code' link in the Xbox One section of Xbox Store allows you to enter-25 digit codes right in the app as well.
Again, the update for the Xbox beta app should be available to download later today.
Download Xbox (beta) from the Windows Store (opens in new tab)
Source: Major Nelson (opens in new tab)
Windows Central Newsletter
Get the best of Windows Central in your inbox, every day!
Ugh, the app STILL has that weird, blinding gray titlebar. They've even showed off screens where it's been made a more proper black, but they've just never taken the 10 seconds to fix it. So weird. Edit: I'm seeing screenshots on twitter showing that they did switch to a black titlebar. Maybe I'm wrong. I hope so!

Ok.. I just got Win 10 on my Xbox and (like they said) Destiny; Taken king isn't working. I hope they fix that soon AND even more important, I hope they've done extensive tests with Halo 5. It'll be really bad if Halo doesn't work on launch day for preview owners

I haven't rebooted to my Preview Build but yeah currently Xbox app still have this inconsistent white titlebar. I don't get it why they can't just change the color of it since RTM. It's really annoying that Microsoft these days doesn't have any eye for details on their UI, most of their apps have this inconsistent or missing pixels in their apps.

It's black for me. Also next Windows 10 update allows whatever color title bar you want I think.

Is the memory leak also fixed on the latest Win10 insider build? I really have to open task manager to kill 2 processes in order not to crash

My PC still bugged with xbox app, when I load the app it freezes the system...I don't use facebook but it would be interesting integration on the console side as well...

I wish they would update it with maps or some way to see your games.

I still can't stream. I've gone through so much troubleshooting... my Xbox One isn't seen by my desktop, no matter what. Even by IP... nope, doesn't see it. Funny enough, the desktop is hardwired, but my Surface 3 and laptop see the Xbox One, and connect..... over wifi.

My Store feature for Windows 10 doesn't work. Have been waiting for the Xbox games section for the store cos finding them is awful.