Xbox Dev Mode turns any Xbox One console into a development kit, preview due today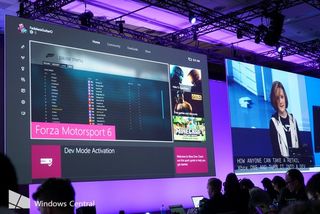 During today's Build 2016 keynote address, Microsoft announced Xbox Dev Mode, which will allow any Xbox One console to be turned into a game development kit. A preview of Xbox Dev Mode will be released later today. Microsoft promised such a mode would be released way back in August 2013.
Developers will download the Xbox Dev Mode app from the console's Store, and then register with their developer account. They can then switch the console to Dev Mode with a single button press, which will then reboot the console. Developers can pair the console with Visual Studio and remotely deploy apps to Xbox. The Universal Windows Platform does the heavy lifting, and the Xbox One controller is supposed to "just work". XAML controls are designed to work with touch, mouse and controller. Developers can test apps with a controller without having to use a Xbox. There's also speech recognition support.
Microsoft will also release a Xbox Dev Home app that will include an account management and developer settings, which restarts the console into a normal user mode.
Stay tuned as we will have more news from the Build 2016 keynote throughout the day.
just anything-anything to sell a few more xbox, i will still be with play station.

Lol, I don't think this is an aim to "sell" xbox. How about ensuring that those with a creative mindset are able and can freely put it to use if they so desire rather than sit and stare at a screen for hours. Each to their own I guess.

Thanks for letting us know

Wouldn't that thing be a big security hole for modding games?

Don't think so, since the app has to go through the Win store certification process but you never know.

I mean like, since you can deploy an app onto the Xbox, using a security breach to elevate rights and write in the other game's file would be easier.

Probably. Even if it is sandboxed, it is not something to be ignored by Microsoft

You will only be able to run UWP apps on the Xbox One which means they definitely are sanboxed. You won't be able to modify game files for modding anymore than you already can. Plus, it looks like in dev mode you can't play retail games or even connect to Xbox Live.

So I have to add my dev account or can I link it with existing XboxLive login? -Mach 8 Solutions, LLC a software company.
Http://mach8solutions.com

http://support.xbox.com/en-US/xbox-one/apps/developer-mode-activation-ap...

Super excited! I cannot wait to bring my applications to the Xbox One Zachary Bowling - ZAD Apps

Good to see its optional & not something wasting precious space though the underlying requirements still could be

"Sorry, you can't be in two preview groups This console is already in a preview group. Are you part of the Xbox One Beta program? If so, you need to leave the program first before you can join this one. You can do so through the Xbox Preview Dashboard app." Off to a great start. c:

Yeah I really want to try out the dev mode, but at the same time, I don't want to leave the Preview Program... Although they did say the Dev Program also gets you the latest Xbox One updates as well, idk for sure though. Also, I'm quite positive Windows Dev Center accounts are free now. I think a few years ago Microsoft made the membership free.

I'm talking about Windows Dev Center, not Windows App Studio.
An Individual account, with limited app capabilities, among a few other things, is $19. They have stopped accepting codes from Dreamspark, and the listing for them were removed from their catalog.

"Hello Nicholas,
We appreciate you reaching out with regards to your registration. After further review, we currently are not accepting DreamSpark codes for new account registrations. Please continue to watch over the DreamSpark space for updates. Kindest Regards,
-snip-
Monday-Friday 9AM-6PM CST
Microsoft Windows Developer Support"

Also a Dev Center account is required. It costs money. This barely mentioned anywhere, :p
Windows Central Newsletter
Get the best of Windows Central in in your inbox, every day!
Thank you for signing up to Windows Central. You will receive a verification email shortly.
There was a problem. Please refresh the page and try again.