Xbox lead Phil Spencer surprises fans who lined up for Xbox FanFest tickets in LA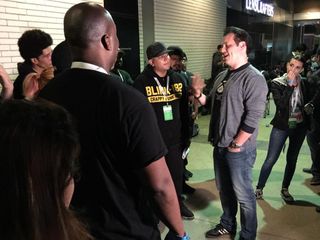 Microsoft started lining people up on Saturday night at the Microsoft Store in Los Angeles so they could get tickets for this coming week's Xbox FanFest events. People who got in line also got an extra surprise; an early morning visit from Microsoft's Xbox leader Phil Spencer.
Spencer showed up to chat with Xbox fans and pose for selfies, along with Xbox Live head of programming Larry "Major Nelson" Hryb, the company's head of its games marketing team Aaron Greenberg, and Rod Furgusson, the studio head for The Coalition that's developing the new Gears of War game for the Xbox One. That team also gave out donuts from LA's famous Randy's Donuts to some of the people in line. Some people came from as far away as Panama to attend Xbox FanFest.
500 folks in that line will walk away later today with tickets to the Xbox FanFest events that Microsoft is holding in LA during E3 2015. That will include entry into Microsoft's pre-E3 press briefing on Monday, June 15, along with an Xbox FanFest Party later that day. Microsoft is also offering some surprises for those lucky fans, which might include entry into E3 2015 itself. Windows Central is attending E3 2015 and will be live blogging from the Xbox briefing on Monday. You can also watch that briefing remotely with a variety of methods.
Source: Phil Spencer (Twitter)
Yeah I was there got to meet Phil and Larry took a pic with Phil got a little box from state of decay with survival snacks inside. Got my credentials for the fanfest

Damn that's pretty badass

I really wonder what the current Xbox launch would've been like if Phil Spencer had been in charge instead of Don Mattrick.

What if indeed. Still amazed how those duches phucked the Xbox One Launch.

True, the x1 may not have been under powered as it currently stands (compared to the Ps4), however both are using custom low end parts. They may would have been able to run power pc in emulation (thus making the x1 backwards compatible with the 360) if they used a much more powerful SOC. Never the less hardware is half the battle, software optimisation and UX design is the other half.

Remember MS doesn't profit from the hardware. Or hardly does. I think they stay minimal for a reason. Who knows.

Still I wonder why they did not push it further than the PS4 since they likely get more cash back than Sony considering the need of a xbl subscription ...

PS4 requires a subscription as well....

You are right, I remember. They changed that with iteration 4, didn't they?

I agree. I believe they went with what was a nice balance of powerful and cheap that they can optimize over time. Games wear thin over time unless the gameplay is first rate. Nintendo showed that you can be a leader in fakes without the most powerful console. I'm not sure why people think "PlayStation is more powerful therefore = better". It's silly. But MS really needs to lean on their IP now since they decided to not go the brute force route. Show us the innovative gameplay or at least rekindle the excitement of arcade style play and continue the excellent online experience. They also need more platformers as that is my preferred style of play nowadays (back to old school).

I agree! Still, it would be better to have a console that is actually powerful enough to run the messaging app next to a game without taking hours to load and it crashing all the time ...

If Don was still around we might actually have some first party Kinect games, HoloLens would be making Morpheus look like a joke, and Humans tv series would be premiering on Xbox instead of AMC this month. Xbox division would probably still be profitable and X1 would have a chance of being the best selling console in the US. Now we play poor mans PC and Oculus cheerleader instead.

This guy gets it! We'd have been MUCH better off with Don and not this clown. But Nadella is looking short term to keep investors happy so he can keep his job and humongous salary.

Don bungled the XB1 launch badly. He had the chance to have Kinect games at launch. There were none and no plans in the works for any decent ones. Having it required was unnecessary, expensive, and gave Sony the early lead they needed. Mattrick was also enamored with Zynga. He wanted Xbox to buy that company. Remember how all the early launch titles were infested with microtransactions? Well, he got what he wanted and left to run Zynga. And badly mismanaged them too. He was fired a year later and is out of the games business.

I would have love to have a more TV/Movies friendly Xbox One and obviously Kinect friendly too. When I play in my brother's Xbox it is a pain to not have Kinnect to control the TV. I just got used to not need the TV remote notheless all my friends but the hardcore Microsoft fans bought the PS4 because they wanted a console... I still call them shortsighted but they still call betrayer. I still preffer to have Phil than Mattrick.

It would an honour to meet Spencer am a big fan. Those were some lucky fans nice move

All Microsoft people they just like me and u check out Joe and Gab or Satya him self are the most simple guys ever

What were you thinking them to be..?

How damn lucky those folks are, gettin' donuts for free.

Mmmm.... Them donuts though... You have to have them...

That's what i'm sayin!!! Posted via Windows Phone Central App

Food. The way to a mans heart. Ha.

Good times... The year Microsoft took over... Hehehe

"The year Microsoft took over..." Been hearing that since 2011, lol.

Man I wanna meet Steven sinofsky when win10 for phone is released and want an exclusive hands on for me

You do know Sinofsky was kicked out/fired some two years ago right?

Op probably meant "exclusive hands-on", (innuendo intended). But yeah I'm just kidding :P. Not only Sinofsky but a few others as well mainly his stls (senior team leaders).

I met major nelson in Edmonton with the Xbox one tour. It is fun to meet people!

Really? Is meeting people that much fun? Got to start doing that

Nah, it's overrated. *hides in his basement* (even though we don't have basements in Australia :P)

Well it was more fun to play on the Xbox one before it was released.

Much better, I have met Satya numerous times.

next time you meet him, ask him why he cancelled moonraker. he's been in charge 16 mos now, so he cancelled it

That girl in the background be like ......

Yep! Gotta love gamer chicks.

There are more of us than most think

Your comment made me zoom.

I wonder what t-shirt he had on.

No one's mentioned Blink-182 yet? lol

Actually, he does look a *bit* like Mark Hoppus. But you were probably gonna say something different right? XD

Awesome, wish I could have been there.

Phil is the fucking man. This generation of leadership is a far cry from before. Totally different direction, culture and overall feel.

Totally forgot to go to this! I only live 20 minutes away.

I got there at 11:30AM and got ticket #500 :)
Windows Central Newsletter
Thank you for signing up to Windows Central. You will receive a verification email shortly.
There was a problem. Please refresh the page and try again.