Windows Central's E3 2015 plans and predictions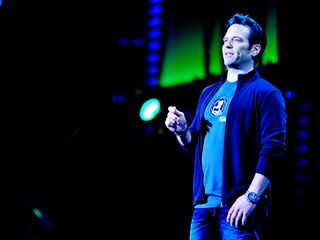 Here at Windows Central, we cover just about everything a Microsoft fan could be into – and that includes games. In fact, our gaming coverage is highly worthwhile. We review a variety of games for Xbox One, including both AAA and indie titles, interview game developers, cover interesting Steam titles, and even write the occasional strategy guide .
We also attend and cover the big gaming shows and events. Nothing could be bigger than E3: the Electronic Entertainment Expo. E3 and the preceding press conferences take place from Monday, June 15 through Thursday the 18th. This year we'll be there in full force, with four staffers on the ground playing games and interviewing their creators. You won't want to miss our Microsoft-oriented take on the news and games of the expo.
Read on to learn more about our E3 2015 coverage plans and predictions!
E3 2014 photo from Wikipedia
What's an E3?
The Electronic Entertainment Expo is the single largest gaming event of the year. E3 2015 takes place at the Los Angeles Convention Center and is open only to members of the gaming industry. Still, it gets pretty crowded!
During E3, all of the major game developers and publishers crowd into the Convention Center and exhibit a selection of their latest and upcoming games for attendees to watch and play. Many new games will be announced, while others that we already know about will be revealed in action for the first time. Check out last year's E3 2014 stories to get a preview of what goes down.
The press conferences
The very largest publishers and platform holders will kick off E3 with press conferences. These usually take place the Monday prior to the show. But this year, there are so many conferences that they've spilled over to Sunday and Tuesday as well.
E3 2015 press conference schedule:
Sunday, June 14:
Bethesda – 6:30 pm Pacific Time
Monday, June 15:
Microsoft – 9:30 am Pacific
Electronic Arts – 12:30pm Pacific
Ubisoft – 2:30 pm Pacific
Sony – 5:30 pm Pacific
Tuesday, June 16:
Nintendo – 9 am Pacific (online only)
Square Enix – 10 am Pacific
PC Gaming Show – 5 pm Pacific
Microsoft's annual Media Briefing runs from 9:30-11am Pacific (GMT -0700). Windows Central will be there and live blogging from the briefing, so make sure you check back with us Monday morning!
Do you want to watch the Microsoft Xbox briefing live? We'll have the video embed right here on Windows Central in case you want to watch with us. You can also stream it on the Xbox One. We'll post more details on all of this later.
We'll also liveblog the EA press conference and cover news from the remaining conferences. Stop by for all the announcements that a Microsoft fan could want!
Bentō photo from Wikipedia
The foods of E3
Perhaps the most exciting aspect of E3 is the opportunity to sample the Los Angeles cuisine. We all crave very specific foods when we're covering a show – things that keep our morale and concentration at their peak.
My E3 meal of choice is sushi. I always like to start out with a nice appetizer of edamame (soybeans), an excellent source of protein that's also fun to eat. If the Japanese restaurant offers bentō boxes, I'll always choose one of those. You get a good variety of items, all collected and separated by dividers in a box-shaped tray. The sushi (usually California rolls) and vegetable tempura are my favorite items in the box.
Check out the rest of the Windows Central E3 team's food picks:
Daniel Rubino: Hamburgers! He doesn't care where.
Mark Guim: Hamburgers from In-N-out Burger. Daniel will probably tag along. Jonathan loves that place too.
Jonathan Dollison: Poutine – a Canadian dish that consists of French fries topped with gravy and cheese curds. Since nobody sells poutine in LA, Jonathan will have to settle for - Hot Pockets (free at this year's convention).
Jez Cordon: The J-man sadly can't come along to E3, but he'd totally eat spaghetti if he did.
Richard Devine: If Richard went to E3, he'd order plenty of French Toast.
Phil Spencer
The pressure is on Microsoft
Even though the main reason anybody goes to E3 is for the food, they also have some video games at the show. That way, attendees will have something to do between meals – it makes perfect sense.
Monday's Media Briefing is where Microsoft lays out its plans for Xbox One for the next year and beyond. Reception to the Media Briefing sets the rest of E3 and determines whether media and gamers consider Microsoft to be the winner, loser or runner-up of the expo.
This year, Microsoft needs a strong conference. Although the Xbox One is selling strongly in the US, it still struggles to catch up to the PlayStation 4's lead. The situation in other markets like the FIFA-loving UK and especially Japan is even more challenging.
The Xbox One reveal had a disastrous event at E3 way back in 2013, you see. A focus on media and entertainment functions, a high price tag resulting from the mandatory Kinect peripheral, and hardware that fell short of power compared to the PlayStation 4 all hindered the new Xbox out of the gate.
Microsoft quickly course corrected, replacing the media-focused Don Mattrick (largely reviled by gamers) with the more videogame-savvy and charismatic Phil Spencer. Phil and his new team presumably had an awesome meal and then quickly put plans into place to help the Xbox One catch up to Sony's competing system.
The thing is you can't just pull great games out of a hat. This year is when we really start to see the fruits of the current Xbox team's labors. We'll find out about the hot games that Microsoft has planned for fall and winter 2015, and perhaps get a tease of next year's titles as well.
The Battletoads cameo in Shovel Knight on Xbox One
Microsoft to bring in the big guns
Here's what I think Microsoft will announce at E3 this year. For another perspective, check out Jez's Top 10 most anticipated announcements of E3.
Tomb Raider: The latest Tomb Raider launches this fall as a timed Xbox One exclusive. You can bet we'll see it during the briefing.
Two games from Rare: Microsoft's Rare studio has languished for years making Kinect Sports games. This year, we'll finally see a traditional game from them at E3. In fact, my money is on two games! One is likely to be a new Battletoads or another resurrected property. The other will probably be a brand new IP – something meant to appeal to a wide swath of gamers.
Gears of War: The HD remake of the first Gears of War is Microsoft's worst-kept secret. The big MS could surprise us by releasing the remake as a downloadable title during E3, but it's more likely to be a retail release for the fall. Also, expect a teaser for the brand new Gears of War currently in development.
Halo 5: Of course they'll show off Halo 5, which comes out later this year.
Forza 6: The latest installment in the popular racing simulation series launches this year as well. The big question is whether it can compete with Forza Horizon 2's popularity.
Fable Legends: If the multiplayer Fable game doesn't show up at E3, Microsoft will probably show it off at Gamescom instead. However, I would read that particular absence as a vote of low confidence.
ID@Xbox: Sony has been killing it with indie support on PlayStation 4. The indie situation on Xbox One has certainly improved dramatically, but Microsoft still needs to catch up. Expect to see a few Xbox One exclusive indie games with mainstream appeal during the briefing.
Killer Instinct Season 3: Xbox One exclusive Killer Instinct is no Street Fighter V killer, but it still commands a sizable following in the fighting game scene. Killer Instinct characters are released over time in seasons. The second season just wrapped up with the introduction of Aria. A Season 3 trailer has a decent chance of showing up at E3.
Halo Reach: With Halo 1-4 and the recently-released Halo 3: ODST available to play in the Master Chief Collection, only one classic Halo FPS remains unaccounted for. Halo Reach is quite likely to reach the MCC at some point, but I'm not positive they'll announce it at E3.
Joe Montana Football: Rumor has it that Microsoft is secretly working on a resurrection of SEGA's classic Joe Montana Football franchise. This title will be an Xbox One exclusive series, much like Sony's baseball game The Show. Depending on the title's progress, it could well debut at the conference.
Phantom Dust: During last year's briefing, Microsoft announced a new Phantom Dust game. Oddly, they produced the (crappy) E3 trailer without the consent of the game's developer. This year, they broke ties with said developer, which forced them to close shop. BUT! Supposedly a different developer has taken over the project. Microsoft could win back confidence in Phantom Dust by showing off an impressive new version at E3, but only if the game is far enough along.
Note that Crackdown 3, Quantum Break, and Scalebound definitely won't be at E3 because they are coming to Gamescom.
Follow the Windows Central E3 team
The following Windows Central team members will be present at E3 2015:
Follow us all on Twitter (and @windowscentral) for constant updates on the games and grub of the expo.
Be sure to check back at the site every day next week (and beyond) for our E3 news, interviews, and impressions. With your support, we'll continue to bring you the best dining, I mean gaming coverage a Microsoft fan could want!
Paul Acevedo is the Games Editor at Windows Central. A lifelong gamer, he has written about videogames for over 15 years and reviewed over 350 games for our site. Follow him on Twitter @PaulRAcevedo. Don't hate. Appreciate!
Can't wait for e3, this year the Microsoft keynote will be awesome with Hololens and Win10 joining all the Xbox games. Glad to see you're going, have a great time Paul!

But windows central is just a copy/rehash game news. U can get in e3 that way?

It's not copy rehash if I come here first for my news. Don't presume to think all of us go else where first!

Because we're flying people across the U.S. just to rehash other peoples news. Of course we are.

No not at e3 I meant before.

That's unfair, and borderline rude, after the investment th they did in gaming news, particularly with Paul's work. Shame on you.

I simply meant\asking, rehashing Xbox wire news, or official people on twitter and passing them off as your own(with source link of course). Can get u into e3. J always felt their gaming news isn't as strong as their other windows pc/phone news.

HoloLens will be shown of as well :)

E3 Food Conference - bring on the burgers... And some Tomb Raider news please.

I hope its infinitely better than last year's. Live my X1, but need better games. Looking for a slam dunk this year

So jealous! Still puzzled that MS would launch their own football game. Hope that doesn't upset EA.

Does EA also care that Microsoft is going to release their own FPS when they've got Battlefield?

Yes, I would imagine that they do care. However, it is a different kettle of fish. FPS relates to a huge swath of titles. Realistically speaking, many do not clash as much as you would think. Battlefield, Hardline, COD, Unreal, Gears, Plants v Zombies et al, they all have their own niche. They all gave their own feature set and all have different play styles, to a degree. MS could launch several FPS, TPS and not worry anyone. Launching an American football game is another matter. Can you imagine MS developing Pro evo football? It is a very similar comparison. Now if they were to launch Speedball 4, I am sure EA wouldn't care much, as it is in the sports genre, but not a direct competitor to a niche that they monopolise.

Well, EA won't release Madden or PGA, or any good mobile sports games for Windows Phone / Windows (except for Fifa)........so I say, F'em.....i hope Joe Montana football is awesome.

EA hasn't released a PGA title in a while, though. Maybe it'll change with the Rory McIlroy's launch, but I can't say it bothers me.

I don't think the pressure is on Microsoft. Last year, sure. This year is all Microsoft's to rock the gaming industry. We know there are games and we know HoloLens will be there.. It's gonna be awesome.

"In fact, our gaming coverage is highly worthwhile." Humble too! :P

I think he meant it's worthwhile us covering it!

Excuse me, but bento boxes are not crap!

Honestly, Microsoft really doesn't need to do much to "win" E3. Sony has already said in a recent financial meeting that they've got no first party titles for the rest of the year. Nintendo is unfortunately too far behind to "win" (I think they just recently got 10 million Wii U sales, plus, I would expect all future resources to be focused on NX).

Behind or not, Nintendo pretty much "won" the last 2 though. Not that I expect it to happen again. Nor do I expect NX to have a major impact on their game-releases for the Wii U, even when some teams are surely working for titles for NX (whatevet ir is and whenever it will be released).

Nintendo hasn't won anything. They only milk their famous franchises for another title and go for a very specific target audience which hasn't made them sell much. The wii was an unexpected success, one they won't be able to repeat. Nintendo is the only developer doing big games for the WiiU, they don't have much else. Plus, one thing to note, is that they aren't doing a keynote and the past 2 years have made no big unexpected announcement, so why would you even say they won E3?

Preferences vary of course, and in that sense no one ever "wins" e3, but Nintendo was quite widely regarded as the winner last year; the one with the most exciting announcements. The success of Wii or the poor sales of the Wii U have nothing to do with that. Of course, that doesn't really mean anything for an individual, because as already stated, preferences vary; personally, I've only seen 1-2 interesting games for PS4 or XBox. P.S. Nintendo often re-uses famous characters, but they release new IPs all the time, and usually only release 1 game / IP / platform.

Nintendo won nothing. Xbox showed the best exclusives. Like last year my Nintendo predictions. Mario thois, Pokemon thats, Zelda this, Yoshi that and some crap on 3ds no on cares about some stupid amibo crap!

You know Amiibos are pretty popular, right?

It's going to be great. I'll be watching all the conferences :)

There is a common misconception about E3 2013. It was the xbox reveal that was about media and entertainment functions and the reveal was not done at E3. It was held two or three weeks before E3. Xbox 2013 E3 conference was games, games, games and pricing.

Exactly! It was nothing BUT games. I watched it live. I remember tiring of correcting people who pretended that Microsoft never showed any games. The Microsoft hate train was moving at supersonic speeds back then

The issue at E3 2013 was the console's price tag and some of the policies Microsoft had chosen. It was certainly a better conference than the console reveal, but still met a negative reception.

That's what happens when your competitor buys out the media coverage. Over half the media coverage was misinformation.

I was just about to post this too. The reveal was focussing on the platform and on TV too much, but E3 was about games. But those PS fanboys made everybody think E3 was messed up too, whilst it was only about the price and policies that had a somewhat negative impact. Not that Sony had big things to show. Most of their titles announced at E3 that year were postponed or already aiming for 2014 or 2015 release. Plus last year it wasn't that amazing either. So i still don't understand why those SonyPonies keep saying their console is so much better. Because if you look and compare, it has the worst OS, it has a worse network, it has worse live-services it has no big games at PSN+ yet and the controller aint that great either. The only thing is that it has an advantage graphics-wise in some games, but that is mostly due to lazy or unexperienced devs. Some engines are just not working properly on Xbox One or are lazily ported that don't push the console to its limits. While multiplatform titles are sometimes performing a bit better, the exclusives are pretty much tied graphicswise. Anyways, we'll see what they bring. I only hope they will take a more global approach to their new releases and updates. They've been focussing on the US too much, while they've been losing pretty much everywhere else. We need more services in Europe, improve the ones we already got and get more local content on it, so it doesn't feel that Kinect or the app-store is as useless as it is now.

I like your writing, Paul Acevedo. Keep up the good work.

No streaming on Xbox 360??

Of course not. The only reason MS still sell the x360 is to get people into the xbox ecosystem. THen from there people realize they need to upgrade to a xone so that they can get the awesome new features and games.

The event app is there at store, I got it on my 360z :P

Your point? Xbox One is still the for us going forward.

I have been less than blown away with the Xbox One. It's finally catching up to the 360 features-wise, and up until recently most games have just been 'ok'. I am looking forward to Windows 10, as I presume it will refine the interface, sort of like the major redesign of the 360 did. Also, we're finally getting past launch title quality games. Up until relatively recently, there hasn't been a lot of 5 star games on the One. So, yeah I'm looking forward to this e3. I'd also love to hear a family plan announced that would allow the experience with digital downloads to be closer to physical media within the home for multi console homes.

Man, we really need some Holiday 2015 new IP. Last year included Sunset Overdrive and Shadow of Mordor, but this seems like the year where new ideas were left back in January, with Dying Light (which was rather iterative of Dead Island itself).

My prediction is Xbox has a new IP heavy hitter like halo, gears, forza. It'll be something to round out their genre portfolio. First person Coop action rpg.

So something like Dying Light, but probably in a fantasy setting.

Yes. But obviously different gameplay mechanics. Could be successful if done well.

Ehh, even if you "change it up" by going first-person, it really seems like quality games mixing RPG elements have already taken a pretty good foothold this generation (Sunset Overdrive, Shadow of Mordor, The Evil Within, Dying Light). I think something more light-hearted, maybe to combat Nintendo's reign in that regard, would be better. It's too bad they waste time putting out two Forza series, as I'd like to see them bring us another arcade racer, in the vein of Full Auto. They don't really have the stable of characters to do a Smash competitor, either. I'd just like something casual and kid-friendly, for a change.

There's enough fantasy crap already. Severely lacking in good scifi RPG's. Last one was Mass Effect and it's been finished for awhile now.

I guess that depends on preference. I like Defiance. Many like Destiny (both are shooters, but with quite a lot of RPG elements). I plain didn't like Mass Effect. Also, what about Star Wars: The Old Republic?

Looking forward the the Bethesda announcement.

Does E3 cover PC gaming, or is it only about consoles? Posted via the Windows Central App for Android

Some PC gaming is there too

Isn't the PC Gaming Show being held at the same time? Or is that not actually a convention-style event?

It's a press conference-style event on Tuesday evening.

E3 is mostly about the big publishers, and they tend to focus on consoles.

I wish I could go to e3,,a long dream I have always had!

I would like to see new hardware announcements at some point, but this may not be the best venue. I want more interesting games, but have grown tired of fps. Hardware wise I would like to. See a sub $300 unit sans bluray. Then a sub $200 device that can stream from an xb1, but is mostly for universal apps and media. Just with better graphics than your average hp stream or chromebox.

Paul, were you hungry writing this?

That's my secret... I'm always hungry.

Lol. Btw, great article Paul.

In my house the Xbox 360 has become the family console. If we can't get some kind of backward compatibility we would at least want games like Castle Crashers, Battleblock Theatre, and Ms. Splosion Man to get ported to Xbox One before we purchase one.

Backwards compatibility would've been great. But you can just play both systems, you know!

I'm just pigged off that Bethesda aren't streaming, gutted tbh

Waiting for announcement on Fallout 4

Microsoft E3 2013 was not disastrous and it was 100% focused on games. Stop changing history. The only disastrous part of E3 2013 was when Phil Spencer came on stage and proudly proclaimed the Xbox was going to be $500.

Phil was not proud. His face said all. He is Xbox boss, not msft ceo.

Gamescon is supposed to be eclipsing E3 as the premier event, will Windows Central have a presence there as well? ​

Yes, our British staff will be there. :)

I'll take the Bento set thank you!

The one thing that bugs me is why on earth does Xbox present before Sony EVERY YEAR! It only provides a window for Sony to change their presentation to pander to gamers what is seen as anti-whatever. I'm convinced Sony made a 180 on digital downloads after they got a preview of the backlash Xbox got in 2013.
Windows Central Newsletter
Thank you for signing up to Windows Central. You will receive a verification email shortly.
There was a problem. Please refresh the page and try again.