How to watch the Xbox Briefing at E3 2015 on your Xbox, Windows or Windows Phone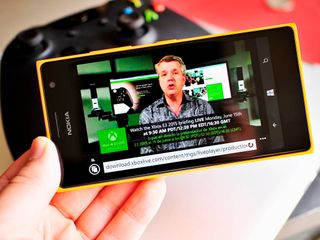 Starting Monday at 9:30 am PDT (12:30 pm EDT, 16:30 GMT), Microsoft is set to kick off E3 with their massive Xbox Briefing. So how do you watch the darn thing? Glad you asked.
What Time?
Don't have time to do a Bing search for time zone conversion? No worries, just follow THIS LINK and you can see when the Xbox Briefing at E3 2015 kicks off in your part of the world.
Watch Right Here! (Windows Central)
Windows Central will be at the live event blogging it. In fact, we'll also have the video embedded right above so you can watch the stream, read our live blog with live photos, and chat with each other! What if you are on a Windows 8.1 PC or tablet or are sporting a Windows Phone? We have you covered.
Windows 8.1 PCs and Tablets
Go to the Windows Store and download the official Xbox Briefing at E3 2015 for your device. Now, to be clear, this app merely pushes you to a dedicated web player. This year, Microsoft is doing something new with an HD, a full-screen player that works on virtually any device. This app merely makes it easier as you just launch the app and go!
Download Xbox Briefing at E3 2015 for Windows (opens in new tab)
Windows Phone
Windows Phone users do not get a web wrapper app, but you can still watch it on your phone. To do so, just bookmark this site: http://download.xboxlive.com/content/mgs/liveplayer/production/amp/e32015_media_briefing.html
In fact, if you launch it now you can see the sample test stream. Sweet!
Xbox 360, Xbox One
To watch it on your TV and console you can just boot those up and under the News section, you should be able to see Microsoft boasting about their #XboxE3 coverage. Follow that badge and you can download the coveted 'Xbox Live Events interactive' app aka XLEi. This app, available on the both consoles lets you stream the whole event right to your living room.
What to Expect?
Our gaming guru Paul Acevedo has written everything you need to know about E3, so make sure you read his all-in-one guide: Windows Central's E3 2015 plans and predictions
Now pardon us, we are packing for LA! Expect some on-the-ground coverage starting tomorrow evening.
Daniel Rubino is the Editor-in-chief of Windows Central, head reviewer, podcast co-host, and analyst. He has been here covering Microsoft since 2007 when this site was called WMExperts (and later Windows Phone Central). His interests include Windows, Microsoft Surface, laptops, next-gen computing, and for some reason, watches. Before all this tech stuff, he worked on a Ph.D. in linguistics and ran the projectors at movie theaters, which has done absolutely nothing for his career.
Right in the middle of work. Sad times lol

Will you guys be covering the first PC gaming show?

We're hopefully sending a couple of the guys to that as well. All time dependant of course.

@KM2612:
What PC gaming show?
You mean the one where Microsoft will iteratively, vaguely state they don't have forgotten about the PC and still announce nothing concrete, like they did for the last two years now?!

I might just make a wrapper for it... Hehehe... Will try to give it a little extra here and there

What about E3 app for WP?

So, like, if you totally read the article, I talk about WP and why an app doesn't make much sense

Did I do something bad to you?
Because wherever I comment you reply in a roughly way!

I think he answers that way because as you have said this is not the first time. Lol... Read the article first, it does answer your question. ;D

Never comment before reading the article!

I feel u bro.. Just ignore this stupid writer comments.. Chill~

It's not like he didn't put time and effort into writing the article. When people don't read it and immediately comment, it's literally like saying, screw your work, I'm just gonna ask questions. Not to mention the fact it makes people look lazy and self centered.

It's not you. He's had a rough childhood lol.

What happened to the Xbox Live Events app that we could use to watch E3 2014, though? Why'd Microsoft delist it?

Yup, Xbox's Major Nelson recommended the Xbox live app to watch live.

Does the app exist for Android?

@Jas00555:
Don't know.
But if Mr. Nadella's track record is any indication it's more likely there's an Android app than one for Windows Phone...

No one really cares but you...

LOL haha hehe hahaha, no one reads anymore.

Can't wait for your coverage. Have a good one. And kudos for the times Dan.

Thanks! Looking forward to it, we have some big plans this year!

Hi Dan. Will we able to replay the event if we missed it? I got class during that time. :(

Oh for sure, they'll have it up later that day for replay.

You can even watch it on twitch

It uses Flash? Are you kidding me ?

Ahhh, so what the point of the live events app if not for this???? Update: It seems that this app is no longer in the store....

Why not use the live player app?

Not everyone has it apparently, people asked me how I got the Xbox live event player :/ didn't know it was gone from the store.

Didn't realise it has been removed. Guess now that's the reason it wasn't recommended, wonder if it will be replaced/ incorporated into Xbox app for w10m?

Waiting for the new tomb raider ;)

Why does every pic of Larry always catch him in a stupid manner. Like this, he looks like an ape going " Ooh ooh ooh".

Also expect some not-on-the-ground coverage. Looks like Mark and Dan are using drones to film some stuff. Excited.

Odd not to put a web wrapper app out. Could probably do it on that App Studio website without even writing code.

If someone is interested in what Windows 10 on Xbox One will look like (they are very likely to show the new dashboard at this years E3), I made a concept about it: http://crandodesign.deviantart.com/art/Windows-10-on-Xbox-One-Concept-Mock-Up-final-538966138

Not trying to be mean but that concept looks very...... Busy

Looks good, you reckon they'll get rid of pins being to the left of the home screen? I like the idea of taskview too.

Seems like an interesting concept. I like the looks of it but it should be more fluid to the way W10 works on PC tablet and phone. This looks a little out of place compared to 10 for PC and phone.

if your home do not watch it on either just use your pc or spike if you have cable. last year the feed jacked up a couple of times on xbox.


Not the best time to be having WiFi issues when E3 is round the corner lol.

I think the UK time is wrong. We're not in GMT now, it's BST so I think the briefing starts at 17:30 doesn't it?

Correct. GMT is still the standard, though. We're just now GMT +1
Windows Central Newsletter
Thank you for signing up to Windows Central. You will receive a verification email shortly.
There was a problem. Please refresh the page and try again.