Xbox Live Gold subscribers can download Titanfall: Deluxe Edition + Season Pass for $12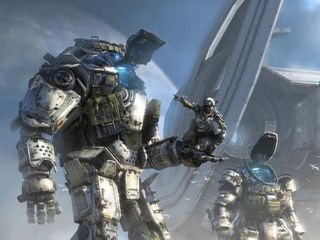 Wouldn't it be awesome if Microsoft were to offer Titanfall, all of its available DLC and even the Season Pass for future content, for just $12.49 (or £10 if you're in the UK)? It's a good job the company has done just that with this serious sale on the Titanfall: Deluxe Edition to get even more players online and into their own Titan.
Should you already own Titanfall but have yet to enjoy available DLC, the Season Pass is now listed for just $6.49 (£5).Head to the Xbox Store (both on the web or on your console) to take advantage of this deal. Do note that you're required to sign into your Microsoft Account to confirm pricing before checking out, otherwise the store will display the RRP.
Source: Xbox Live (opens in new tab)
Rich Edmonds is Senior Editor of PC hardware at Windows Central, covering everything related to PC components and NAS. He's been involved in technology for more than a decade and knows a thing or two about the magic inside a PC chassis. You can follow him over on Twitter at @RichEdmonds.
Damn I still have a 15 day trial of live. Need a full year, someone hook me up?

36$ for a full year. Check major retailers. (black Friday deal)

You have to be on the look out all year round to get the best deals.

Go to reddit.com/r/xboxone. There's a thread on the front page there that's got all the black Friday deals on it, along with Xbox live gold deals.

The deal is available even on a 15 day trial (just purchased it myself). Posted via the Windows Phone Central App for Android

Try http://gamedealdaily.com/ it might help.

That is a "fantastical" deal. I already own though, smh.
But I did pickup the EA Sport UFC game for $13. Will also be getting the Walking Dead Seasons 1 & 2 for $24.99.
Good times.

I got TWD, great deal.
I contemplated UCF just cause of the price, but I probably wouldn't play it so I skipped that.

I'm not t huge UFC fan either but my daughter keeps wanting us to play games together so I watched a few games on Twitch and decided this is probably the best game for us to play together.
So we'll play the game this weekend and hopefully have some fun.

Note to self: Check xbox when I get home.

SmartGlass bro, SmartGlass.

Exactly, it then downloads in the background.

That too. Bit anti social though when I'm out. Although if I'm capable of making this post I'm probably capable of checking Smartglass.

Even without SmartGlass, just go to the link to store.xbox.com (the "Source" link in the article). Works just as well.

That's what I'm trying to figure out as well. And it's looking like that's the case.

My question exactly. Hopefully someone will hook us up with an answer.

Tried manually browsing the game on XBOX 360 Store, seems it's not valid there (Logged in to my Gold Account). Clicking the link WC posted only does point to the Xbox One version as well

What is Season Pass and is it necessary to play?

The extra maps, 9 in total. I like em :)

Season pass makes me think of something that expires like a subscription. Essentially it is just some DLC?

Season Pass means you get all the DLC offered in the game's first year. Very few games offer DLC past that, so it's basically saying all the DLC.

Whoa. I'm not even a shooter fan, but I am a sucker for $15 (Canadian) for a very well-reviewed game. Also, Shadow of Mordor seems to be on for $35. That one was on my wishlist. I also considered Diablo III at $36, but I really need to stop at two purchases.

I got mordor for $25 on amazon. I contemplated Diablo too, but I also figured it was too many purchases.

$25 Here also at Bestbuy, looking forward to giving it a bash shortly.

I was sold on this before the first sentence finished. Downloading now. Thank you Windows Central and Microsoft. :D

Me too. Thanks for the heads up WC!

GREAT deal! This is definitely in my top 3 Xbox One games this year.

I don't have a Xbox One yet, but I think I'm just going to buy this now and download it when I do have one. Are there any time-outs I should be worried about?

Nope once you buy it it's yours

I would check. I think the DL for Diablo Ros said redeem by March. Not sure.

Thanks, but I went with it in the end. Grabbed a new Xbox One off Amazon in their Black Friday stuff, so after all that I've got the console, Forza 5, Halo MCC, and Titanfall for £310. Not bad!

Im on a 15 day trial (not active gold) and the offer is available to me. Posted via the Windows Phone Central App for Android

Will this work using a 2 day trial code for Xbox Live?

ah man!! i just order my xbox one yesterday, im not going to get in time to get this special :( !!!

Buy it online if you have a account with gold (from the 360)

You can probably order it on Xbox.com. You will first need to buy your Xbox live subscription and reedem the code on the website too

i got it, it for xbox one, total cme to $13 and some change.
got it thru my xbox accout.

Excellent deal, but I bought the previous deal that was $25 for the regular game. I wish I could wait 2 weeks.

Too bad its not for 360...

Nearly bought Titanfall a couple of weeks ago when it was half price on gold. Over the moon I didn't. Game and four map packs for £10. Unbelievable. Downloading now.

I really was not interested in it, then I saw the price and was sold :)

What a great deal. Some other digits ones are Wolfenstein and Shadow if Mordor for only $29.89

Incredible deal. Plus it is going to bring in a wave of new players to destroy!! Woo!!

Is there any limit time? Weekend deal?

I just checked the Xbox website and tue game plus season pass is no longer on the site.

Bought it with Bing Rewards! Downloading now!

My gamertag is Copiondor if anyone wants to add me! Posted via Windows Phone Central App

Sensational reporting! Literally. Leave out one of the biggest details, THAT THE BUNDLE IS ONLY ON SALE FOR XBOX ONE. Got my hopes up for nothing, but you all got your click from me so whatever...

Wow, just started playing this, that feeling when you first get into a titan - great adrenaline rush.

Couldn't pass up on this! Thanks

That was one awesome deal. With all the sales and deals that Microsoft has, if the One doesn't surpass rhe PS4 in total sales after this holiday season, it's just not meant to be.

Don't know if I get it. So if I buy the Season Pass for $6.49, I will get all the three DLCs, Expedition, Frontier's Edge and IMC Rising? Is that correct?