Looking for an alternative to Xbox Music? Try Beats Music or Spotify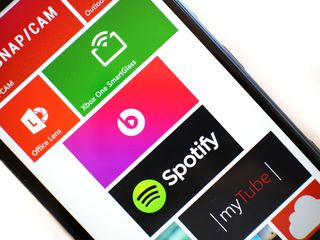 Not happy with the Xbox Music platform? Take Beats Music or Spotify for as spin.
Xbox Music. It's more than just the app you love to hate right now on Windows Phone 8.1. It's also a music streaming and subscription service that spans nearly every device you own. It's available on Windows Phone, Windows, Xbox One, Xbox 360, Android, iOS, and the web. Xbox Music is the successor to the beloved Zune platform.
Right now I'm still happy with the overall Xbox Music service, even though I think there are a handful of ways Microsoft could greatly improve the service. That said, I acknowledge that the Windows Phone 8.1 app is still pretty bad. Though the Windows 8 app was terrible at one point, but now I'm very happy with it on Windows 8.1. So there's hope.
I've been getting a lot of questions about what are some other solid music streaming and subscription services available as an alternative to Xbox Music. I'm going to look at some of those alternatives to Xbox Music that make the most sense to those with a Windows Phone.
Alright, let me make sure this is crystal clear. We're not looking at alternatives to the Xbox Music app on Windows Phone 8.1, though that's a great idea for another post. Today I'm looking at alternatives to the overall Xbox Music platform. Just in case you were thinking of switching.
If I had to drop Xbox Music today where would I go? Beats Music in a heart… beat, followed by Spotify. I'll break down why I prefer Beats Music and Spotify over other services, but first we'll quickly glance at those other music platforms.
Potential music alternatives to Xbox Music
Pandora? Nope. You just stream with them and can't select a specific album or get access to offline music.
iTunes Radio? Lol, no.
Milk Music? No. Only available for Samsung devices with Android and it's technically powered by Slacker.
Slacker? A nice option actually, decent Windows Phone app.
Rhapsody? Another good option.
iHeartRadio? It's got a section like Pandora, but differentiates by offering 1,500 live radio stations from all over. Nice, but not quite the same as Xbox Music.
Beats Music
Why Beats Music? I've really liked the Beats Music service since it launched earlier this year. I of course have mixed feelings now that Apple owns the company. Nonetheless, it does everything from a music platform perspective that Xbox Music does, but it also does more.
I particularly like the curated playlists and social network aspect of Beats Music. Like Songza, Beats Music has playlists that aren't generated by some music algorithm, instead they're "handmade" by music experts in dozens and dozens of genres. It's hard to describe, but you can really tell the difference in song selection for a playlist made by a human.
Beats Music also has some social aspects that you might remember from Zune, but no longer get in Xbox Music. You can follow people, follow artists and other tastemakers. Social makes Beats Music feel more like a community than a just a music platform and it's really nice. When your friends make a playlist you get to check it out. That's a great feature that works to improve the music listening experience. Bands and artists can also create playlists for fans to check out.
The Windows Phone app works and actually has decent support. Beats Music has also been working on acquiring more Windows developers. The developer behind Weave News Reader recently went to work on the Windows Phone app for Beats Music. I wouldn't be surprised to see a Windows 8.1 app for Beats Music either.
Beats Music also has similar pricing for the subscription service. It's $9.99 per month or $99.99 per year for one person and three devices. AT&T customers can get a family subscription for $14.99 per month that gives access to five people and ten devices.
Where Beats Music falls short is song selection and the lack of a real music marketplace. I don't buy albums or singles anymore. So it's not a loss to me, but would certainly be to those who prefer to buy and outright own music. The catalog is also at a little over 20 million tracks. Which is shorter than Xbox Music's 38 million globally. Beats Music is also limited to the United States and that's why I'm also recommending Spotify.
Take the Beats Music trial and see what it's all about.
Spotify
Spotify is also a great alternative to Xbox Music, especially for those not located in the United States. You have a stellar desktop application for Windows and a decent app on Windows Phone. You need to be a paying subscriber to Spotify in order to use the app on Windows Phone.
Spotify does a few things that would make Xbox Music so much better. You can follow popular playlists, see what your friends are listening to and more. The catalog is also impressive and Spotify is available in a big number of locations.
Like Beats Music and Xbox Music, a premium subscription to Spotify will set you back $9.99 per month. You can have a free account for Spotify and listen to music with ads, but (as noted above) that won't fly on the current Windows Phone app.
Should I drop Xbox Music for something else?
Because of the Windows Phone 8.1 app? No.
Joe Belfiore took to Twitter yesterday to reassure Xbox Music faithful that they had no plans to drop support for Xbox Music or Xbox Video. His team is responsible for building the apps on tablets, PCs and phone. He also teased features would be coming to the app in a near future update.
I also think the overall service is still great. Especially if you're on Windows Phone. Using Windows Phone means you probably have a Windows 8.1 device and an Xbox One (or Xbox 360). I still think Xbox Music is the best music streaming service for someone invested into the Microsoft ecosystem. The phone app will get better and the team will hopefully flesh out the Xbox Music service with curated playlists, social features and more.
Spotify, Beats Music or something else?
If I had to stop being a paying subscriber to Xbox Music I'd go to Beats Music or Spotify, with a slight edge to Beats Music right now. But what about you? Where would you (or have you already) taken your music subscription business to? Sound off below in the comments. I want to hear what Xbox Music alternatives you like.
Windows Central Newsletter
Get the best of Windows Central in your inbox, every day!
Not available in India :(

Rhapsody? Better then either Beats or Spotify.

Agreed, although it is more expensive if you want to share your account with other people. The Rhapsody website is a great way to play music at work, and the updated Windows client is also very fast and nice.

One thing to remember is that Rhapsody is now super cheap on T-Mobile. Limited audience, sure, but worth noting. I use Rhapsody and Google. I tried Xbox Music... doesn't offer enough over the other services except that it's the only one that's native (has an app) for Xbox. I tried it for a few months... cancelled it this morning. unrelated anecdote: I had a Chromecast plugged into the TV port on the Xbox One and it worked great (for getting Google music on the Xbox among other things) but one of the recent updates caused the sound to get all grainy and choppy. Now no more Chromecast on Xbox.

They always neglect Rhapsody on WPCentral. It has been around forever. Though I will say Rhapsody's smartphone apps tend to be cumbersome and could use some UI tweaks.

Not available in the Maldives either :-( none of the music services are available in Maldives....thats really sad.

they are looking at US not the rest of other countries. they mainly focus on US

This is all the answer , i too am in India .. Microsoft now a days focuses only on US... Xbox service is not available in India and that's why we don't want Xbox app the old music was awesome... Please suggest Microsoft to bring back the old one plus the new Xbox it's not bad idea just have both the app one system integrated but great app and the new Xbox app.. Both at the same time come on its not gonna take that much space....

Not even Bing Rewards! India is the second biggest world market for WP and services like Xbox Music and Rewards are still not here.

MixRadio is enough for me.

Yeah that's the best. Cant imagine if other such applications

I agree! I love the MIxRadio app. I have the subsrciption service, which is half the price of Beats or Spotify. Why wasn't MixRadio included, at least, in the listed alternates?

Because it's a "Radio." XM is all you can eat. You can download and stream any song you like. Mixradio is more comparabel to iTunes Radio, Pandora, iHeart, etc.

The day I use anything by Beats
Is the day they publicly apologize to Rudy. Till then screw them!

Mixradio isn't even in the same league. You pay more for spotify/beats because they have a lot more features. Mixradio and pandora are just playlists made by algorithms (radio). Pandora and the like have that in the form of radio and playlists made by music professionals. You also get to listen to any song at any time in their collection (spotify has over 20 million). TLDR: Its more expensive but you get many more features.

Spotify sucks and beats isn't available mix radio and the built in players all we got for me anyway not sure about others

Spotify has a beautifully designed app especially on windows phone. I'm an Xbox music subscriber and if Nadella fucks up Xbox Music, Spotify here I come

Nadella is not coding that app. Its joebelfiores team which has made blunder. Joe mentioned that Xbox music strongest update is coming in tis next update

Has there been any word for said update or yet to be announced ?

Aashish, Attax was saying that if Microsoft under Nadella's new reign cuts Xbox Music like so many other things, then he is switching.

Spotify rules all. At least if you live in Sweden.

Not for the UK damn thing asks for to much cash that's why I keep to mix radio for £4.00 a month I can't complain

Why pay anything? I just use Spotify for free and listen to an occasional ad

Because the app won't let you use the services unless you pay for premium on Spotify on windows phone that's why wish it wasn't the case mix radio works that's what matters

Ah yeah, I forgot they still hadn't updated the WP app. It's free on mobile IOS / Android, via the web and on PC. I always just stream on PC

9.99 is too much cash? Thats like 3 Starbucks coffess. It think your value system is broken (or you are of school age) For working adults, 9.99 is nothing. 1.5 packet of fags, 3 beers. Really its no money.

Let me think....unlimited streaming from 38 million plus tracks....for only 9.99 a month.....no brainer. And as a former Android user there is something to be said for going with a unified ecosystem....namely Microsoft. Seamless, fluid experience and since it's all Microsoft - MS Office, Xbox Music & Video, Outllook, Onenote, Onedrive ect - it just works. This NL 1520 is the first smartphone I've owned that I've been truly happy with the experience. Really a joy to use this phone. No software hanging up like Android just a smooth OS with great hardware and software,

Both are not available in India (or outside US) So please suggest something we can also use, apart from Mixradio if there is one.

Savvn not available for Windows phone

Not available in Mercury :'(

Spotify is available outside the US.

I believe Deezer is available over there.

Nonsense, Spotify is available in dozens of countries

I think Xbox music is becoming the new start menu...a case of nostalgia infecting proper judgment... something that's just popular to complain about all the while ignoring any improvements it's replacement has. Xbox music had a rough start... but nowadays it's something I have no problem using daily.

Alot of people are complaining because Zune really was as awesome as people say.

Not only was Zune great, but so was the desktop version for PC. Buying Windows Phone was like buying a Zune when it came to music. The Xbox brand is a gaming brand - The Zune was cool, cool on Windows Phone too and where some of the visual ideas for the phone originated after Windows Mobile fell apart.

Paul Thurrott disagrees and just wrote an entire article on why Xbox Music is better than Zune. http://winsupersite.com/xbox-music/microsoft-not-dropping-xbox-music-or-xbox-video I'm looking forward to reading the comments section of that article! lol

Sorry dude, I read the article, but this guy have no point or better saying he has an weak one. Basically he just stated that XBM has cloud collection so it is better, ignoring altogether the bunch of features that Zune had and XBM, even after 2 years, hasn't brought back, like social feature. And I can't ignore that fact that XBM, as service, has stagnated. It hasn't received no new functionality in the latest two years. The radio algorithms falls short compared to curated playlists that other services like Spotify, Beats and Microsoft's own MixRadio. If cloud if enough so Dropbox is the best service...

O yea. Smart DJ destroys the current Radio feature of XBM

It really was! I think they can get back there though. They have shown that they are actively working on making XBM better. At this point, I think it's actually pretty good again. I just want little tweaks, such as: 1) Prefectch the next track when listening to a locally stored album or playlist so you don't hear a pop or pause between tracks on the phone. 2) Add genre sections to the "new music" section on the phone app so you can find new stuff in the genre you like without it having to be popular or featured. 3) Make some way of noting which album is explicit and which is edited when finding music on the phone (Win app does this well now). 4) Bring back playlists made by artists or editors (I think they are still there, but you can't browse them that i'm aware of) and 5) Integrate with Facebook for social features (i've been banging the drum about how social integration could be better since Zune, so I don't expect this to ever happen).

I agree with that list, but I'd also add how Smart DJ had the best algorithms for playlist generation of this generation.

They've made progress (progress in that you can actually open the app and it's usable), but I think peoples complaint lies in its comparison to Zune and the seamless integration it had with the desktop. Beautiful, slick interface on the phone and desktop, playlists were easy to create and maintain, it could go out to the e web and grab album covers. It was just plain better.

Its the UI that sucks. Zune was great. Just rebranding would have worked nicely. Instead they dumbed it way down and made it less functional. Get that team back on the video/music UI and it'll be solid.

It just saddens me to see posts after posts suggesting an alternative to a Music player on a Smartphone. It saddens me further that even Skype sucks on a windows phone. I aint one for comparisons but I would never imagine Google or Apple ever screwing up with the native apps that they own. I really hope we do get quality MS apps in the near future.

Yeah it's amazing ,simple music app and not even a hub where you can find all videos recorded locally from Camera or downloaded through a YouTube app,not everyone can access streaming video service they tried with so let it show at least videos instead of having to open app you downloaded video with

Apple did screw up with their native maps. Google keeps screwing their YouTube app.

Google's native youtube app is a piece of bullshit. It just looks like the YouTube website. I mean the Android app. I have a Lumia 1020, Surface 2 and an Android tablet. I must say that Google's native YouTube android app sucks compared to 3rd party Windows Phone and Windows 8.1 apps

Agree, WP youtube apps are way more useful.

First off, amen to the comment on Apple screwing up their maps service. The Xbox Music backlash is nothing compared to the wrath that came down on Apple for that one. However, when speaking specifically about native music apps, it's not fair to compare Apple to Microsoft. The iPhone was in many ways built around an already well established portable music player. Yes, Microsoft could've chose to continue building their music experience around the Zune, but despite the diehard support that many Windows Phone users will not let us hear the end of, the Zune ultimately a failure. Regardless, the current culture of portable music is heading in a completely different direction, and that's why Microsoft introduced Xbox Music. Even Apple is coming to this realization which is apparent with their purchase of Beats Music. As far as Google's Play Music is considered, it may currently be the best all-around experience when it comes to the big 3, but anyone who remembers the "Music" app circa Android 2.2 or so, can honestly say, Google has done their fair share of screwing up.

Sensible comment and the Xbox Music App on my lovely new 930 with 8.1 and Cyan does improve the function from 8.1 Dev Prev. The app is still in need of improvement and optimisation and I am currently willing to wait for the coming soon update as mentioned by Joe B before even consideration another option.

Ref:The Skizzle,
Zune was not a failure. You don't need to be number one in sales to still be good or even great. The Zune desktop PC software is still amazing and available as a free download and it is still great, even after MS has removed a few features. It connects with Xbox Music & Video service. I listen to my music and watch movies on my PC that I buy on Xbox 360.

Fair point. Though I will reiterate and say that I really dont like making a point with comparsions. Having said that, i think it is unfair to compare a mapping service with a music player! Yes, a blunder is a blunder, and both Google and Apple have had their share. But MS is a company that was built upon a software infrastructure. So as I said, I am more saddened than annoyed. Actually a little annoyed as well, given the fact that Skype for Anroid was updated YESTERDAY (sorry for the caps), while the last WP update was a month ago. I have used both iOS and Android and can safely say that I am totally in love and hooked on to the overall WinOS experience. I just wish things would be a little more cleaner and smoother on the app side, given that MS has so much to offer, but gives so little in return.

I prefer Deezer ;) At least in France where the service is well developped.

+620+France, even though I prefer Xbox Music.

I prefer Spotify in Ireland except I use Xbox Musoc and I always will

Spotify premium user since 2013 and will continue to subscribe. Hope they can continue to provide update to their WP app.

would love to try XBox music; but sadly i'm outside US; so spotify is my choice for my lumia's music streaming

Beats isn't available for some reason

I'll switch to Spotify when they get an xbox one app. Only thing really holding me back because even though a paying xbm member. Some things are just so frustrating with it

Joe Belfiore said they're fixing the WP app and you're gonna like it. Don't switch from Xbox music, they have a good music catalogue. Don't be one of those people who switch just because of an app

Id only switch because what I have the now doesn't work consistently. Id love it if they fixed what I have the now because I'm so invested in the xbox ecosystem

Spotify, hands down. Although their WP app still lacks functionality compared to its iOS counterpart (which is not surprising, considering almost all major apps also still do), the fact that its catalogue is incredibly wide makes up for that easily. I'm not even considering to move to another service. It having pretty good OS X and Windows applications also helps a lot too.

In article title, shouldn't it be "for a spin"?

I use Spotify, but I don't have a premium account which means I can stream music for free on my laptop but sadly that doesn't work in WP, only on android and ios :((

This! I hope Spotify will also do free streaming on WP.

Xbox music is feeling better with every update. Its still quirky. Backing forth and going through the app is still not a very smooth experience. I also feel like Xbox music is a mere skeleton of what Zune was. You would think with all the integration with Xbox they bring back the social aspect of it.

I love XBM on my DVP8. Don't really use the Windows Phone app, as I just tether my phone to my tablet and stream for free.

Shouldn't it be PFD or DP or 8.1, not DVP8? Developer is one word..

Ref Beshoy Hanna,
What tablet? A full computer tablet like the SurfacePro2 running Windows 8.1 OS? If so, do you use the ZUNE desktop software? I do on mine.

I used Zune for Zune Pass. I deleted all my old songs after they were matched to XBM anyway, so the software is useless to me. I don't subscribe to XBM, but my small Venue 8 Pro lets me have unlimited (for the most part) streaming for free.

WPCentral... Suggesting leaving a MS service for an apple service. Get out!

Yeah I found that tough to chew too

Technically it didn't start that way alright! You guys still watch YouTube videos right?! So...

Ref Seantrobertson,
I wish more people would use Vimeo. It's like youTube.

Yes! Do not use Beats Music!

Did you read? Or just comment. Try reading again. It can help.

The subscription to Xbox music should be free for gold subscribers. I hate beats Spotify is ok but I'm a current subscriber to mixradio and I'm not having any problems.

agreed! make Xbox Live like Amazon Prime. Only Live would include great online gaming, something that Prime can't say!

MixRadio. MS are idiots for not seeing how great it is.

You can't choose the music you like. I know you can buy music but you cant stream it

I think MS knows how good MixRadio is. It is being spun off but from what I've read, MS will still be the sole owner of MixRadio.

I miss 6studio... It was my favourite one until beats sued Rudy Huyn for it

If Microsoft will just return the old Music app, I am completely satisfied. Oh, include the beautiful old Photos app too. But I am a Spotify Premium user, as Beats Music is not available here in my country.

The previous Photo Hub was unique and beautiful, the new photo app is not, apart from the live tile.

The photo hub in WP 8 was beautiful , the new one looks like Miley Cyrus (ugly as hell)

Having had issues with digital music via iTunes in the past I always buy a physical copy. All I want is a simple way to burn albums to my pc then create playlists and sync to my phone. If xbox music did this I'd be happy. Don't need anything else.

You had issues with iTunes because of their first. Use xbox music, they have mp3. You can buy music or pay a subscription service

*Rip albums to my PC. Why don't you use Zune instead?

I was a MOG-only user for years. It was the predecessor to Beats. MOG had Pink Floyd before any other service and the sound quality - the rock MOG was built on - was unparalleled. But, that. Changed dramatically with Beats. Spotify has far better sound. Far better. But, Spotify, Kate Bush, Hounds of Love? Ian Mccullouch, half the catalogue? Neither there. WTF? And your name reminds me of physical issues some women have when they start a new OC. With WinPhone 7.0 and 7.5, I could stream my music for free - with ease. No mas. WinPhone, imo, only has isolation from the Goog, Here Drive + and Live Tiles keeping it attractive. No 1020 follow on is a blow too.

If only MixRadio was available in Romania....

Here is a way to use Nokia MixRadio (MixRadio now) outside of supported countries like New Zealand e.t.c
1: Change your region to US by going to Settings > region > US > Restart your phone.
2: After Restarting, go to App Store and Download MixRadio.
3: Now open Internet Explorer & create a new Nokia Mail account from here;
https://www.nokiamail.com/
4: Open the link and then 'tap' Create a new account.
5: Now type in your email address, Date of birth & password.
6: Now the most important step Change the region to UNITED STATES (This is very important).
7: Now hit enter, you'll get a confirmation email on your email ID that you gave earlier, confirm your account.
8: After that set a Username & Password for your Nokia Mail.
9: Congrats now you have your own Nokia Mail ID.
10: Make sure you write your username somewhere.
11: Open MixRadio, and untick the 'Use my location option' after that hit continue.
12: Wait it will say 'Finding your music ID' and after that it will say 'Sorry MixRadio not available in your region'
13: Now open settings by tapping the ellipse '...' in lower right corner.
14: Now go to settings > account > sing in.
15: Enter your Nokia Mail username e.g username@ovi.com (always enter @ovi.com after username) enter your password & hit 'Login'
16: If successfully login hit the back button and you will see that you can now use MixRadio regardless if it supports your country or not ;)
Enjoy.

thanks! works like a charm!

Why would I want an alternative? I'd have to be an annoying nitpicker who is unable to deal with change, akin to those who have called for the ruination of Modern.

Well, Xbox Music is simply a bad music service compared to the competition, with bad apps. I changed after my free month ended. Returned a year later to see if they had improved but it was still worthless, so now I'm sticking to wimp and Spotify.

Just because their app sucks, you're a stupid person

Haha, you finally lost it altogether. It's a stupid online service, not your mother for cryin' out loud.

Hi is Bollywood's song available

It seems amazing but not available for Lumia series

I would like to see a "Free" alturnative.

IMO Gaana is a good music streaming service for Hindi songs......I don't listen too much English songs

Spotify and Rdio are the only ones available for the Philippines. Rdio actually has greater local music collection and cheaper too, but the app is the problem.. Too buggy at times. Spotify app needs updates too.

Have been using Spotify for 5 years now, it's the best music service IMO.

I hear the WP app for Xbox Music is top notch


In what way? Even if we forget about the functionality that Xbox Music lacks compared to Spotify, Spotify still has more songs.

I was with Xbox Music for years but earlier this year switched to Spotify. The main reason why I switched was because I had to redownload ALL my music every single time I got a new phone (and before anybody asks, no I wasn't gonna just stream from the cloud. I don't have unlimited data and I live in NYC where I spend half my commute underground). It was the biggest pain ever with Xbox Music. I couldn't just transfer the music files, I guess because of the DRM so I had to spend HOURS downloading everything. I just gave up. The Spotify desktop client is also way better than the Xbox Music website. However, what I do miss was how easy it was to add new music whenever I heard a new tune through the music button in the search screen.

Wow... Just go into your collection on your computer and copy it all back when you get a new device? I also keep a folder on my PC called phone music which I just sync with when I get a new phone... Does Spotify let you download all the tracks to your hands for offline playback?

I transferred all my cellphone music to my pc and then tried to sync it back to my new phone and it kept giving me errors. I tried it multiple times without success so I didn't switch to Spotify willy nilly. It def wasn't for lack of trying to make Xbox Music work. Spotify lets you classify a particular playlist as offline which then lets you stream all tracks on that playlist without an internet connection. It automatically downloads any track added to that playlist.

Switch back to Xbox Music.

Thanks but no thanks. At least, not at this point in time.

Deezer is the best alternative for sure!

Sam can you please tell me that, if MixRadio provides better curated playlists than Beats or Songza or not?

Love it how you go 'iTunes, lol no', and then advise beats music. As a matter of fact, beats was acquired by Apple recently

Didn't read the article properly, did you? Posted via the WPC App for Android!

Read the first paragraph of 'Beats Music'
"Why Beats Music? I've really liked Beats Music service since it launched earlier this year. I of course have mixed feelings now that Apple owns the company. Nonetheless, it does everything from a music platform perspective that Xbox Music does, but it also does more."
Imo learn2read

Thank you for reading. You get a star, while the other guy gets nothing.

Neither available in India :|

Spotify Beats Xbox Music.

I see what you done there :D

I like to download for free and have offline playback... Can anyone help with an app that does that? the same as Xbox music?

Why would you switch, just because of an app

Don't worry, no plan to drop Xbox Music/Video-- my team builds these key scenarios for tablets, phones, PCs! And Xbox team does on console.
— joebelfiore (@joebelfiore) julio 23, 2014

In fact, we have one of our bigger/stronger Xbox Music updates just a couple weeks away…you're gonna like it. Perf, fixes and some features!
— joebelfiore (@joebelfiore) julio 23, 2014

Not available in my country.

Belfiore yesterday tweeted a big update to xbox music is expected next week :)

I miss Lastfm. Currently using MixRadio. It repeat itself to much for my taste

MixRadio > All , MS should drop xbox music for mixradio ...

I have a hard time considering music services as serious contenders if they aren't available on Sonos, Squeezebox, Bluesound etc.
Used to be a Spotify subscriber but the lack of family discount finally made me give it up. I'm back to good old mp3's. Sure, syncing is needed but they work for everyone and everywhere so it's not all bad.

Spotify is free, so no discount required. I don't even notice the ads

Need premium for music streamers, Spotify Connect or Windows Phone.

Google Play Music was my favorite a while ago, when I still was upon Android. Then I obviously switched to Xbox Music, but sometimes the streaming service annoys me: Tracks take too long to play in a row and now and then some are skipped. Plus I enjoyed the cache policy Google created for Play Music, where the latest songs listened were kept in the phone and, after being not played for a while, were removed from your offline storage. But Xbox Music has tons of artists and albums I love and aren't available on Play Music... And of course we have no Google apps in our favorite system.

How did you not include Deezer in your comparison? Deezer has a very good WP-app, W8.1-app, Xbox-app, and has probably the largest avalability globally. Deezer and Spotify are the two front-runers IMO.

They never talk about Deezer. I think it's because Deezer isn't available in the US.

None of these available in China :(

Are these apps gonna work in India?

Judging from the 500 comments already saying no, I don't think so :P

Spotify- I won't pay for a premium
Beats audio and MixRadio not available in Lithuania

See my reply above to some comment, explains how to use MixRadio outside of supported countries!

I use WiMP (www.wimpmusic.com), the app is lightyears better than Xbox Music and Spotify (for example it has something as simple as last.fm integration which Microsoft and Spotify cba to fix), and they even have an HiFi-service for you audiophiles out there. Not sure about the worldwide availability of WiMP though, although we have our here in Sweden at least. Edit: Wimp also has a Windows 8 app in addition to the mobile and desktop apps.

I use Deezer. Much prefer it to Spotify. A lot cheaper for starters.

Isn't Deezer the same price/month as Spotify? At least here, both are priced exactly the same.

Usually, I think they are... However I paid £1 for 3 months of Deezer... They just changed all their plans around though too. Looks like it's £4.99 a month at the moment.

Here is to use both Beats and MixRadio outside of US & supported countries respectively (I'll post the procedure as a reply to this comment)!
Disclaimer: Even if you manage to use Beats Music outside of US, you will still ha e to pay for it. As it only provides 7-Day free trial.

Well first for Beats Music.
Things you need - iPhone.
First get an iPhone (or borrow from your friend).
• After you've gotten yourself an iPhone, goto Menu > Settings > iTunes > Account > Delete Account (If there is no account then just skip this step, although iTunes account is needed to download apps, so I am 100% sure that there will be am account. Just delete it and move on to good stuff)!
• Now you need to create a new US-Based iTunes Store account (Apple ID), usually it will ask you for you payment details but you can work around it.
• Before all this make sure to set your iTunes Store to US, which can be done by scrolling down to the bottom page of iTunes Store setting and then by tapping the circular 'flag' will let you set your iTunes Store to US.
• On your iPhone open App Store, and find a free app like Twitter, Facebook e.t.c. It will ask you to make a new account. Now create a new account, enter your details and hit enter, after that it will ask you for Payment details, but now you will also see 'None' option, tap it and continue.
• Now you have successfully created an Apple ID, just confirm your account.
• Now go to App Store and download Beats Music.
• Now download an US-Based VPN, like Hotspot Shield and activate it.
• Go to Beats App, and create an account. After that you can use 7-Day trial Beats Music Service.
• Now after 7-Days, you'll have to pay for the service.
• To do this, use In-App Purchase, and hit your basic info like credit card info, name etc.
• Now if your region have numerical ZIP code, just enter it normally.
• If your region have alpha numeric ZIP code like KGS 785, then just enter '856' hit continue and pay for the service.
• You can only use the Apple ID tou created to pay for Beats Music Service. That means you can only do it on iPhone ao just borrow iPhone from your friend again.
• Now on your Windows Phone, download Beats Music App, and log-in using same account you used on iPhone.
• Now you can use Beats Music outside of US on your Windows Phone.

Here is a way to use Nokia MixRadio (MixRadio now) outside of supported countries like New Zealand, Romania, Pakistan, Lithuania or literally any un-supported country.
Things you need - Windows Phone.
• Change your region to US by going to your Windows Phone Settings.
• Go to, App List > Settings > Region > US > Restart your phone.
• After Restarting, go to Marketplace and download MixRadio.
• Now open Internet Explorer & create a new Nokia Mail account from here.
https://www.nokiamail.com/
• Open the link and then 'tap' Create a New Account.
• Now type in your email address, Date of birth, Password and all the necessary stuff.
• Now the most important step Change the region to UNITED STATES (This is very important).
• Now hit enter, you'll get a confirmation email on your email ID that you gave earlier to create Nokia Mail account, confirm your account.
• After that set a Username & Password for your Nokia Mail.
• Congrats now you have your own Nokia Mail ID.
• Go setup your Nokia Mail account on your Windows Phone by going to Settings > email+Accounts > New Account > Nokia Mail/Nokia Account > Enter your user name and password > Save OR just write your Password & Username somewhere.
• Now open MixRadio, and untick the 'Use My Location Option' and after that tap continue.
• Now you'll see it saying 'Finding your music ID'.
• Now it will give you an error that 'Sorry MixRadio is not avalaible in your country'. Don't sweat it it's normal (Although if you have setup Nokia Mail account on your Windows Phone, you probably won't need to do it, as it will log-in automatically. But if you do see the error just follow the rest of the steps).
• Now open settings by tapping the ellipse '...' in lower right corner of MixRadio app.
• Now tap Settings > Account > Sign in.
• Now enter your Nokia Mail & Password e.g username@ovi.com (always enter '@ovi.com' after username). Now tap 'login' and wait until you successfully connects your Nokia Mail Account to your MixRadio app.
• Now Restart the app, and if you've done everything correctly you'll be able to use it in countries where it is un-supported. ;)
Enjoy.
Pro Tips:
• To get transparent tile for MixRadio, download an app called 'Transparency Tiles'.
• MixRadio is a free service, but you can buy Nokia MixRadio+ for 3.99$ to get access to High-Quality streaming, Playlist Downloading and infinite Skips.
• To get MixRadio+ you need MixRadio vouchers. You can buy them at Nokia customer care centers.

I liked how you helped yourself in the comment.

Spotify FTW! Beats Music is expensive, no need.

There are any alternative to Xbox One?

Haha I'm still on a grandfathered $14.99 Zune plan with 10 free downloads/month. I'll switch when they eliminate the service.

I'm on the same boat and will only "think" about switching whenever they take that away from me.

I use Slacker Radio or Mix Radio

Xbox music or spoofy or mix radio or beats music available in my country

No "Collection" means I can't use Spotify. I have to carry ALL my music with me, not just playlists.

Use offline mode and download them to your phone.

Will cyan resolve this issue? -> when I open Xbox music, move to another app then try to resume Xbox music it hangs on a blank screen. I have to close the app from there and relaunch again.

What's wrong with mix radio. It plays stored files as well

Mix radio, groove shark not many freemium or paid otherwise alternatives in Canada

As a service I'm definitely fine with Xbox music, I get my stuff sync'd across devices and can listen in the web browser at work and that's enough for me. The WP app could be better of course, but it's not that bad to make me switch :) if did switch I'd go for beats if it weren't us only..

"You can a stellar desktop application" ?

Ref rzkwp8,
The Zune PC desktop software IS stellar even though Microsoft has removed a few features. It is still a free download and runs on XP through Windows 8.1 OS. It had one of the highest numbers of downloads, last time I looked.

He's referring to the obvious typo -_-

Mixradio enough for me, even individual price for song is cheaper than itunes nd xbox music in my country.

I'm actually considering switching music services solely because of the 8.1 app. The reason is that I only listen to my music on my phone, so the app a really big deal for me. I'd probably choose Spotify if I switch because I have more friends using that service. But, I still am waiting in hopes the Xbox music app gets better...

Rdio. Its like Spotify but better. They have an Windows 8.1 app that you can use without a subscription.

I just want to be able to use an app with my local music like Zune did. All these new apps everyone will mention are no where near what Zune was. If Xbox Music worried more about local music than this streaming crap, they would have been ok. Complete Dumb Asses.

I don't understand why the cloudy thinking. It is wrong headed to think that internet service is everywhere, all the time, free/affordable, unlimited, consistent, and fast enough. Certainly the cloistered wealthy always have unlimited fast consistent internet, but most places/people don't. We need our local music to sync with the cloud, when the internet is available, but the music should always play. Just my thoughts.
Best Wishes.

Xbox music is the best because you can actually download the music. I hate streaming.

You can with Spotify, too.

Well you can do that with Spotify, WiMP and Deezer too, and probably others as well.

Long time Zune and XBM user, I'll switch to Spotify because of the limitations of use when you go abroad with XBM (even where XBM is available, you need to "relocate " your whole MS account, which you can just do one time every three months... Moreover you have to cancel your XBM subscription and resubscribe again each time... Pain in the ass). Also the fact that I'll be easily able to share my account with my gf... I'll come back to XBM when they fix their international limitations that I've suffered too much already.

Beats Music and Spotify, both, not available for India. MixRadio does the job for me.

No need for this unnecessary apps for me. All I need is a DLNA client app so I can stream my movies/music from the NAS. Damn, my XB1 shit is missing this functionality and I'm about to ditch it in favor of Minix X8-H for a fraction of the cost of this so called media/game console.

I swear to Spotify, I have used it since before I got a Windows Phone, and it really is a great service! The new design of the app looks great, and I highly recommend it to everyone. :)

MixRadio. Already available on your phone, and supports offline "mixes" for you to download.

Me too. Love the offline mixes!

Spotify is free. Unless you want it on your mobile, in which case it's free on ios & android :P

Neither one of them available here in India.

Beats is not available in Brazil... I'd really like to give it a try (the UI caught my attention), but for now MixRadio ought to do it...

Not available in my country yet (Indonesia). MixRadio is the best!!

No Beats pls.. No sense in giving Apple any more juice..

Spotify Premium > Other Music Services

Microsoft just for the sake of playing saved music files u can make windows media player available for windows phone with little more features.

The majority of my problems seem to have been eradicated simply by selecting music from the list of installed apps rather than by the tile on my start screen. I'm running W8.1 dev and most of my tiles are transparent (3rd party app) I've also noticed that tune in radio doesn't start via the transparent tile. Anyway, getting back to Xbox music, I have trialed this by opening the app from tile (lags and most of the time doesn't open) to opening via list which results in app opening everytime and seamlessly operating. Now if indeed the issues lie with this transparent tiling then I could've saved MS hundreds of hours working out the issues, surely worth a free Lumia 930......

Is mix radio gonna leave window phone??

Oh, and Beats is only available in the U.S.

Windows phone central, and they say nothing of Mix Radio, are you SERIOUS?!?!?!?!?

As a paid subscriber to XBox Music and many of MSFT's subscription services and also a longtime Amazon Prime member including Prime Music, here's what MSFT has to do...negotiate better deals on pricing for music (Amazon beats them hands down and no taxes as well); I purchase all my MP3s from Amazon now because total cost of music is much cheaper and they store my music in their cloud for free if it's purchased from Amazon. Amazon also gives you 5GB free to store your other music not purchased there and you can increase that by paying extra. So with Amazon, they have pricing and with their new music service they will give XBox music and other music services a run for their money...if they develop a Windows Phone app, it will be hard for me to keep paying for XBox Music unless they include that as part of my Xbox Gold subscription...MSFT are you listening???

hmmmm, Why didn't you guys mention Joe Belfiore's tweet that there's No plans of dropping Xbox Music/video , and that there's a Big update coming soon.
It seems to me that you're always giving these two services a hard time.

When it come strictly to subscription services that each one provides, Xbox Music, Beats Music, and Spotify each have their positives and negatives. Xbox Music is the most versatile service, so I personally think you get the most bang for buck, but I certainly would like to see them add some of the features that you can get with Beats or Spotify. Between Beats and Spotify, I would go with Beats. It's been a while since I used Spotify, so I may not be speaking as accurately to what is currently offered. However, when I did use it, I found little use in their playlist features. I pretty much just used it to search for and stream music I didn't already own. Again, I would stick to Xbox Music for this feature since you also have the option of purchasing the music (and I suppose the music matching service has improved a bit since its inception). The major edge for Beats Music is the playlists. For almost every artist and genre/sub-genre of music I listen to, I found multiple playlists that not only had music that I already liked, but music I hadn't heard before that I enjoyed as well. The one area I would give Spotify and edge over Xbox and Beats is their radio feature. Radio on Xbox is absolutely horrid, and Beats Music approach to a mix radio (The Sentence) is kind of confusing and almost impossible to really control. For me, mix radio is not a real big deal, since you can always switch over to Pandora or Slacker and be more than satisfied. Regardless, if you're looking at Beats, Spotify or any other subscription as a substitute because of the Xbox Music app itself, you're not going to be happy. It seems most people have a problem with how the app manages their personal collection. Well, none of these services manage your personal collection at all, so just go buy an Android or iPhone.

Beats is to slow to load. And for some reason it drains my battery much rapidly. I like spotify, but i prefer Xbox Music. Its more native and works well with my Windows 8.1 Pro, Windows 8.1 RT Nokia Lumia 2520, Xbox 360, and My Nokia Lumia Icon.

Mix radio is useless to me

I know its not available in the US but Dezzer is worth a look for everyone else

Yeaaaa,that last update rendered most of my tracks useless, with an error code

Why isn't anyone mentioning the recent error code issue with xbm for 8.1? Error code C00d7176

Try Beats Music, which Apple now owns? I think not.

I've tried for 2 years to like Xbox Music but it's inability to handle music from CDs, syncing edited versions of explicit tracks, inability to just download all your music without half-a-dozen duplicates, and the fact you have to wait to sign in! Eventually i had to give up and go to spotify which, on the PC at least, has better sound quality than Xbox Music. I'll keep an eye on what you guys say on here, but i couldn't wait any longer for 8.1 and the general verdict is it isn't getting much better...

Spotify for me, and Songza. I'm in the Philippines.

as for me i just want an application that just quickly open and play my saved music on the phone, in my country we don't steam or listen to internet radio as they don't play our local music and data bundles are expensive, there are no free wi-fi everywhere. i just want a good working native music player that doesn't depent on internet to work and load my local music. maybe in future yes but after how many years no one knows,

Deezer is superior to all

How? What features? Free? Size of catalog? Languages? If so, maybe some of us in USA could change our region and try it out?

I just wish Xbox music and family pricing.

I tried Spotify and found the selection inferior to Xbox music.

Uh, Joe Belifore is the one responsible for dropping Zunes software so I don't know if I would be trusting what he says...

Xbox Music app isn't that bad, and i agree with some of the posters that overall integration with XBM on PC an dother devices is excellent. They have def improved it with the various updates but still should be better. MS need to do the following 1.) Add live tile for now playing artist 2.) Increase speed when opening and navigating to artists/playlist ect (i.e no more black screens when you just select an artist to view) 3.) Have a way to recognize whether music/content is local (i.e coming from your files on PC) or cloud and if files are local, to use metadata (tracks, album art, ect) that is on those files, not pull something from the cloud Just those 3 things would greatly improve the overall experience of using the app.

Drunk Dre's Dev Attacking Service? Never ever!

Both of the apps are not available in Bangladesh :(

I still don't get the whole streaming music service concept. Maybe it's because I don't listen to new music and my collection has pretty much peaked, but I don't see the value in playlists that I can make for free with my own music and be sure I'll never hit something skipworthy. Storage is cheap and my collection is roughly 20 gigs so it'll fit on any device. My desktop music is accessible on my smart tv and synced with my phone. I'm not paying anyone, sorry

I listen to music all day at work via Spotify, go to a friends house and I can play my own music, or exercise and listen to it. No synching, no copying files, I just add to my playlist and it's everywhere instantly

Rdio? That's pretty comparable to Xbox Music. I like the service, though the WP app is buggy, and the Windows 8 "app" is just a web wrapper.

I liked MOG, before Beats destroyed it... and AAPL bought it.

MixRadio is all i need, i don't use xbox music its crappy app, ugly design, and doesn't have worldwide support

I'm faithful to Xbox music..

Sorry As You Sued Rudy Am not gonna use your services....

I stay with Spotify because they are the only one with at Windows desktop application.

Try Deezer. It has desktop too.

While I realize I doesn't currently have a native WP app, I'm surprised nobody has mentioned Amazon Prime. If you're going to pay for prime anyway, the service is FREE....as in MixRadio free. While the selection isn't as vast as Spotify, I've found it quite suitable so far. It sucks that I need to run it in IE on my 920 for now but for free who cares?

I use the Music Hub app that came with my ATIV S. Alas, it requires a data or WiFi connection in order to let you use it (even if you just want to listen to music already on your device), but it works reasonably well. Also, Sam, you need to be a little bit more diligent in your proofreading: "Take Beats Music or Spotify for as spin."

Beats and Spotify are not available in Canada, unfortunately (though Spotify is coming soon!). I currently use Rdio, I originally had it on my iPhone years ago before I switched to WP8, so I just stuck with it. I've tried Xbox Music a few times, but it was always so buggy (duplicate songs, etc), so I went back to Rdio for now. Would love to switch to XBM, looking forward to those future updates.

I use my phone for playing music more than anything else. Right now I subcribe to Xbox Music and MixRadio and I'm on a trial version of Beats. I have used Pandora and Spotify in the past. I read endless rants about the problems with Xbox Music but it is definitely my favorite music service at this point. For one, I don't have the problems on my 1520 that people with other Windows Phones appear to have. It is fast and doesn't give me "loading..." anymore. The only negative is getting music rights errors, which I have experienced on Spotify too. I particularly Xbox Music's integration with Cortana. Riding in the car and just saying "play playlist country numer ones" through bluetooth is great. Also hearing a song on the radio, having Cortana identify it and adding to a custom playlist is easy. The other great things about Xbox Music is I can listen on my home audio system through Xbox, my Surface, my phone, my desktop at work and everything syncs perfectly.

Personally, the only Google service I long for is Google play music. 20 GB of free music storage that you can stream without a subscription (take note MS). Typical 9.99 per month to subscribe to their streaming service which allows you to follow curated playlists and suggests radio stations based on your music library (both owned or added from their streaming catalog). It's also tied to a music store. Luckily we have CloudMuzik, a good third party app that is soon to get a face lift (last.fm scrobbling finally!) and the web site actually works in IE so I still have access to my cloud storage.

Good alternatives, but the seamless interface of mp3s on my phone tied together with the marketplace, my streaming collection and Cortana was what won me over when I first tried Zune, and has never really disappeared during the switch to Xbox music. Plus, I scored a free 520 for a year subscription to Xbox music, which I turned around and sold so I essentially an not paying for the service right now.

The xbox music is as poor app, it's to much bugs.

I feel like the majority of windows phone owners like electronic music, good choice :)

Is this a joke or Making us fool? microsoft know that these services aren't available in india. So why it is suggesting us to install or give some priority to these applications. Please microsoft dont play game with us.We like your phones and firmware that doesn't mean you had right o play with us....

I've tried other music platforms to include Beats and I'll stay with XBox Music. It's clean, simple and provides what I need. Even though Microsoft tried to cripple it with that app nonsense. Oh well. They really need to bring back the album year in Xbox music. Why the heck did they remove that?! Grr...

Hi Sam! I am from the Philippines and I am using Deezer. There's a promotion with Smart, one of the network providers here, wherein you can subscribe to Deezer for a day (PHP 25 or USD 0.60), a week (PHP 125 or USD 2.90) or a month (PHP 250 or USD 5.80).

Why didn't you include Rdio? It's amazing.. :D

I'd just like a simple iPod or Zune type product that doesn't want me to stream or log on or anything like that. I'm often offline (in tube trains or at home) and like just to use the expensive bits of hardware I have to play the songs I have dwnloaded from my CD collection - simple nothing more. But in this age where everything is online I can't just do that. I'm capable of finding my own new music (recommend Ella Eyre or Sinead Hartnett who are upcoming artists to anyone)

Then get one. If you don't like the cloud or subscriptions and just buy CDs, either the Zune or the iPod Touch will do. Even your good ol' phone is good for that.

I really like the free streaming via PC and browser for Spotify and Xbox Music. I use both and if/when either of them brings that experience to WP, I will use that. I know Spotify has planned to do this, but I wish WP would do the same and bring free streaming to WP. Until then my mobile music experience is MixRadio for streaming and the old Music Hub for my collection.

Over 129,000 concert recordings available to stream with my Live Music Access app. Legal. Free. No ads. Try some music from the llama. That'll keep your ears busy for a while.

Personally I don't feel like I need to use Xbox music.

It has not worked for me since the WP8 release with me running 8.1 DEV Preview on a 521. Seems it will not run as a Background task, I exchanged emails for months before a Support manager finally emailed saying 8.1 DEV Preview wasn't supported. I work in software, understand how to troubleshoot, nothing has worked. I have been a Premium users since the U.S. launch, so it is very frustrating to say the least. ! The writer says it works for him? I don't undersand how. It plays one song, then stops, sometimes ending half way through. They even had me create a whole new acccount, moving my Playlist over. Seems I did find it in testing if I play New Releases, there wasn't a stop/crash of the app. Maybe a fluke, as I then tried deleting the Playlist, recreating, same issue. Anyone have insight to offer?

XBOX MUSIC is Superior to any service available at the moment to me. I get my 10 free songs a month, ad-free music videos on the XBOX, seamless cloud syncing on all my devices. If ever there was a service that offered all of that at a better price, I would be all over it. It's not all roses of course. I can't download anything to my phone, because I get duplicates, so I have to stream everything if it's on my phone. Hence, the reason I bought an iPod Touch. On My PC, the app crashes, but for the 5 minutes it works prior to crashing, it works fine. More features and stability would be nice. But, for now, the only other service I've even remotely thought about was emusic as you're basically paying to own your music. I'm not a fan of renting music and the only reason I've stuck with XM is because it's more than that if you're one of the earlier subscribers. I'm not only leasing my music, I get to keep some of it when my service ends.

Exactly! Keeping 10 songs per month is KING!!!! I won't ever give that up!

You forgot Rdio! Just like Spotify, but better. Not sure about their WP app though.

Any thoughts on Deezer? I'm less bothered about the xbox music ago on WP8.1 (although some significant improvements are necessary) but the experience on Xbox One is truly diabolical. Expected it to be same as Windows 8 but it feels like a kick-start project (and not a very good one at that). Highly unintuitive and frustrating to use. I love my Windows but MS has to do more to support these core apps and ensure a consistent and exceptional user existence on every platform that exceeds the competition. Why? Because its one of a narrowing array of differentiators that are essential to drawing people to, and retaining existing users on the platform. Word of mouth is the most powerful marketing strategy MS have but this can only be exploited if they keep innovating and focus on getting their course apps working brilliantly on on their own platform before they start porting it to others. Xbox music should also work on Sonos (like Spotify and Deezer do), only work better

I started trying Spotify after they've launched their redesigned app some months ago and now I'll stick with it. The app works pretty good (except for some minor bugs) and the desktop version is just great :)

Spotify is the best music app on it and the only one that my friends use. It's mandatory that my worship team has spotify as that is how all our music is distrubited for them to learn and listen to each week.

thanks for the article. For those who live outside US and want to access Spotify, you can use UnoTelly as I do to get around the geo block.

I can vouch for Spotify. I don't have a subscription any more, but when I used it I had no issues at all.

How about a comparison between Zune, iTunes, Windows Media Player, and X-Box Music? Microsoft, you have so far to go, especially in comparison to Zune. See: http://wp.me/p1fLW2-at

Anybody tell me why I can't sign up in Spotify..it showing your password or username is incorrect..i'd putted right password and username