Xbox Music is now available for Android and iOS, also offers free streaming on the web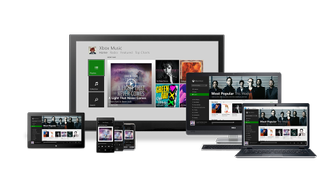 We know you have an Android or iOS device hanging around you somewhere. It might be an iPad Mini or Nexus 7 that you bought just to tide you over till similar sized tablets running Windows 8.1 became available. Or maybe you just really like technology and like to stay up to date. Either way, your Xbox Music collection will now be with you anywhere. The app is available for Android and iOS.
We've been living with Xbox Music since Windows Phone 8 launched last fall and effectively killed Zune. When you compare Zune to Xbox Music you'll get reactions all over the spectrum, but a lot of folks didn't see the need to kill Zune. At least now a lot of features it had that Xbox Music omitted. Sure, Xbox Music has made some recent strides lately and is now finally usable on Windows 8.1, but it's got a bit more work to do before catching up in features with Zune. But it's doing something that Zune never did. It's giving user with Android and iOS devices the chance to tap into their music library wherever they are.
Don't fret though, the Android and iOS apps are completely up to feature parity with Windows Phone or Windows 8 just yet. For example, offline mode and artist based radio will be coming in the later months.
Feeling left out with above news? Don't, because Xbox Music is getting better on Windows 8 and the web too.
Starting today, you'll have access to free streaming on the web with Xbox Music. Just navigate your browser to http://music.xbox.com and you'll be able to listen to music for free. And if you're signed in with your Microsoft Account you'll get access to your cloud collection in Xbox Music.
Earlier this summer at //BUILD/ 2013 Microsoft demoed a new feature with Xbox Music. The feature was called Web Playlist and sounds beyond useful. Web Playlist will scan a web page (think of a music festival site) and automatically create a playlist for you in Xbox Music from the music on that page. Unfortunately that feature won't be coming until October 18th, the day Windows 8.1 launches.
Microsoft has also detailed a new feature that's part of the upcoming changes to Bing on Windows 8.1. When you search for an artist using Bing Smart Search you'll be able to automatically play their content with Xbox Music. If you're running the Windows 8.1 Preview you can already experience this by typing an artist name into the Search charm.
What do you guys think of the changes with Xbox Music? Sound off below.
For Android, the apps is available for devices with Android 4.0 and above. Get it on Play.
For iOS, the app is available for devices with iOS 6.0 and above. Get it in the App Store
Source: Xbox Wire
Thanks for the tip Scott
Get the Windows Central Newsletter
All the latest news, reviews, and guides for Windows and Xbox diehards.