Xbox Music Updated for Windows 8.1 Preview, adds new artist view and more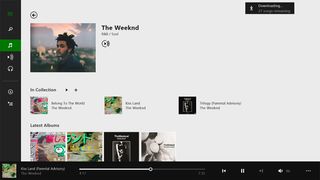 When Zune was somewhat retired and replaced by Xbox Music a lot of you were bummed out. Not because a product you like had its named changed, but because the actual product somewhat regressed. The Xbox Music app that launched with Windows Phone 8 and Windows 8 was lacking by many standards and even lost some features we came to love with Zune. With Windows 8.1, Microsoft is steadily improving Xbox Music to a point that we're using it daily on our machines. The latest update furthers that march of steady progress. Let's check it out.
Many of you running the Windows 8.1 Preview have noticed that Xbox Music has improved substantially, both in terms of aesthetics and functionality. We first looked at the update back when we were at Build. What's new in the latest update?
New artist details –for both the Store and your collection –show everything you have from a given artist, along with that artist's latest albums, most popular songs, and similar artists.
Redesigned the New Albums and Top Music galleries to better emphasize album art
Improvements to the way collection notifications look when the app is snapped
Aligned the look and feel of dialogs with other redesigned parts of the app
After checking out the changes for ourselves we're liking the direction Microsoft is going. I can't speak for the rest of the crew here, but to be honest I never touched Xbox Music on Windows 8. Now I can't stop using it on the Windows 8.1 Preview. The difference for me has been night and day. The small changes in the latest update are very welcomed. The new artist details in the collection are handy. You can now see what you have from an artist and don't have with one glance.
What are you guys and gals thinking of Xbox Music in the Windows 8.1 Preview? What else do you want to see added and/or improved on? Sound off below.
Running Windows 8.1 Preview? Grab Xbox Music in the Windows Store (opens in new tab).
Are you the same guy who writes "First on new paint" inside the bathroom stalls at my university? If so, you've impressed me with your ability to be first everywhere.

Same, I barely even used it in Windows 8. As for the 8.1 preview, it is heading into a fair wind. I hope it keeps improving :-) Long live Zune! And the Zune pass!

I try not to use it. I like vlc. Simple & fast. If I have the pass obviously I'll use it. I have b4. But $10/m is a bit too much

I disagree that $10/m is too much. However, at that point there are better alternatives such as Spotify etc. I have the $15/m Zune pass, and I rarely use the streaming portion.
When I'm in doubt of an album, song I can listen to it; then I use my token/credit to purchase the song. That's the only way I use the Zune pass.

Exactly. Its great that u can download an album and hate it then delete it. But there should be more OPTIONSSSS. SO many obvious things that are old school they don't have.

I wholeheartedly agree. Personally, the design is great (Desktop; RT is en route to that) and maybe it could be improved, but at that point you hit diminishing returns. Though the options and "features" could use some more innovation than its current offering. I turned off the cloud portion completely in both Mobile and Desktop as soon it screw up my music. The only thing I which, would be to share playlists over the air without having to sync everything else.
Its been a while since I have touched the cloud options, maybe it has changed.

Just like everyone else using a WP with general understanding of technology... We hope that it will get better soon. I honestly think that windows phone OS is beautiful. Everything about it simply makes me happy. Its so elegant. And simplistic. I can't wait for it to get better. iPhone is old. Why do u think they switched to flat colors. And revamped everything in the design. Coz there threatened. Ppl like new. iPhone was old. Lol. I used to swear id stick to iPhone until windows changed the game.

Wow, listening to you guys makes me think I have my head on backwards...I never really noticed any of these issues on the phone side. Then again, I did think there were other areas that definitely needed work but not enough to remember them. =P

Haha. When you depend on your phone for business, you definitely notice things. If I didn't have my phone, I would lose customers left and right. iOS is good for business but WP8 definitely makes it seem more fun and fluid. It just feels right :)

Why don't you use it to stream music for free?

Use what? Zune?? Zune is not free. 30second previews are free lol.

Xbox Music is free if you are using Windows 8. But if you don't own an Xbox Music Pass, you can't use Smartglass to stream to your xbox. Thats the difference

Why don't they make an Xbox Music app for Windows 7 instead of that crappy desktop app?

Don't they have an web app? I thought I read that somewhere.

I love Zune, but the syncing on the desktop app with Windows Phone 8 is the problem for me :/.

Use http:\\music.xbox.com ... It's very nice.

Does that sync my music with my phone too?

Edits you make on the Xbox Music web client won't make it to your phone. Well, I should qualify that: if you rename a playlist: it will come across. But if you add or delete songs from playlists: not so much.

"Somewhat regressed"? Lol

Overly diplomatic statement to say the least!

No Doubt. . . I'm for calling a turd a turd and and they maybe polishing the turd up nice and shiny but afaiac compared to Zune it still stinks!

I don't really think No Doubt has gotten that bad...it's been awhile since they played together, maybe another album and they'll get their groove back? ;)

I will say when xbox music was released on win8 the first day IT SUCKED...it has gotten better and added alot of features that were missing. It is getting there. I hope you have checked it out since they have updated it. I like it still missing feautures but honestly it is slowly getting there

How about wireless syncing for windows phone 8 through the app?

That's already available. If you download something from windows 8, it shows up automatically on your windows phone.

Just some nostalgia: I actually installed Zune on my computer at work (because every other program is blocked). I forgot how gorgeous it is! It's so sad I took it for granted :( I love the Xbox Music app, but it still has work to do.

Just prior to reading this I loaded music on this rarely used desktop PC and thought, I miss Zune. Such a beautiful interface. It always seemed slightly un-intuitive to me, but after that learning curve was excellence.

Much like a beautiful woman, eh?

It doesn't have the same payoff . . . lol

Indeed In Limbo, but you won't get herpes from WP8 either! :)

Yikes! Hahaha!!! Well when you put it that way!

I am really loving it, and the update has made it much better. I tried using it on my old Win8 machine without touch and couldn't, but know with a touch 8.1 I am in love with it.

Same thing here - I didn't use Xbox Music in Windows 8, but now I absolutely love it. It used to be too much of a hassle to browse (and most of the time I couldn't figure out how to get to the "now playing" screen), but it has improved by leaps and bounds.

They are going to update it several times to eventually look exactly like Zune. Come on Microsoft, you're better than this.

Who said they're going to make it look exactly like Zune?

Well, I like metro apps, but foobar2000 for me is irreplaceable.

They need to integrate Windows Phone 8 into Xbox Music so that it is much easier to add music to your device. That backwards, jackwagon of an app they have for Windows Phone 8 right now is appauling.

I forgot they even had a syncing app...shows you how much I look forward to using it.

You really need to clarify which things you're referring to...it's kinda confusing, like the interface (when it works) @_@

Although they made Xbox music better on windows 8.1, I still use the zune desktop app as my default music player.
MS have so many developers, they could have easily brought over the design aesthetics of zune to Xbox music.

It's a step up, but I don't like that they removed the bio. To see the bio you have to actually have the song playing. It was the little things like that and getting to see pictures of the artist that I enjoyed the most. The rest is good though. I like the new layout. They still need to update their library badly. I still have CD's that aren;t on there, or even worse, they are there but the library doesn't list the hidden tracks so my 14 song CD isn't getting synced cause the library only has12 songs listed.

Interface isn't done yet..

Windows Blue - Windows 8.1
- Windows RT 8.1
- Windows Phone 8.1
- Windows Server 2012 R2 IE11
DirectX 11.2
Start button back
New kernel (NT 6.3)
New file manager
Updated Xbox Music Nice to see Microsoft on top again!

Nice little summary. Don't forget updated mail client, new stock apps (alarm clock, unit converter, etc.), more customization options, etc.

Until I get Live Playlists, Xbox Music can suck it. I'll stick with Windows Media Player for organizing and sync.

Xbox Music need to sync with the WP, just like the old good Zune used to do. Some one in MS, please sit these two teams together and add sync between hardware and software so they work like an ecosystem.

What you're talking about? Every music you put in your windows phone and you don't have in your pc will be displayed as a "In the cloud" music. I still think Zune is better, but integration between the xbox music in both devices are excellent!

He means how Zune was the software that handled syncing for your phone to the PC as a device, instead of separate apps...Xbox Music and Windows Phone apps for Windows 8 (7/desktop). ;)

We need Xbox videos on our phones ....microsoft needs to get moving on this feature that's readily available on almost every other mobile phone platform

Totally, I still don't get why they didn't at least add a separate app on the phone...there's always Phone 8.1? =/

Can't download 8.1 preview on my Asus vivotab RT.

Nice update but far from being enough. The velocity on this project seems too low.
Key features are still missing.

C'mon, man...at least put one of them up so we have something to think about and agree with. =P

I have win8 pro, if I install 8.1 preview will this affect my pro status?

Don't think so but the preview is still a little buggy; I would just wait till its officially released.

I have pro 8.1 with media center, works great.

No will still be windows 8.1 Pro

I don't remember if this was addressed in a previous update but the new scrubbing is awesome. Bring it to windows phone now I'm sick of the 30sec/10sec skip

How about the ability to use song credits in the app for us long time Zune subscribers?

Yes... I wish they would enable that. Currently the only way to use my song credits is on my WP8 device. I suppose I could install Zune but I don't want to mess with that.

You can use your credits on your device?

Yeah, when you go to buy a song, you should see a payment option to use credits. Its always my default when I go to buy a song.

do they have to be individual songs or can it be, let's say a ten song album

Good question, I don't think I've ever tried to use my credits all at once on an album (from my phone). I'll test it on a small album and post my findings.

I gave it a shot, looks like credits is only available as a payment option for me when buying an individual song.

That's cool. Now I need to figure out a way to get grandfathered in on the 10-credit-a-month plan.

If you weren't up till now, I don't think it'll work...I'm always freaking out if I have bank/card issues because of the transfer of payment methods changing. If I lose the 10credit/month I'll go dark =[

I just had to change primary payment methods on my Microsoft account and my existing subscription (with 10 credits per month) was retained, so hopefully that will help ease the worry a bit :)

Anyone notice a live tile bug since installing the update? The artist picture is... Messed up. Not sure how to explain it (diagonal lines running through the image?)

Digging the choice of the artist for the screenshot

Did they reimplement the ability to edit properties of your songs (artist, track no., genre, etc) ?

Yea that's one feature they need so I can add custom albums covers and such on my surface rt

I hear that, tired of looking at grey squares for local artists and such...

Nope, tired of 400 songs not being recognized at all.

When will they improve the UI on WP and make cloud syncing work from WP to W8?

I have Windows 8.1 on both D & L but the tragic thing is Microsoft has not enabled Xbox Music in India yet. :-(

The biggest thing they need to improve, in my opinion, is the cloud collection. They need to fix the fact that, while you can remove albums/songs and update metadata, it doesn't sync across all of your devices. I've been trying to remove albums from my cloud collection (which can only be done on the Xbox Music website), and the changes won't sync through to my phone. The metadata changes done in the Xbox Music app doesn't sync to the site (and therefore to other devices). It just doesn't work well at all. Plus, it would be nice to be able to download all of my purchased music (or at least see everything I've purchased).

It's nice to see these welcome updates. However, Zune was far ahead of Xbox Music in many aspects and it pains me to see this still be far behind and in some dire need of work. (Especially the cloud collection and syncing between devices). I love a beautiful interface, but it needs to be practical too.

I'll take it I have no problems with my app all my music finally works I don't use the cloud makes it a lot simpler, but I like the fact u got the weeknd as the image good taste currently listening to his new stuff

Yea I still use Zune since i still own every generation zune... Its my first and true love

Did anyone else come home to discover their Surface RT in a Bluescreen reboot loop on 8.1? I did, found it amusing. Restored to 8.0 and all is good again. I think I will wait for the release next time. haha.

The only thing that annoys me the most is that the match feature always matches the clean version of the songs even though all the songs I have on SkyDrive are explicit

Right click on the album, select match album info, search for other results, pick the explicit album.

Bring back the podcast support that existed in the Zune player!

How bad is the podcast support?? I love podcasts. I am happy on WP7 right now, and the Zune VS. XBOX Music debate is the main reason. It will also be one of the main things that may push be to consider another OS if it is not improved. Not like WP7 is going to be supported past this year.

Until autoplaylist return managing my music is too cumbersome. With the zunepass I download way too much as I like to try out lots of songs, hearts and autoplaylists let me easily manage that

Yea same here my most missed feature just put a few artist and dislike the songs u don't like and u never see em again

I have a question. I have a music pass with a hotmail account, but I made a new outlook account, that I wanna make my primary account. When I switch over my pass, will all the music I have on my computer and phones SD card still work, or will I have to redownload it?

The music will work as long as the pass is active and won't be synced with the cloud or nothing I did mine a lil while back

I think it should change over but it might take some support calls to get the information/accounts transferred properly and confirmed...you should definitely go to one of their main support sites, either on https://www.windowscentral.com/e?link=https2F%2Fclick.linksynergy.co... or Xbox.com.

As long as u have a music pass the songs will play they're not attached to individuals I did my when my email was hacked a while back and just started a new account was kinda upset cuz I was grandfathered in the original Zune and lost ally badges which I miss I hit 300,000 plays then 100,000 before they stopped

Wow that sucks :/ its good to hear that I won't have to re download them. Its no big deal, it would just be inconvenient

I managed to transfer my gamertag and music pass from my hotmail to my Outlook. I don't have the guide to hand but it's somewhere around here.

I hope they add a little redesign to Windows Phone 8.1 that looks like this

Can you choose genre then artist then list all songs by that artist?

Been a Zune subscriber and owner for years, back when my device had 4GB's! Loved the Zune software. I hope that the Music 8.1 can copy songs off my phone. I hate having to manually sync my music back. The Desktop App sucks, the Metro App is better but I barely use Metro. Sigh, I still have hope!

You should have used it on Windows 8. This is purely cosmetics.

I like the dorection but the app will not be finished until it has all the options Zune had.....syncing, multiple song purchasing ability to sort pass songs versus purchased and a new feature cloud storage.

Agree: and I also miss the ability to create smart playlists (creating playlists for songs with a heart rate that you haven't played for 15 days, etc.) and to rate songs.
Zune was amazing and I know Xbox music will be one day. Make it quick!

Two of my favourite things together. The Weeknd + A Microsoft product

Design is not bad, but its far of from what zune was offering, and zune was precursor of Metro, and was looking more like metro. this one is something different, its shame coz i thought Microsoft wants unify all his stuff finally.
second thing, still Xbox Music on WP8 is a nightmare, so I can;t move to Zune Pass, coz I need music on both devices, nice and easy to manage.

I like Xbox music on my phone and I love it on my computer. But I have been having some sync issues, I have cloud collection turned on for both of my device, and yet none of the playlists sync and most of the songs do (all but one song) which is weird because even after I added a album from the metro windows 8 app, it did sync over almost immediately. But my playlist and that one song won't. Also it won't let me buy songs through the wp8 music store with Xbox points, yet it will in the w8 version. If any one else is having these problems and fixed them please let me know. But besides that, I love it

I'm so glad I can use this fully in portrait mode now. If they can just fix the search and Now Playing screens this app will be great in my book.

Zune.... Come back please....


Looks better but still a ton of bugs.

Matching is horrendous.
On my desktop, where all of my music is stored it's downloading all of it again into a "Subscription Cache" totalling over 5GB and its still not done.

When you match a duplicate album and the old one disappears the grouping gets all jacked up.

For example, I had a duplicate album from "Bury Your Dead" which I matched. The duplicate went away, but then the first album from "Cannibal Corpse" moved up into the "Bury Your Dead" spot, and then the first album from "Converge" moved into that empty Cannibal Corpse spot and so on all the way down the list.

It finished. Duplicated 15GB of Music. Lovely!

"....because the actual product somewhat regressed." Rich in understatement.

It realy star to be nice.... I see that MS is committed to improve the overall experience for Xbox Music ont the PC and tablet but what about WP ??? is GRD2 include any xbox music improvement ?
they change averything in the PC version but on WP, not improvement since initial lunch...

Microsoft Music attempts have been a catastrophe.

And why don't WP core apps get updated as often as W8 apps. Google does it on Android, Microsoft should do it too. There's no point in waiting months to get updates just because you want to deliver them all together. Bummer.

expanded worldwide availability?

Still missing autoplaylists!

1. I'd simply want to get a solution to sync my recently downloaded songs from my Xbox Music to my WP8 XBox Music(Like it was in Zune & WP7.5).
2. Simple Playlist creation in WP8's XBox Music.
3. Recently Played, New Songs, Never played songs like Auto Playlist features.
4. Are these feature too hard to rejuvinate from Zune or they forgot. Its a serious mess I feel like I've downgraded from Windows 7 to Windows 8 even in terms of Syncing my WP8 with my Windows 8 Machine.

I knew something was different when i launched the app today..lol. It looked and behave slightly different..

I'm still missing podcasts. I only used Zune to listen podcasts.

Lack of a unified method of creating playlists is my main issue. Unified meaning I should be able to create one with Zune, Windows media player or XBM and have it available in all three inyerfaces and sycable with my phone.

Now i faced a problem where i start the music player but as soon as it is on the sceen it will minimize itself to the charms bar (or left hidden pane) and never actually start. i uninstalled and installed again but nothing seems to be working.
Any ideas please help

Can anybody help, i have a problem I recently installed Windows 8.1 pro on my laptop. The Xbox music app on my laptop only shows music in my laptop (collections). I came to know after reading this only that there are additional radio and explore options as well. And i'm not getting these options in my music app. Is this because of some country specific setting?? Please help
Windows Central Newsletter
Get the best of Windows Central in in your inbox, every day!
Thank you for signing up to Windows Central. You will receive a verification email shortly.
There was a problem. Please refresh the page and try again.