Xbox One and laptop get together one night, here's the outcome nine months later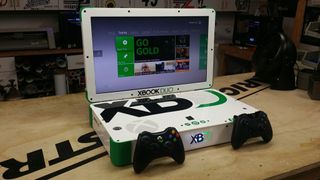 What happens when an Xbox One and laptop get together? You end up with an Xbox One (and Xbox 360) inside a laptop. That's what hacker Edward Zarick did with his new Xbook Duo, which puts an Xbox 360 AND Xbox One into a laptop-like chassis.
Hacker Ed sells Xbox One laptop systems and PlayStation 4 laptop systems, but you won't be able to buy this Xbook Duo. He designed as a proof of concept. We wish we had it though.
Want to build one yourself? Hit up the link below for a guide on how to build your own Xbox 360 / Xbox One machine.
Source: EdsJunk
Windows Central Newsletter
Get the best of Windows Central in your inbox, every day!
woow sam I never thought a title for article would make me laugh me laugh so much lol

But but I thought the Xbox stork is where Xbox babies came from.

Bing Rewards app got a major update about 30 minutes ago including a new UI, not a web wrapper anymore. Tweeted Daniel Rubino about it but haven't heard from him.

It's so funny that this article came out today. Yesterday, I posted a question in the forums why doesn't Microsoft have Windows installed in the Xbox systems as a dual boot. A few people gave some good reasons why, but seeing this just makes me want an Xbox 10 edition all over again.

We've seen this a few months ago...

Seen what? Xbox One using Windows? That's a thing? I'll have to look that up.

We were teased about the Xbox One running Windows 10. There is a photo of Windows 10 running on multiple devices from Microsoft and it shows the Xbox One running it's version of Windows 10. Although this was only a concept pic.

Ahh, ok I think I remember that, but I just assumed they meant the Modern (Start screen) of Windows aligning with Xbox One. I didn't catch on to the implication being we could run full blown windows on the Xbox One, desktop and all. For me, that would make for the perfect home pc/gaming/media device.

I wouldn't say it could run desktop. It was just a concept picture. Not sure if they elaborated about windows 10 on the xbox one. So who knows what they will do. It would be awesome if they bring Xbox live to windows 10 for PCs. Since everything will be running Windows 10 and the merging of the windows app stores.

Yes, that definitely will be nice to have. I have a Nokia 2520 that I'm holding on to until a Surface Pro 4 with Windows 10 (and LTE hopefully) comes out.

It was only the 360 then wasn't it? Not both of them as seen here.

Wow, both consoles in one unit? That's pretty impressive!

Dude this is pretty slick

Like to see video. Lets ambush the dudes twitter or facebook account with requests

Makes me want one badly. Have wanted one for years since the first Portable Xbox (laptop).

Im sure it has USB ports!

Windows 10 on Xbox one. (off topic. Windows central on YouTube the URL I'd still WPcentral! Change it pls)

Would have been cooler if you could play the 360 through HDMI in, on the Xbox one.

There's too much of a delay between input with the controller.

Ah really? Works great for me. If there is lag I haven't noticed it in GTA V.

Dunno bought xbox but its not at all noticeable when I play my PC games through the hdmi in with a controller. Mouse is only time you notice.

Not hard to do...just Link the monitor with the HDMI

Its just impressive that he incorporated the 360 and One into one compact machine!

Proof of concept huh? Would be a cool concept if MS built a mobile Xbox One

Does this have like massive fans inside?? Does it have battery power? If so what would the battery life be like? If it has to be plugged in then whats the point? How bout kinect can it still use it? What about 360's kinect? I have soo many questions!!!!

Where does one get that Jurassic Park Sticker??

The guy did it using his own viynl cutter....

Sam!! I pulled this up at work... How about a NSFW tag please?!