Xbox One backwards compatibility update requires some game reinstallations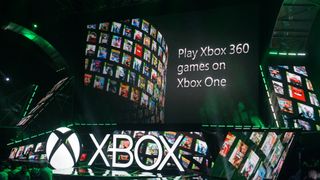 If you're currently enjoying backwards compatible games in the Xbox One preview program, the following information might be of interest.
Speaking on the official Xbox One preview forum (opens in new tab), a member of the Xbox team detailed a list of games that will require reinstallation following an update to Xbox One OS preview.
Note: To view the post (opens in new tab), you need to be a member of the Xbox One dashboard preview.
All of the above games also feature in the upcoming Rare Replay (opens in new tab) game bundle, which lands on August 7th 2015.
We haven't heard much about fresh additions to the backwards compatibility line-up since E3, but it seems likely that any new announcements are waiting for next month's Gamescom 2015.
Be sure to vote for your favorite Xbox 360 games to hit Xbox One backwards compatibility here. Mass Effect 2 and 3 need more votes!
Jez Corden is the Managing Editor for Windows Central, focusing primarily on all things Xbox and gaming. Jez is known for breaking exclusive news and analysis as relates to the Microsoft ecosystem while being powered by caffeine. Follow on Twitter @JezCorden and listen to his Xbox Two podcast, all about, you guessed it, Xbox!
Demand a mass effect trilogy collection! Gamers unite!!!

They'll do it. They'd be failures if they didn't.

I wouldn't give ea too much credit. Their likelihood of them doing things like this is slim these days unless its a digital only remaster.

It's not ea's up.. It's bio wares. EA was just the distributor Aka publisher..

I've requested an invite a while back and still waiting.....

If you have invites, I'd love one: nam37 Thanks.

Collegu
please if you can invite. Thanks

If you or anyone else is interested in an invite, my gamertag is FlyRick

Hi guys, can you please kindly invite me for the preview program? My gamertag is "Jad2k6". Thank you!

Please invite "O Doggy Fresh"

Someone please invite me to the program,
Gamer tag: XSTIG177X

http://forums.windowscentral.com/xbox-console-gaming/318084-xbox-preview...

I knew there must be a reason there were so many today! All welcome.

Thanks for the reply on XB1 appreciated.

If Mass Effect 1 is already on there, I doubt 2 and 3 need more votes. Give your votes to more unlikely games.

Mad Effect 1 was published by Microsoft, whereas 2 and 3 were published by EA. So they may need votes if EA is to be convinced.

Isn't that the truth youd be lucky if they repressed older games(with compatibility updates) for PC which they haven't done in a long time nfs series being one of them

So its the publishers who have to agree to the distribution through Xbox One and not the developers.. Interesting.

Mass Effect 2&3 I agree are musts! I'd like to see Tales Of Vesperia on there too along with the Metal Gear Solid HD Collection.

Would love to see tales on the list

I don't want the preview because I don't want my Xbox One to run a buggy preview.

Please do your homework first.. It's not a buggy preview.. I've been running it for more than a year, flawlessly.

Me too. A year and four months with no issues. Posted via the Windows Central App for Android

I had the retail bug for 7 months & they just kept brushing it off. Guess I got one of those 2nd production run day one units

What a pain that its invited only:(

It's not a pain. People should not be getting invites just because they want to have the new features.

You fo realise that invites are not difficult to get? Check the Windows Central Xbox One forum.

How does one get added to the preview?

Attila the Hill. Add me please :D

http://forums.windowscentral.com/xbox-console-gaming/318084-xbox-preview...

Sup if anyone have inve to pass away then ill glad :) gametag: Super skrek

I'm going to be the asshole and encourage people NOT to invite others who just want the preview for the sake of having the new features available. If you're not willing to help make Xbox better by testing the stuff we are given early and do not like frequent updates, then just wait for the official updates.

Can original Xbox games be played? I want me some fusion frenzy....

Nope. I'd love that too. I'm quite surprised they never made a Fusion Frenzy for Xbox 360 or One.

They did make a Fusion Frenzy 2 for Xbox 360. It sucked compared to the original :'(

It's Beta. Odd there it's a story on this.

There are quite a lot of preview members out there who might find the info useful!

That's just the listing of all the Rare games that are going to be available in the Rare Replay collection sans Banjo-Kazooie Nuts and Bolts, since that title was listed for backwards compatibility but hasn't been possible yet due to some glitch. So I'd say this is more preparing these games for the imminent release of Rare Replay rather than an actual update based on feedback.

How did you add yourself to the preview forum? I have been a preview member for a while and have the current preview dashboard and stuff but I still can't access the forum. My preview membership is "enrolled" in the preview dashboard app. And yes I read this already
http://support.xbox.com/en-US/xbox-one/system/xbox-update-preview-faq#97...

Who knows contact Xbox Support on Twitter they might be able to help.

No GRAW2 needs more votes!

Call of Duty Modern Warfare 2 anyone? All the new ones are horrible in my opinion

Mw2 doesn't live up to the 1st imo

If someone would invite me, gamer tag- Assass1nK1ng999
Windows Central Newsletter
Thank you for signing up to Windows Central. You will receive a verification email shortly.
There was a problem. Please refresh the page and try again.