Having an issue with Xbox One's Party Chat? 'It will get better.'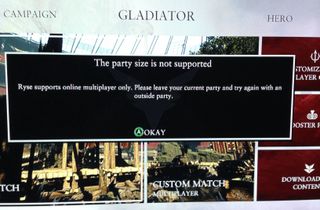 With the launch of the Xbox One, Microsoft promised a new revamped chat system known as a Party Chat. The proposed chat would allow a group of friends to chat simultaneously, while across various games and applications. Each lobby supports up to seven individuals, but issues have plagued the feature since day one.
A good number of Xbox owners are having issues accessing the Party Chat service, and some are even being kicked from parties after they have joined. As one can imagine, the social connectivity that Party Chat provides is an integral part of the Xbox Live experience.
Xbox's Major Nelson (AKA: Larry Hyrb), posted a reply in response to an upset user post on Reddit. The post complained about the user have issues joining his friends in a party chat while playing the hit game, Ryse: Son of Rome. Major Nelson's official response stated that he "had a meeting today about much of this and I can say that things will get better". Nelson was unable to give a timeline for a fix, but wants to assure us that the people at Microsoft are aware of the issue and working to fix it.
Issues when launching new technology is nothing new. Microsoft sold over one million consoles within the first twenty four hours of its availability; out of those consoles, a small minority (although larger than Microsoft would like), have been plagued with various hardware and software related issues (such as the now famous "noisy blu-ray drive"). For the early adopters out there who are having issues, sit tight, as Microsoft will have fixes and updates for the issues you are facing.
Are you having issues with Party Chat on your Xbox One?
Source: Reddit; via Polygon; Image courtesy of Reddit user, azGRIMES
Windows Central Newsletter
Get the best of Windows Central in your inbox, every day!
Why am I not surprised? MS are not good at making chat apps. Keeping in mind the massive Facebook chat issues and the massive Skype chat issues that WP users have faced and still often face, 'Soon' is not a word you want to hear from MS as we all know what that means. It means download another chat app and come back to the MS version in a year or two to check on progress...
Oh yes, and...
WERST!

This is Xbox Live. It works differently than a smartphone.
"Soon" when it comes to Xbox is usually pretty quick.

Especially since there are no third parties in the way of updates

Really? That kind of makes me feel pretty second class as a customer. I thought the tv ad was saying we would get the 'same experience across all devices'? Perhaps some devices are more equal than others...

Apples and oranges... Xbox Live chat is something totally different than Facebook and Skype, you're simply comparing things beyond compare.

I sadly agree. "Soon" in the MS world means a long wait.

Not when it comes to the Xbox. Keep in mind guys the Xbox user group is a hell of a lot bigger than their WP users. They are usually pretty quick to push updates and fix software related problems.

I am happy to not have any problems at all. Although a new game from Microsoft would have been nice! :P

Glad to hear they are working on it. My brother and I have our own Xbox one's and live together. And we can connect to each other's party just fine. It is when we turn on the party chat is when we get problems saying it can't connect. It happens every so often. We get great internet speeds. So I don't think it is on our side. We even bought a really great router to make sure. Still have issues. This reminds me of when party chat first came out for the xbox 360. It had some connection problems also. Just need to be patient and wait for the fix.

I was having the same problems but I was able to fix mine. Go to settings>Network and make sure it says NAT type is open. If it says strict it won't let you start chatting.

Both of us have an Open NAT

This is a firewall issue. I had to clear all of the UPnP Auto rules in place and reboot my firewall. Once I did that, no more Party Chat issues. To check, make sure that a UPnP forward has been automatically added (assuming you have UPnP enabled) and the rule is "Teredo, 3074/TCP". This is required for the Xbox One to connect to the new backend XBL services.

I'm only having issues with frozen hdmi in upon restart. It requires powering down to fix. Pain when u watch tv through the hdmi pass through and have to pull the plug and restart to fix the issues... I'm sure it will be patched so I'm not too bothered

This happens to me because my uverse box turns off, fixes itself in 15 seconds or so though

I have no problems with my Xbox one. Chat has been working fine for me in canada

Having a few issues but i'm not retarded i understand how easy it is to complain about something as well as the complications from an initial launch of something new. Ill be patient. Ill give Microsoft 25days to push out an update before i return my Day One XBoxOne

This must only be happening to naughty people

I feel like they went backwards on so much stuff, the 360 was damn near perfect for friends and parties etc

Yeah I liked pushing the Xbox button to bring up friends/party and all that good stuff

Hit the Xbox button and friends tile is right to the left...i have gotten used to it now I think its just as easy

Or just speak "Xbox goto Party", or even "Xbox Snap Party"

Could not agree more, even friend managment was better on the 360....

I have not even noticed this as a problem.. because me and my buddies just use SKYPE, voice call only. Home screen the Skype app away while still on the call and play games. It's win win this way.

People can still hear you ingame and you can hear them when using Skype.

No party chat on bf4 keeps telling can't connect try again later

Check to make sure you both have an open NAT. Some good information and links here: http://forums.dlink.com/index.php?topic=56759.0

Even when the Xbox One reports Open NAT, it is a firewall issue. I had to clear all of the UPnP Auto rules in place and reboot my firewall. Once I did that, no more Party Chat issues. To check, make sure that a UPnP forward has been automatically added (assuming you have UPnP enabled) and the rule is "Teredo, 3074/TCP". This is required for the Xbox One to connect to the new backend XBL services.

Ahhh new technology as much as I love it, I refuse to be the beta tester.

Have had no problems whatsoever and have used it everyday.

Having problems with turning off the console. Need to go for replacement. The quality of One is terrible, both hardware and software. Issues bloody everywhere...

Mine is perfect, runs quite and cool. Voice commands are 98% great, blu ray works great and have never been kicked out of a party. Don't just write off the system, you obviously got it day one knowing the risk and wishing for the best. Good luck, keep gaming.

I wish party chat was the only issue I had faced. Real disappointed with how things have turned out.

My cousin had issues the 1st couple days with turning on party chat once people were in. After a few days problem just fixed itself. My boy and my Xbox ones no problems to report yet thankfully.

Yes. I can join a party, but chatting with the party is not possible. One or the other is stuck in game or party chat and keeps populating an error when we try to switch back and forth to hear each other. This is a software ordeal, I expect this to be resolved within days, not over 2 weeks...

"It Will Get Better" should be Microsoft's tagline.

Am i the only one that wants to be notified when my friends come online and go offline?