Xbox One gamers begin to receive Day One content for their digitally downloaded games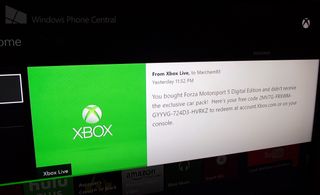 Most gamers who purchased their Xbox One on Day One where privy to special content included with the Day one edition of their games. If you were one of the many users (including myself) who chose to download your games digitally though, you were left out. Now Xbox users have begun to receive download codes to digitally obtain the Day One content that was left out from games such as Ryse: Son of Rome, Dead Rising 3, and Forza Motorsport 5.
If you purchased a Day One edition of an Xbox One game, then you should be checking your Xbox LIVE account for messages from the official Xbox LIVE gamertag. I received the Ryse: Son of Rome gladiator extras first and then twelve minutes later received the Forza Motorsport 5 exclusive car pack.
So there you go, if you digitally purchased a Day One Edition of an Xbox One launch title and expected to receive your perks – check your Xbox Live account messages now for the download codes. Don't despair if nothing is there though, as it may take time for the system to get to everyone.
Game on, WPCentral fans!
Lucky you,I haven't even got past ps2 yet,let alone a Xbox One (don't have any money for games/gaming) :'( :(

I don't have time to play. :|

I'd rather put a down payment down on this❕ which I will...
http://www.starmotorcycles.com/star/products/modelhome/653/0/home.aspx

Got mine earlier, had forgotten but nice they got to it.

Ditto! had completely forgotten I was supposed to have this!

Any idea how I find the cars? I have the code, but cannot see them in my garage.

Xbox...greatest game community ever.

Why rain on his parade? Not everything has to be turned into an argument.

You can say the same for which ever community you love, it's a matter of sharing your opinion on something you love brother. For me, I'm Xboxian, enjoy your weekend :-)

Thanks a lot for calling me a bitch...have nothing against you brother, enjoy your weekend :)

Its a joke man ... Relax ... #breakindBad

The first posters too articles on here ought to get a prize! Like a free game or a coffee coupon

No thanks, really, we don't need another reason to encourage 'first!' posts ...

It would be much smarter to give prices to the last comments. More ad revenue.

I had actually gotten my Day One dlc as soon as I bought Dead Rising 3 from the Xbox games store back in November but I'm guessin not everyone got it so at least Microsoft didn't forget.

If only they did this with BF4.

Last paragraph, second to last line: "don't despite" shouldn't it be don't despair? Good article tho :)

Sad day we live in.... Day one content is a joke. Bring back full game releases with constant updates, and the ability given to the community to mod.

That won't be happening anytime soon that I know of Posted via the WPC App for Android!

Why do I even bother reading comments anymore? It seems to be immature people saying immature things.

I accidentally deleted my message with the code for Forza 5! Any ideas how to retrieve it? I don't think that's possible. Oooops! :)

ReasonantEcho. You should have received both an email and xbl message. So whichever one you deleted, retrieve the code from the other

It pays to buy physical discs for games Posted via the WPC App for Android!
Windows Central Newsletter
Get the best of Windows Central in in your inbox, every day!
Thank you for signing up to Windows Central. You will receive a verification email shortly.
There was a problem. Please refresh the page and try again.