Xbox One SmartGlass receives small update on Windows 8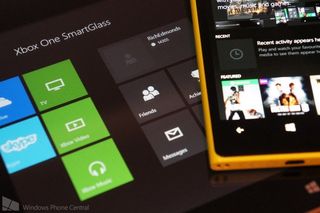 We're not seeing it on Windows Phone, but the Xbox One SmartGlass app for Windows 8.1 has just received a new update. The companion app for your Xbox One is indispensable if you're rocking out with Microsoft's latest console in your living room. Let's check out the new update for Windows 8.1.
You'll currently see Xbox One SmartGlass at version 2.0.1311.15001 if you're reading this right now and haven't yet had the update automatically applied for you on Windows 8.1. Once you do update, you'll be rocking out to version 2.0.1311.26000 for Xbox One SmartGlass.
So what's new? Going off of the update numbers we're going with bug fixes/performance improvements. We haven't noticed any differences between the two versions just yet. If you do notice anything new, let us know below in the comments.
In the meantime, head to the Windows Store (opens in new tab) to get the Xbox One SmartGlass app for Windows 8.1. You can also grab it for Windows Phone.
Thanks for the tip @mike_martos!
Windows Central Newsletter
Get the best of Windows Central in your inbox, every day!
After the update my Facebook app on my wp8 seems faster too... Strange.

Its probably compatability updates with Project Spark. Btw... Where is that?!?!

Beta started today for W8.

I realize that, but barely anyone got the invite yet.

Beta didn't start.. I signed up for it today..

They need to integrate this in the Games hub on Windows Phone.

Mine has never worked once :( I'll try again when wp update comes

Mine worked the very first time I used it and then stopped working and haven't been able to connect since. I've also tried my iPad which won't connect so I'm assuming the problem is on the console's end.

Woo, I'm hoping mine will start working! It works fine on my 920, and my partners surface rt, but it has only worked once on my surface pro

On the Pro, if you have a bridged network connection that causes problems. I had it working on my Venue 8 Pro and phone but the Surface Pro couldn't connect until I removed the network adapter from the bridge.

@hysonmb is correct. I had the same issue on my Surface Pro, and following the instructions I found on the Xbox Forums corrected it for me. http://forums.xbox.com/xbox_forums/xbox_apps/p_-_s/f/3039/t/1627150.aspx

Says last updated on 11/21/2013. Do not see the update. How do you tell what version you have?

Is SmartGlass the same for W8 and WP8? Starting a second play through of DR3 this weekend and want to have the most complete experience.

I hope it fixed the bug that would let me connect to my Xbox.

Still doesn't work, I get a notification that I have a message, I click it, go to SmartGlass, and there's no message there...

Smartglass works but never brings up the battlescreen for battlefield 4 for me. Perhaps this update fixed it. I'll try again tomorrow

I don't know if it's available in the WP Store, but on Android, I had to download a 'companion' app called Battlelog (made by EA, I suppose). Then, when BF4 is running on you Xbox One, launch SmartGlass on your device, click on the current activity (which will be BF4) after it connects to your Xbox, and SmartGlass should then launch the 'companion' app on its own, and then that will display the live game map on the screen. Couple of caveats: 1) It doesn't work on phones because the screen is too small to display a useful map. 2) I'm not sure if the companion app is required on Windows Phone. It was required on my Android phone, however. Good luck!

WP 8.1 leaks, please. Wpcentral. Bored with Xbox news.

A bit counterproductive if you came into an Xbox article to write this eh? Lol

Forgive me if my methods are too complicated for you to understand.

Never said I didn't understand. There's no need to be a douche about it.

Ok. I misunderstood and thought you were the one being a "douche." Let's just forget it and move on.

No problem ;) have a good day or night depending where you are.

This update has fixed an issue I had connecting to the Xbox One! Previously I couldn't connect to the Xbox One through SmartGlass from my Surface Pro and the issue seemed to be caused by the HyperV NetworkBridge on the network adapter which was setup by installing the Windows Phone 8 SDK as per this link: http://forums.xbox.com/xbox_forums/xbox_apps/p_-_s/f/3039/p/1634467/4245... I just installed the lastest SmartGlass update and now I can connect!

This is good news. I actually removed my adapter from the bridge to get SmartGlass connected.

Maybe Honda should come out with the "I model" no thanks I'll stick with GM.

Hopefully they will add the OneGuide integration that they promised some time soon.

My connection has always worked with smartglass.