Xbox One YouTube app gets revamped interface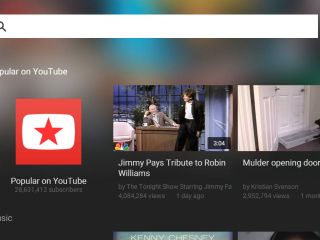 If you own an Xbox One and checked out the console's dedicated YouTube app sometime in the last 24 hours or so, you may have noticed that the app has an all new user interface. Today, Google offered more details about the YouTube TV app revamp, which will be rolled out to other set-top boxes, game consoles and smart televisions in the coming weeks and months.
The design is HTML5-based, which means anyone with a compatible web browser can also check out the new YouTube TV UI right now. Google says:
The revamped design also allows users to see any new playlists created by a user's favorite YouTube channels. If you own an Xbox One, what do you think about the changes made to the YouTube app.
Source: Google
Though I use metrotube , it would be great if we have an official YouTube app for windows phone too.

There is one. Well, technically there WAS one. The app was pulled back by Microsoft after a dbag move by Google. BUT if your phone is dev unlocked, you can sideload that app. I use it up to this day.

It wasn't by Google, just MS.

Just to clarify DennisSVDG, MS developed the app. Google made MS pull it from the store. So... It was Google's fault. Just wanted to make sure you got the right end of the stick. Google=bad, hmmm kay?

The app wouldn't have been pulled out if just MS had respected Google's rules for using their service.

Which rule did Microsoft not respect? The download option which it initially had, Microsoft updated it and removed the option to do so in a follow-up update. The reason Google asked to removed the app was because the asked it for it be HTML5-based which NONE of their mobile apps for iOS and Android is HTML5. This happened last year and until NOW Google is releasing an HTML5 app for the Xbox.

You just answered yourself....

Yeah, he did, and he's right that Google's move was a d-bag one.

Just think a little, Google have been trying for a long time to completly move YouTube to HTML5.... then comes the little MS boy and says "uh, I'mma maka an YouTube flash app". After all the work Google is doing to move YT to HTML5 Microsoft comes and make a flash app, after all the effort from Google MS come and makes one more app that will need to change to HTML5 in the future? Hell no, they want MS to create an app that is already on HTML5 instead of making one that goes against all the trend of the YT apps from Google and become one more app that will have a pendent HTML5 version to deliver.... It ain't too hard to understand that.

How? Is it possible for the free developer preview too. If so how do I download it

http://forum.xda-developers.com/showthread.php?t=2525841
Here you go

What do I do it just opened up the screen and displays a gray screen with folders and files. How do I access it

do you have lumia ? if so download the nointerop http://forum.xda-developers.com/attachment.php?attachmentid=2418672&d=13... and deploy it normally, i just did it to test it, it worked and no grey screen ! try this one if you want http://forum.xda-developers.com/attachment.php?attachmentid=2730913&d=13... it has live tile (transparent)

I have a Lumia 521 and its still doing that. Is no interop an app?

Interop is for Samsung unlocked devices only, no interop is for every 8.0 device
try the second link i've edited, it may work better
and by the way, i tried both of them on 520 :)

I'm confused lol. Can you please send step by step instructions lol

I have 8.1 installed. Is that why?

I'm using 8.1.1 and it's working just fine.
Is your phone developer unlocked ? Not just for the preview you can do that using WP SDK registering
After that deploy the app using this tool http://wptools.codeplex.com/

I don't think so and I don't have any money

It looks gorgeous from that image

I want a friggin chatpad or keyboard for YouTube in smartglass, is it available? Until it is a suboptimal experience compared to 360.

You can "activate" the ability to search using your phone or tablet's web browser, click play there, and have YouTube send the command to your Xbone to start playing it. It's kind of clunky, and every time I try to use it I have to "re-activate" it by generating a new code and entering it in. So there is an option, as bad as it is. It's nowhere near as convenient as just using a SmartGlass keyboard would be, though, and still a far cry from the 360's Chatpad (oh, how I miss that thing when I pick up my Xbone controller).

There is absolutely no reason to use that app until they change that bloody awful search function! The only positive is that playstation owners have to suffer with the same horrid search. Why on earth it doesn't have a keyboard ive no idea!

I wish they do for WP too! -_-

Navigating on the old app sucks. Hope this one is better.

Google is black lobbing youtube app on Xbox One. Try TubeCast on your windows phone with the same video as Google Youtube App on Xbox 1 (720p) Google app stops while dnla send to Xbox video app by Tubecast is flawless

Thanks for the tip, will try out.

Hmm...... HTML5 based.....

There's a reason they were demanding that from Microsoft. They're moving all the YouTube apps to HTML5. The website version already runs on it.

All website versions use HTML5 generally......

YouTube videos used to run on flash. It's been moved to HTML5.

Yea, YouTube videos still definetley run on flash. I was just watching a youtube video, I saw flash was running, made it close, and the youtube video stopped playing

Can't Microsoft be a bitch and just block this app until Google starts developing for WP? I'm sure Google won't like the idea of missing out on all those Xbox users.. Lol :)

Then everyone else would be mad at Microsoft for doing so. It's self-harming and a "silly" idea, for lack of a better word

LOL "All" those minority called Xbox One users. Microsoft is really the only one to lose if their console become the only one in the 8th gen to lack a basic, mandatory Youtube app.

I wonder if MS has made any headway in getting Google satisfied and getting this app over to WP?

All Microsoft has to do is do the app in HTML5.

It can't be worse than the last YouTube app. It was absolutely awful.

So Google makes a YouTube app for a device with a user base of less than 5 million, but outright refuses to make one for a platform with 80+ million users? Makes. No. Sense.

Don't overthink Google's logic.

Except the expected growth of the Xbox user base is far greater than that in WP that is stagnant (to not call it DOA yet).

Windows Phone has 80+ million users right now. It will take years for the Xbox One to reach that number (for comparison, it took Microsoft 8 years to sell 80 million Xbox 360's).

Looks a little ios inspired.

I love how Google supports Xbox One and does nothing for WP.

What? Xbox one has an official youtube app!!!! :o

The typing experience is still terrible

Hmmm it still forces you to pair your phone to be able to search properly :( - who honestly has the time???

The update came out a few days ago actually and it's riddled with bugs and is constantly freezing. Wish I could stop using YouTube

I want them to add support for smartglass.

Please Google stop being a bitch and bring youtube to WP

Still needs Smartglass support for typing in searches..

LOL well at least Google isn't shunning all MS platforms. Still wish we had the old MS built YouTube app it was the best!

Ok, I'll see it when I get home I'm sure. I subscribe to a couple dozen channels and use YouTube on my xb1 more than I play games or watch Netflix! I hope it's good.

Can't wait for it to come back to WP. I'm sure it's going to be next. I hope they come up with more excuses to block it again

This should be a universal app so it will work on Windows Phone. It's rude and insulting that google has Windows Phone black listed but supports Microsoft's game consoles.

It's very hard to have a universal app for all three of Microsoft's platforms, just saying. Even Jay said so.

They can support Xbox but not WP. Hmmm that's odd

I like the new changes, but I saw these changes WAY more than 24 hours ago.

Do some videos suffer the "not supported on this platform" message that you get on mobile? Example the Opening Ceremony of the 2012 Olympics?

Ya it would be better to have same ui in windows phone as the other operating system for phones

Did they fix the god-awful way of searching?

Why don't they make it a Universal app?

Has anyone tried it with Smart Glass? I sure hope you can now use smart glass to type in a search string. Searching in the old app was painful.

...yet Google can't seem to find the time to develop a windows phone app. Whatever.

It's a huge improvement, and more importantly for me, it now works perfectly with the Xbox Ones remote! The remote also works very nice with Bluray movies as well.

Wow, so I tried it. It's actually pretty terrible. No experience is ever improved by providing less information on screen and requiring more clicks to get where you need.

Hopefully they changed the search keyboard layout to the one the Xbox uses. I hate going back and forth through that line of letters

Just saw the video, and that's a hell no! I hate using their search function.

Seriously lol, looked neat on the pictures. Go to website, jawdropping how awful it works, fuck that shit.


OMG the worst update ever! I used to be able to just scroll down each of my subscriptions and play their latest uploaded video in seconds. NOW its press guide, then select, then find uploads and then play ! What a step back. Worst update. So clunky using youtube now. Thanks for nothing

YouTube official from Microsoft hasn't he update since long time, so does WhatsApp. Is there nothing needs to improve or current condition is the best Microsoft assumed? Thanks.
Windows Central Newsletter
Get the best of Windows Central in in your inbox, every day!
Thank you for signing up to Windows Central. You will receive a verification email shortly.
There was a problem. Please refresh the page and try again.