Xbox Series X features a dedicated audio chip, confirms Microsoft
Let's set the record straight.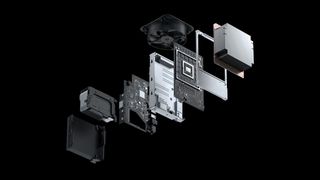 (Image credit: Microsoft)
What you need to know
Microsoft unveiled the Xbox Series X specifications a week ago.
Since then, many developers have promised Xbox Series X games.
There's also a lot of misinformation floating around.
The Xbox Series X has a dedicated audio chip like the PlayStation 5.
Ever since the Xbox Series X and PlayStation 5 (PS5) specifications were revealed, there has been a slew of misinformation floating around. Some influential gaming figures have gone onto say that the Xbox Series X doesn't have a dedicated audio chip — a feature everyone who previewed the device confirmed it had — and that the PS5 somehow can utilize custom Xbox Series X features.
Well, both of these are untrue. First and foremost, Microsoft's James Stanard, who works on graphics optimization and engine architecture, said that the Xbox Series X has a dedicated audio chip just like the PS5. The theory that somehow the lack of an audio chip will utilize 20 percent of CPU power is untrue. You can read the confirmation from Stanard below. The chip appears to be for Microsoft's audio ray-tracing technology.
An Xbox Wire (opens in new tab) article added, "Xbox Series X has custom audio hardware to offload audio processing from the CPU, dramatically improving the accessibility, quality, and performance of these immersive experiences." Ninja Theory also confirmed to us that the Xbox Series X featured dedicated audio hardware.
Stanard then went onto confirm that the PS5 won't use custom features that are only found on the Xbox Series X. Sony may have its own solutions, but the PS5 isn't using Microsoft's. The confirmation of this can be found below, too.
Hopefully, this puts to rest two of these unfounded rumors. Sony needs to do a deeper dive into the technology powering games so that there isn't any more confusion.
Best of the best
(opens in new tab)
Three-month subscription

Xbox Game Pass gives you access to over 200 games for one monthly fee. Xbox Game Pass Ultimate also adds Xbox Live Gold to the package so you can play online with your friends.
Asher Madan handles gaming news for Windows Central. Before joining Windows Central in 2017, Asher worked for a number of different gaming outlets. He has a background in medical science and is passionate about all forms of entertainment, cooking, and antiquing.
Still they leave us without a SPDIF output and this will be very annoying for a lot of people, I can't believe it would cost so much to have it like on Dev kit

I think the issue is a lot of people don't use it and many manufacturers are moving towards a wireless system.

It sucks for me, because while my Yamaha receiver supports 4k pass through, it doesn't support Dolby vision or hdr. I can use the optical out in my TV but it's more wire running because I keep all my equipment in a second room and TV is only thing in family room.

Also, spdif can max output 5.1 ch and dolby digital signal only. With Dolby Atmos, dolby digital plus, hdmi eARC and next-gen 3D audio that will be annonce soon with Audio RayTracing... That old and poor quality output spidif really needs to go. By the way if you can use hdmi for audio (ARC) into your receiver... That's the best quality to experience the best sound possible. As for the people like me that uses Astro A50, Microsoft and astro will make it work without your spidif and only use usb just like on PC. Probably throught drivers from the app. Just like Atmos drivers from the app works.

Except for the hard of hearing, who have equipment that rely on the S/PDIF port since no one puts a digital audio port on anything anymore.

I'll be one of the annoyed. I have a receiver that's only HDMI 1.4, so can't pass thru for audio, and my TV optical out adds slight lag, enough to be annoying. I saw the prototypes and thought at least I can still use optical connection to my receiver, but now see that was just a tease. Went from a definate pre-order to a maybe someday. Really sucks..... (I hate headsets, so not an option)

I'm in a similar situation. While not optimal, you can use a hdmi splitter w/ optical out that supports Dolby vision and hdr. Kind of pricey though. https://www.amazon.com/dp/B077J87HVV/ref=cm_sw_r_other_apa_i_Nq.DEb4FBJE...

My receiver is also HDMI 1.4 and I didn't even think of the optical out (which was awesome in the OG Xbox days, but is outdated now). I'm using HDMI ARC so my TV sends DD/DTS/DD+ to my receiver and it works flawlessly.

Besides the fact that S/PDIF is an outdated and interior audio medium...how hard is it to use HDMI?

This is called planned obsolescence and this is against every trend at the moment, does anyone thinks that everyone will be able to get an Atmos receiver or high end tv to hook up its latest console?? The console is not only in a living room, it is used in different rooms and by a lot of different type of people, this decision shows how disconnected some people are, and really a nice DTS soundtrack with good speakers is already a lot, there is a lot of more important things to take care of than annoy people to not be able to use there existing equipment, shame on you Microsoft... Also it's not because you don't need SPDIF that it is relevant to say that it is old tech, Xbox ouput to most tvs is limited to Stereo uncompressed, so this is just way behing a SPDIF 5.1 Dolby or DTS output....

Literally the cheapest, bargain-basement receiver you can buy produces better sound through HDMI than a S/PDIF connection. There is ZERO reason to do it when better, cheaper, and more efficient technology already exists.

Dude, if sound processing took as much as 20% of the CPU, we'd all be screwed.

It depends, if it was at quality level of what the dedicated audio hardware on the PS5 one can do, than yes it would take 20% of the CPU, if it's like the one on the XSX then it could be done with alot less resources.

Umm, no....just....just no. Sound processing would use less than 1% even at the highest qualities and most advanced technologies.

No, the Sony tempest engine can track thousands of audio sources and not just 32 like Atmos, in previous consoles and XSX a dev would use a single audio track for rain while the PS5 will be able to track every droplet. Mark Cerney even said that this level of detail would require the entire Jaguar CPU from previous consoles

Atmos is 128 sound objects, but you are correct, it's not as much as what these systems are expected to handle.

The problem that occurred is Sony unveiled the PS5 via a GDC talk. A talk not meant for public. But yet what's happened is aome of the PS fans have latched onto some things that they really have no understanding on. Claiming this and that. All that's going to happen is when both release these same people are going to be wondering why the Series X has so much more performance in its games. It's just going to go from bad to worse for PS5 at this point. They really messed up the messaging of PS5 from the start.

Doubtful. It remains to be seen what benchmarks we'll see when both of these consoles release. The architecture supporting those raw numbers matters heavily. If Sony has a better architecture, which they always do, they will still outperform. XBox One X technically has better hardware than the PS4 Pro on paper, but recently CD Projekt RED had to delay Cyberpunk 2077 due to optimization issues on what platform? XBox. Developers are also stating that the PS5 is an absolute dream to develop on and that it's power shouldn't be measured by spec sheets.

Because of the base Xbox One. Not the One X. Since the base Xbox One the designers have had lots of input from the Surface team. And the result was One S and One X. And now Series X. The architecture for Series X is also supporting PC going forward. Direct X Ray Tracing was Co designed with AMD to perfectly work with Series X AMD chipsets and all RDNA 2 PC GPUs coming out later in the year. Then there is Velocity Architecture which PC enthusiasts are waiting on coming to PC. Direct X 12 Ultimate is also on the cutting edge for Series X and especially PC gaming. The Architecture behind Series X is massive. And the backbone of both Series X and PC gaming going forward for the next 5 years. MS architecture is becoming the standard for AMD, MS and PC gaming. Sonys is only applicable to PS5. As John Lennerman pointed out on Twitter to a PS5 fan, Sony were missing a ton of next Gen graphical features from their presentation the other day. And they aren't sure whether they have any answer to VRS, DXR, DX12 Ultimate among other next Gen MS made tech for Series X and PC gamers. MS Architecture is robust, entirely next Gen featured and leading the way for Series X and PC gaming over the next 5 years. And the comments made by developers were in reference to the Game 'Developers' Conference stream Mark Cerny did. Of course they are going to praise or not praise it when the video was directed at them and not the public. That's kinda the point. MS hasn't had there GDC stream yet. But what they did have was a Direct X 12 Ultimate day. And the developer feedback on that was unbelievable. Put it this way, developers are saying it pushes gaming forward immensely. And isn't available on PS5. As it's a MS technology for PC and Series X.
Windows Central Newsletter
Get the best of Windows Central in in your inbox, every day!
Thank you for signing up to Windows Central. You will receive a verification email shortly.
There was a problem. Please refresh the page and try again.