Xbox Series X, PS5 could fix many of modern gaming's lingering quirks, including ... gnarly hair
The Xbox Series X and PS5 are set for a serious spec boost over the current-gen, poised to improve visual effects on various quirky gameplay aspects we take for granted.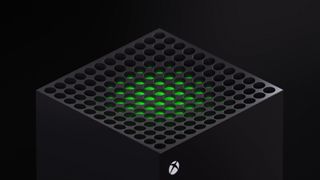 (Image credit: Microsoft)
The Xbox Series X boasts 12TF of graphics power and a next-gen CPU, bringing it far higher than current-gen consoles are capable of. The PlayStation 5 is expected to sport similar internals as well. The proliferation of hardware as-of-yet unaccessible to only some of the most high-end PCs is set to bring about new standards for various visual aspects we tend to ignore or take for granted.
We've all heard already about ray tracing, hardware-accelerated on the Xbox Series X and PS5, which will bring about dynamic shadows, real-time reflections, and physics-based lighting to games. The effect it has on a visually modest title like Minecraft is truly compelling, and some of the early results on RTX chips on PC in games like Metro Exodus is truly inspiring too.
Recently, IGN spoke to a range of developers to get their thoughts on what next-gen processing will mean for the Xbox Series X, and it should lead to a real leap across the board.
Bruce Straley, former creative director at Naughty Dog described how hair could shed the pixellated dithering effects we often see in games that try to create photorealistic locks, alongside how ray-tracing will help elevate games.
Four years ago, Microsoft and Square Enix showcased what games would look like with 8K textures, 63 million polygons per scene on a PC running four GTX 1080 GPUs in SLI. With hair rendered as objects, rather than surface maps.
More power means more processing for the way dynamic strands, like hair, interact and intersect with other effects and objects. Developers use a lot of visual tricks to create these effects today, but being able to offload them as systems should make them look more dynamic and more realistic.
It won't just be found in how games look either, but also how they feel, directly impacting gameplay. We all remember the fog from Silent Hill, which not only served as a way to reduce the draw distance on the rather slim specs available on the PlayStation 1, but also served to limit the vision of the player, ramping up tension and fear. With more processing power, these sorts of gameplay systems will reach new heights thanks to more realistic, and more dynamic smoke, liquid, fire, and other similar effects.
Virtuous VP Elijah Freeman went into some detail about it in talks with IGN.
Microsoft has certainly impressed already with its in-engine Hellblade II trailer, which already looks set to take visual quality to an all-new level. As always, the proof is in the pudding, but the sheer boost in performance next-gen systems are going to offer makes for truly exciting possibilities.
Xbox Series X/S
Main
What is the Xbox Series X release date?
How much does Xbox Series X cost?
Why you can't preorder Xbox Series X yet
Jez Corden is the Managing Editor for Windows Central, focusing primarily on all things Xbox and gaming. Jez is known for breaking exclusive news and analysis as relates to the Microsoft ecosystem while being powered by caffeine. Follow on Twitter @JezCorden and listen to his Xbox Two podcast, all about, you guessed it, Xbox!
What game was in the demo? Or was it just something made for this demo?

The Square Enix demo? It was just for the demo, it's called Witch, but it seems Final Fantasy-inspired at least.

Specs again.
Xbox series X and Ps5 could fix, it's update vibranium.
Ray tracing, Mesh shadows, it's not as a new Unreal Engine.
Many time, have impression to see Mini-Pc and Ps5 sponsored by China-Asia.

It might, but it probably won't, we've seen awesome hair in tech demos before, doesn't mean the systems will actually achieve it, but it'll be nice to be proven wrong.

The media is making way to much of the Terra flops. I mean yes, it's a great number of Terra flops. But it really is not the most important piece of information for next Gen. We know now that performance of RDNA 2.0 is about 50% more efficient than RDNA 1.0. Also RDNA 2.0 Direct X Ray Tracing is also 30-50% more efficient at Ray Tracing than RTX from Nvidia. The absolute low wattage high power gain of Series X and the amazing visuals it can push is largely down to the new Architecture of RDNA 2. This isn't only a big thing in Consoles. For PC this is also going to be pushing boundaries. AMD are about to release these High End RDNA 2 cards with 20-30% advantage over Nvidia highest RTX 2080TI cards. At a much much cheaper price. Direct X Raytracing is going to be the future for Series X and PC gaming at least as well. It's had incredible work done on it.
Windows Central Newsletter
Thank you for signing up to Windows Central. You will receive a verification email shortly.
There was a problem. Please refresh the page and try again.