Xbox store gifting and wishlists are on the way, and one is coming 'very soon'
Xbox Store gifting is one of the most requested features on the Xbox UserVoice feedback site, but it hasn't materialized as a feature just yet.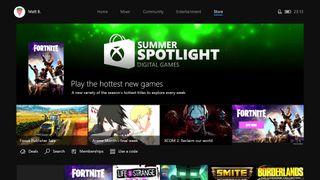 Gifting is a prominent feature on modern digital storefronts, from Amazon to Steam, but it's frustratingly absent from both the Xbox and Windows stores. Once gifting has become a reality, Xbox and Windows 10 Store wishlists will also need to be a thing, to help you figure out what gift to actually buy.
In a conversation at PAX West, Xbox Director of Programming Major Nelson and Xbox Platform CVP Mike Ybarra discussed the timeline of game gifting and wishlists, stating vaguely that at least one of those is coming "very soon."
I imagine that it would be game gifting coming soon, with the holiday season fast approaching. Although, game gifting is potentially a more complicated project, and since the Xbox Store and Windows 10 Store are essentially the same, the feature will need to function across both store fronts more than likely. Wishlisting might be easier to implement, but it's going to be digital game gifting that brings in the real cash.
I know I simply cannot wait to start gifting you all Soda Drinker Pro. (opens in new tab)
Jez Corden is the Managing Editor for Windows Central, focusing primarily on all things Xbox and gaming. Jez is known for breaking exclusive news and analysis as relates to the Microsoft ecosystem while being powered by caffeine. Follow on Twitter @JezCorden and listen to his Xbox Two podcast, all about, you guessed it, Xbox!
How about add to cart like PS4 and Steam

They focus on the more popular requests first.

Link to your feedback in Feedback Hub?

Microsoft can shove their feedback hub;

This would be a great to have too, though it seems this wasn't as popular as the other two because even on Apple and Google store's don't have one. Though to make Windows Store comparable to PS Store, Steam and other online distribution services, Cart is a must have.

I think Wishlist will come first and its a store feature that is also has been requested for a very long time, very handy feature. Gift may come later because of the added complications in regards to transactions in the backend, but this must come and long overdue. Ability to buy a product from Windows Store (apps, games, movies, music, books) and gift it to somebody especially for a kid or person who doesn't have own bank account yet is a great thing. This will make Windows Store purchasing rate bit higher because of the added flexibility on purchasing.

I doubt it..I think it's wishlists coming first. That's the easier one to implement. I'm almost certain.

Has to be gifting. What good would a wishlist be without it.

It's not a wishlist you share with friends. It's a wishlist of content you want to track when price deals happen. Though shareable wishlist with friends would be awesome as then you could just look at friend's wishlist and buy whatever from it for him.

Do you remember Nokia App Social? Would be nice if they can do something similar.

Oh yeah! That would be an awesome part of the feature too, hopefully, that's already in their mind and its going to be implemented when introduced. It does really make sense to share a wishlist. Though I bet we will get the simple Wishlist feature.

You've never used steams wishlist have you? Lol

I've given up using the store as anything meaningful and it's sadly not because of the usual excuse people give of being a lack of apps.
I've been ******** about not being able to find or fully know what apps I have for a while now. Over the 1000s of trial, demo and just down right useless apps, there are quite a few gems that I'm really struggling to keep track of. But the purchase history list is just too damn useless, for me and many others it takes an age to load, every single time I go back to it They honestly need a favourites list (or any kind of management system) before any wishlist is added. Last month I tried to find a flight tracking app I purchased last year, nope. Didn't happen in time. Ended up using the flight companies terrible, less than helpful website.


been using (download app later ) for pc,mobile

Seriously, this was not already there? No wonder Microsoft is a joke on the PC gaming scene, when you try to go against the likes of Steam and GOG that had these basic features from inception.

Steam and GOG have Xbox titles?

Don't downvote be because it's true. The majority of PC gamers don't use the Windows Store and use Steam. Plenty hate the Windows Store. Some like it.

dont be so hatefull it can be there for the ones who want it.

Where was he hating? You people need to calm down and not take things personally. If he says majority of PC gamers don't use windows store that's not a personal insult towards you guys. lol

A couple years back, I confidently promised a cousin who lives outside the U.S. that I would electronically gift him a game or digital gift card via Xbox. Boy, was I in disblief that there was not something in place so I kept searching online thinking I just wasn't able to figure out how to make it work. While I can't imagine needing this much again, it would certainly fill a feature void that doesn't make sense in it lacking.
Windows Central Newsletter
Thank you for signing up to Windows Central. You will receive a verification email shortly.
There was a problem. Please refresh the page and try again.