Xbox on Windows Phone: Rocket Riot update brings Avatar Awards and more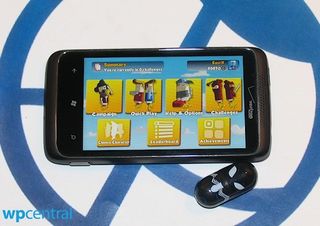 Rocket Riot was among the first Xbox Live games released on Windows Phone, way back at the end of 2010. Despite the game's age, developer Code Glue continues to pump out updates for it, with a new one arriving within the last few days. The previous patch, version 1.4 was fairly substantial as Windows Phone updates go, and yet this latest, version 1.5 actually manages to top it by adding Avatar Awards, asynchronous multiplayer, and more.
Check out the full release notes and our impressions after the break.
Rocket Riot version 1.5 release notes:
Two avatar awards:

Blockbeard Hat and Beard
The Torso Rocket
Added Challenges Mode (asynchronous multiplayer)
New languages: Japanese, Chinese, Korean and Brazilian Portugese.
Pirate style
To unlock the new Avatar Awards, you'll need to defeat the first boss, Blockbeard, as well as the super-challenging final boss. Even if you've already satisfied these conditions in the past, you'll need to replay those levels in order to nab the Awards. Replay value!
To equip your spoils, head to the Games hub, select your Avatar, 'change my style,' 'awards,' and then select one or both items. Remember to Save or the changes won't take effect. What do you think of that body, guys? Any resemblance to actual Rocket Riot character torsos?
Throwing the glove down
After installing the update, you'll see a new option on the main menu: Challenges. From here, you can create Challenges, view ongoing ones, and check your challenge history. Challenges basically involve two players trying to gain the highest score on a particular level, asynchronously. It's not a proper substitute for real-time multiplayer like the XBLA version has, but certainly a welcome addition to the game.
Unfortunately, my own experience with Challenge Mode hasn't gone very well. When I try to select the option from the main menu, I get this error message:
Run-on sentence aside, I simply haven't been able to create or view challenges as intended. I did manage to accept an incoming request though, so that's something. The developers haven't experienced this issue in their testing environment. Anyone else having the same trouble as me?
More Rocket Riot to come
Rocket Riot 3D (Windows 8)
What could have prompted this most recent update to a Windows Phone launch title? Well, it coincides nicely with the impending release of Rocket Riot 3D on Windows 8. Rocket Riot 3D will feature the same asynchronous multiplayer mode that the Windows Phone version's 1.5 patch introduced. How very cool of Code Glue to remember their mobile game rather than neglecting it.
Rocket Riot 3D promises to include all of the content from the Xbox Live Arcade and Windows Phone games, plus new levels, characters, and lots more. We'll have an exclusive preview later this week, so stay tuned!
Back to Windows Phone
Rocket Riot is a twin-stick shooter featuring tons of adorable characters and fully destructible pixelated environments. I still think it controls better than any other twin-stick shooter on the platform. Really, it shames Galaga Legions DX to no end. Check out our full Rocket Riot review to learn more.
Rocket Riot costs $4.99. Get it here on the Windows Phone Store.
Thanks to everyone who tipped us about the update!
Windows Central Newsletter
Get the best of Windows Central in in your inbox, every day!
Paul Acevedo is the Games Editor at Windows Central. A lifelong gamer, he has written about videogames for over 15 years and reviewed over 350 games for our site. Follow him on Twitter @PaulRAcevedo. Don't hate. Appreciate!
Looks like I'm gonna play this again to get the awards

Thanks for the information. Also updated the Marketplace banner to, though not with this update I assume.

This is good / bad news I love the free stuff. I actually noticed the awards in my Xbox under awards a couple says ago. This is very good news. It kinda sucks that you gotta play the whole game again. I wish they could've programmed it to detect if you already beat it and just unlock them at launch. There's a couple games I'm trying to get out the way before W8. It sucks that you can't transfer your game saves over. I just don't have the time to replay this one again.

I believe you can just replay those specific levels. Anyone test it?

The avatar awards *should* unlock when you start the game (worked for me when I got the official update) but if you've already beaten the level you can just replay it and hopefully it will unlock then.
The only problem is you'll have to beat the final boss again and he's kind of a badass...

freaking cool update. I own this title on my Xbox, but not my phone. I missed it on dotw by a couple weeks if I recall correctly. I may buy it soon since the developers are so awesome at supporting their titles.

I suck at TSSers and $4.99? hmm....

Try the trial. It's a really fun game, and the controls work surprisingly well.

I unlocked both awards as soon as I started up the game...

Weird. I definitely had to go through the levels again... Maybe it has something to do with Chalenges not working right for me. WIll ask Code Glue about it.

slightly off-topic, but what's the deal with Xbox on WP boxart.. are they going to change em all or not. I don't really like the new green banner, but if they're going for it, go all-in and update old games, inconsistencies like these cheapen the 'premium' attachment that comes with the Xbox brand..

Probably not, same problem exists on XBox Arcade. They have updated some but not others. Spent ages trawling through trying to find bastion the other night. Couldn't find it because it was camoflaged.

Hey guys,
Joost from Codeglue here! That error you seem to be getting a lot of is unfortunately an Xbox Live/connection error. Nothing we can really do about it, sadly. Once you see the challenges notifications in the top left in the main menu, it should all work. I've been playing some challenges (and losing quite badly, I should add) and it works fine for me.
The avatar awards are awarded when you beat the first boss and the last boss. It *should* unlock them when you start the game because they are tied to the achievements!
And if anyone wants to whoop my ass in a challenge, you can challenge me: my gamertag is whatisvisceral!
Hope you guys enjoy the update and cheers from the Rocket Riot team!

Awesome, love to see support like this so long after a game releases. Still, $4.99 is a bit pricey and I have a feeling this will see a DotW pricing soon. I'll wait it out a few more weeks, then break down and buy it if it doesn't drop in price.

Thanks Paul.
Windows Central Newsletter
Thank you for signing up to Windows Central. You will receive a verification email shortly.
There was a problem. Please refresh the page and try again.