Xbox Wireless Headset vs. Turtle Beach Stealth 700 (Gen 2): Battle of the Bluetooth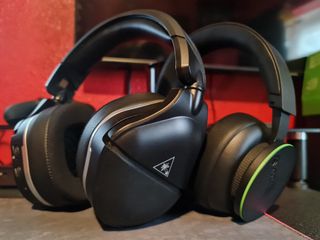 (Image credit: Windows Central)
Official solution

The Xbox Wireless Headset is a newcomer to the gaming headphone space, bringing big features at a seriously impressive price point. An auto-mute feature, high-quality ergonomics, and copious comfort makes this headset a solid pick. Can it beat a $50 more expensive headset on value, though?
For
Auto-mute feature
Dolby Atmos license baked in
$50 cheaper
Superior signal stability
Against
Arguably inferior audio profile
Turtle Beach Stealth 700 (Gen 2)
Pricier option

While the Stealth 700 is $50 more expensive, there's a lot of bang for your buck in terms of audio quality overall. Turtle Beach's Superhuman Hearing is more than just a gimmick, although the Xbox Wireless Headset does come quite close with a significant saving attached.
For
Flip to mute mic
Superior mic monitoring
Has the edge for audio quality
Against
$50 more expensive
Signal connectivity isn't as stable
Bluetooth Battle! With more and more of us shifting our gaming from console, to PC, and to mobile, and everything in between, having cross-platform capable headsets is becoming all the rage. Many of the headsets listed on our best Xbox One headset and best Xbox Series X and Series S headsets lists are, in fact, multi-platform capable to that end. Microsoft saw this trend and launched its Xbox Wireless Headset recently, joining a growing number of headsets that offer Bluetooth and Xbox Wireless simultaneous sound mixing.
What's more, they brought this in at just $99, making it one of the best-value headsets on the market right now. For Bluetooth mixing, its closest competitor is probably the Turtle Beach Stealth 700 (Gen 2) headset, which has similar features, albeit at a $50 premium.
Can the Xbox Wireless Headset reliably take on a headset that is $50 more expensive? We put both headsets head to head to find out.
Swipe to scroll horizontally
| Header Cell - Column 0 | Xbox Wireless Headset | Turtle Beach Stealth 700 |
| --- | --- | --- |
| Frequency Response | 20Hz – 20kHz | 20Hz – 20kHz |
| Speaker Size | 40mm | 50mm |
| Speaker fabric | Synthetic leather | Coolant-gel infused fabric |
| Compatibility | Xbox Wireless, Bluetooth | Xbox Wireless, Bluetooth |
| Battery Life | 15 hours | 20 hours |
| Extra Features | Auto-mute mic feature, Dolby Atmos built-in | "Superhuman" hearing feature, flip-to-mute mic |
| Price | $99 | $149 |
Sound experience
Source: Windows CentralXbox Wireless Headset (Left) vs. Turtle Beach Stealth 700 (Right)
On paper, these headsets are extremely close. They boast the same frequency range, although the Turtle Beach Stealth 700 has a slightly larger speaker size at 50mm, to the Xbox Wireless Headset's 40mm. Despite the price disparity, the headsets are very close in terms of raw audio quality in general, with a few caveats.
I would argue that the Stealth 700 provides a broader sound stage, with superior separation versus the slimmer profile on the Xbox Wireless Headset. As a result, gameplay surround in titles like Overwatch that do support Dolby Atmos seem to provide a superior sense of direction versus the Xbox Wireless Headset, albeit ever-so-slightly. Additionally, the Stealth 700 goes all-in on tactical sound, with its "Superhuman Hearing" mode elevating highs like footsteps to the top of the sound profile at the tap of a button. While this can sound "crunchy," it's undeniably great for games like Call of Duty, drawing your attention to enemy movements with greater immediacy.
I wrote in my review of the Xbox Wireless Headset that I found the bass overpowering, even with it dialed back. Some people like tons of bass, but I found it cut through other frequencies a bit more aggressively than I would have liked. Also, bass frequencies don't generally offer any tactical advantage, given that enemy reloads and footsteps more often sit in the high ranges.
I found the out-of-the-box audio profile on the Stealth 700 to be superior as well in this regard, with bass that remains powerful, but not overbearing. Either way, both headsets have highly configurable EQ, which we'll dive into in the next section.
While the Stealth 700 appears to have an edge in audio, even if both of them aren't exactly the greatest sound experience on the market, there's a big problem with the Stealth 700 that holds it back. I haven't used my Stealth 700 since I did the review a few months back. After pairing it back up to my Xbox, I found that over time, signal degradation introduces distortion into the sound mix. This can produce digital artifacting, too, which is just unpleasant the more you notice it. I tried updating the firmware, repairing the headset, and making sure the battery was full, but for whatever reason, the signal on my Turtle Beach Stealth 700 unit seems to have degraded over time.
To be completely fair, I have no idea if my unit has received some sort of damage to cause this (I really don't think it has). And my Xbox Wireless Headset unit is brand new as of writing. Because of that signal distortion, the Xbox Wireless Headset ends up sounding better overall than the Stealth 700.
Software and features
Source: Windows Central
The Xbox Wireless Headset and Turtle Beach Stealth 700 both pack in some additional features that add value over their competitors, but some are more useful than others.
The Xbox Wireless Headset's main additional feature is a nifty auto-mute functionality, that detects when you're not actually speaking, and mutes the mic. This cuts out background noise and breathing, focusing entirely on ensuring that speech is prioritized for comms. Neither headset has a particularly great mic, but both are passable and will do the job for Xbox Live or Discord voice chat. The Turtle Beach mic also has a flip to mute feature, which is a nice touch. By comparison, the Xbox Wireless Headset has an LED light that turns red when you're muted.
I've already touched on the "Superhuman Hearing" that comes with the Turtle Beach headset, giving you sound effect accentuation at the touch of a button. It's great for games like PUBG and Call of Duty, giving you a greater sense of awareness. You can create a similar experience with the Xbox Wireless Headset by playing around with the EQ modes to give priority to highs if you want, but the convenience on the Stealth 700 gives it an edge in that regard.
Where the Xbox Wireless Headset dominates the Stealth 700 is in software quality. To adjust the Turtle Beach Stealth 700 headset you have to connect it via Bluetooth to a mobile phone. Getting the app to recognize the headset via Bluetooth is an absolute chore, and took multiple repeat attempts to get it to pair. The Xbox Wireless Headset is much smoother, using the Xbox Accessories app on PC or your Xbox console. It's seamless, easy, and comes with great features and a polished interface. Turtle Beach needs to step up its software development quite a bit.
Design and comfort
Source: Windows Central and Windows Central
When it comes to design and comfort, it's quite close across the board. The Xbox Wireless Headset has large intuitive dials on both sides of the headset, with rapid volume grading and very smooth action. The chat mix volume control also has a magnetic notch at the midway point to inform you when the sound mix is centered. The Stealth 700 has small dials on one side, and it's easy to forget which dial does which without looking, and there's no notch to center the volume mix dial either, which is less intuitive.
Design is always in the eye of the beholder, and some will prefer the design on the Stealth 700 or the Xbox Wireless Headset. I prefer the metallic accents on the Stealth 700, and the ability to tuck the microphone away into the headset makes it preferable for situations where you don't want to look like you're wearing a gamer headset, like using it on public transport or something. Let's not forget that these are Bluetooth headsets, and Microsoft is essentially asking you to walk around with a giant microphone sticking out if you opt to use theirs outside, considering there's no way to hide or detach the microphone.
Where the Stealth 700 also inspires a bit more confidence is in its construction. While it's unfair to judge the Xbox Wireless Headset based on the Surface Headphones, their Microsoft-y cousins have a crippling flaw in the headband, which leads to them snapping. The Xbox Wireless Headset feels like it has a metal strut across the bottom of the headband, which could solve this flaw, but it's simply hard to tell how susceptible they'll be to wear and tear over time without ripping them apart. On the flip side, you can visibly see the steel headband that runs across the entirety of the Stealth 700. This headset has seen a ton of use over the past several months that I've had it too, and I've seen no signs of wear and tear as of yet, besides the degradation of the signal quality.
Both headsets are airy and lightweight for use across long gaming sessions too. The Stealth 700 has coolant-infused cushioning which perhaps gives them a slight edge, but the leatherette finish on the Xbox Wireless Headset is also cool to the touch in its own right. Ultimately, I think neither headset will give the majority of people problems when it comes to fit and comfort.
I'll be sure to update this segment for the Xbox Wireless Headset a few months in. You'd have to hope that Xbox has a bit more experience when it comes to longevity vs. Surface, as gaming accessories tend to take more of a beating than "lifestyle" products.
Conclusion
Source: Windows Central
While I do think the Stealth 700 has an edge in the audio department, my unit has become faulty over time, degrading the signal strength to the point where the audio profile is impacted. During the heat of battle it's less noticeable, but all those details which would have shined above the Xbox Wireless Headset previously no longer do. Additionally, the Xbox Wireless Headset has superior handling when it comes to Bluetooth sound mixing. I really feel like the antennas on the Stealth 700 interfere with each other, causing degradation when Bluetooth is in use. Bluetooth is awful in general, but the Xbox Wireless Headset feels like it performs better in this area.
Neither headset supports a 3.5mm jack, but the fact they both sport Bluetooth makes them a capable option for "on the go" music and gaming. The flip to mute mic on the Stealth 700 tucks away neatly into the headphones. Coupled with a more subtle design profile, the Stealth 700 is a little less awkward to wear in public as a result. Both headsets perform well when it comes to comfort and battery life, providing all-day gaming chargeable via USB-C.
As an ultimate bottom line? I think the Xbox Wireless Headset edges out the competition when it comes to pure value. Although I have a feeling my Stealth 700 has become faulty somehow, the signal degradation is something I experienced back when the product was new as well, and it seems like it has only gotten worse. By comparison, the Xbox Wireless Headset features rock-solid connectivity and is also Dolby Atmos licensed, meaning you don't have to pay extra to get Atmos virtual surround sound. I think the Stealth 700 is a better-sounding product, but the signal woes offset the gains for me. Chances are you might not experience the same problems if you buy the Stealth 700 new as of writing, but even still, you pay $50 extra for what is only marginally better-sounding in my view.
All things considered, the Xbox Wireless Headset represents superior value I feel, but the Stealth 700's are perhaps more versatile as an all-in-one headset product, given that you can hide the microphone away if you're out and about in public or simply not using voice comms. Pros and cons for different scenarios, and as long as you can get a Stealth 700 with a stable antenna (unlike me), chances are you won't be disappointed with either purchase.
Value pick
Entry-level

It should come as no surprise that the Xbox Wireless Headset doesn't beat the Stealth 700 on pure audio quality, but a $50 saving is nothing to take for granted. This is a great entry-level headset for those looking to save a bit of cash, and won't disappoint.
Audio Edge
Turtle Beach Stealth 700 (Gen 2)
Superhuman Hearing

For those who want a bit more audio bang for your buck, the Stealth 700 beats the Xbox Wireless Headset on pure audio quality. You do have to pay a little bit extra for that, though.
Get the Windows Central Newsletter
All the latest news, reviews, and guides for Windows and Xbox diehards.
Jez Corden a Managing Editor at Windows Central, focusing primarily on all things Xbox and gaming. Jez is known for breaking exclusive news and analysis as relates to the Microsoft ecosystem while being powered by caffeine. Follow on Twitter @JezCorden and listen to his Xbox Two podcast, all about, you guessed it, Xbox!