Xbox's Matt Booty wants The Outer Worlds to be an epic franchise, multiple new games in development
There are more stories to tell in The Outer Worlds.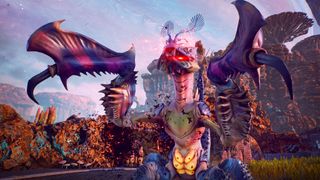 (Image credit: Obsidian)
What you need to know
Xbox's Matt Booty sat down with Game Informer to discuss future projects.
Booty confirmed that multiple unannounced games were in development for Xbox One.
He hopes to transform The Outer Worlds into a franchise as well.
All Xbox exclusives are part of Xbox Game Pass

(opens in new tab)

at launch.
Recently, Xbox Game Studios' Matt Booty gave an interview to Game Informer in which he discussed upcoming games, The Outer Worlds, Gears 5, and much more. While the thirty-minute show went into great detail about Booty's past experience in the gaming industry, it did give us a glimpse into what the company hopes to achieve in the near future.
As expected, Booty confirmed that there were a number of unannounced games being developed by Xbox Game Studios at the moment. Even Obsidian Entertainment is working on a few projects for the console. These titles should launch on Xbox One and Project Scarlett when it rolls out in Holiday 2020. Games like Fable IV are rumored to be in production, so here's hoping that the team at least talks about them at Gamescom 2019 or E3 2020.
The Outer Worlds allows you to navigate Halcyon, a futuristic space colony, in a visually-lush single-player role-playing game. Just like Fallout: New Vegas, it's a first-person experience with plenty of guns and action. The title lets you develop a character over time based on your playstyle because it can apply features based on reoccurring traits and flaws. The end result is someone who is truly unique.
Booty hopes that Obsidian can turn The Outer Worlds into a massive franchise in the future. While he is open to studios working on multiplatform games like Minecraft, The Outer Worlds' sequels will probably be Xbox-exclusive because it has the chance to grow into a bigger brand. Booty compared such titles to Halo which have spawned shows, novels, comics, and much more.
Xbox One owners will be happy to know that Microsoft is working on a lot of exclusive games for the platform. While it's unlikely we'll see the fruits of the acquisitions immediately, there should be a lot of games ready by the time Project Scarlett rolls out. However, only time will tell, but it's definitely an exciting time to be part of the Microsoft ecosystem.
Best of the best
(opens in new tab)
Xbox Game Pass and Xbox Live Gold in one

Xbox Game Pass gives you access to over a hundred games for one monthly fee. Xbox Game Pass Ultimate also adds Xbox Live Gold to the package so you can play online with your friends. Right now, you can purchase a three-month subscription for $45 through Amazon.
Jump into digital
(opens in new tab)
Xbox One S: All-Digital Edition
Ditch the discs

Secure your Xbox One S: All-Digital Edition today, Microsoft's new and ambitious disc-less console. It's the cheapest Xbox One ever made, bundled with three downloadable games like Forza Horizon 3. If you don't like physical media, then this is a great option.
Excellent and affordable Xbox accessories
Up your Xbox experience with one (or all) of these budget accessories, all of which are approved by the gamers of Windows Central.
PowerA Play & Charge Kit for Xbox One (opens in new tab) ($15 at Amazon)
This charging kit keeps your Xbox One wireless controllers juiced up, and it offers batteries for two controllers. At just $15, this is hands-down our favorite budget charging companion.
ElecGear 4 Port USB Xbox One S Hub (opens in new tab) ($19 at Amazon)
This brilliant little USB splitter hub attaches perfectly to the side of your Xbox One S console. It's ideal for use with chargers, controllers, headsets, and more.
Controller Gear stand (opens in new tab) ($13 at Amazon)
Proudly display your Xbox gamepads with this stylish and functional stand. The licensed design is minimalist and black, and it has a hidden storage compartment, making the price of $13 a real steal.
Windows Central Newsletter
Get the best of Windows Central in in your inbox, every day!
Asher Madan handles gaming news for Windows Central. Before joining Windows Central in 2017, Asher worked for a number of different gaming outlets. He has a background in medical science and is passionate about all forms of entertainment, cooking, and antiquing.
if they make outer worlds unique enough i guess it could be a big game like Fortnite (i know that games cringe) IS the game multiplayer and open world?

Hmm. How about let the studio itself decide if they want to build on the franchise and continue making games in the universe. That's the same thing with State of Decay. He said that he wanted the game to be still there in 10 years... I hope they let studios decide. Like they promised, creative freedom and all...

Where you get that from?
I think he knows his role and he knows what game dev is.
2:07:29 ~ 2:11:19.
Sounds like he's experienced.

@Hirox
A little later around 2:20:29.

2:20:00~2:20:58
Didn't say anything about how he will not consult with the studio heads.
He's saying, we won't force you to sell your studio, and if you are ok to work under our brand, we welcome you, and we will support you with our resources.

No one's forcing anyone. Maybe you should watch the interview. Obsidian Entertainment is a large team with many projects in development.

@Asher
I actually watched it. Did you? I'm surprise you actually ask me when I clearly mentioned the part about State of Decay. 2:20:29.
"I really want that to be a franchise that we're still talking about ten years from now".

"I really want that to be a franchise that we're still talking about ten years from now". So you are saying, MS ignored people's will and forced it (making SoD a long run franchise) to happen?

The most troubling part of that interview is that Booty said he's open to their newly acquired studios making games for competing platforms. Team Xbox clearly doesn't comprehend the damage they've caused to the Xbox brand by releasing their games on competing platforms despite criticism for having a lack of exclusives. Gamers see those comments and actions and they think, "I don't need to invest in Xbox because Microsoft's games will keep coming to other platforms", and this creates a self-fulfilling prophesy.

For me it's clear, they want to make it sound like they are exclusives. But they also want the revenue from bigger more popular platforms. They want the best of both worlds.
How many games were initially sold as exclusives but eventually ended on other platforms? Ryse, DR3, DR4, RoTR, QB, Recore, AOE DE, Lucky super tale, Sunset Overdrive...
Even games like Cuphead which was to be a lifetime console exclusive landed on another console.
I think this just helps in contributing low trust among many gamers who are not XB/MS fans.
Gears 5 is coming on Steam. Even though they didn't announce it Ori and possibly AOE 4 may well eventually come to steam.

Hahaha, revenue isn't important to MS right now. It's the expansion of the platform that's important. Cause down the road, that where the bigger money is. Heard of "Lifehack"? Each conversion (3 years Live => 3 years Ultimate) costs MS $300. That's advertisement money.
* And different business models is good for different type of consumers. The more user spend time (create game save, create things, community, etc) and money (buy game, DLC, build their game lib, a sub to their favorite streamers, etc), the harder they will turn away from Xbox ecosystem. That's why, MS is expanding their gaming reach with synergies between WinClassic, Xbox, WCOS, XPA, BC, FC, xCloud / outatime / kahawai / touch API / font API, Mixer, etc. Like Facebook, it's big enough it cannot be killed (unless it seriously f' itself up, some catastrophic
event happened). It's 2019, would you want to create another SNS to challenge FB?

If I had to gess tgis probably means they want to bring their games to Switch, if it was to bring them to the PS5 then I don't understand the point of buying those studios.
Windows Central Newsletter
Thank you for signing up to Windows Central. You will receive a verification email shortly.
There was a problem. Please refresh the page and try again.