Xender for Windows Phone gets another bug fixing update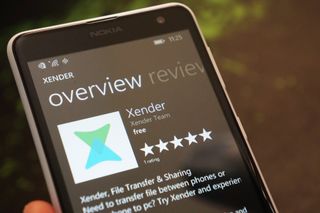 Earlier this summer, the popular file-sharing app Xender finally launched its Windows Phone version. Today, the app has received another small update, to fix a couple of bugs that have been found since the launch.
The app version's number is now 1.2.0.0. The change log shows that the Xender app has fixed a bug that was causing the app to crash when it was transfering pictures and then the user opened the app. It has also fixed a bug that was preventing the app from sending larger files.
Thanks to everyone who tipped us!
Download Xender for Windows Phone/10 Mobile
Windows Central Newsletter
Get the best of Windows Central in your inbox, every day!
Shows error on updating.. :-\

Just uninstall and reinstall....it has a bug which is preventing it from updating

Xender on Windows Mobile is useless. Because it does NOT make use of Wifi Direct. In Android version of Xender, you can send files even if there is no data connection or WiFi. But you can't do that on Windows Phone version. It's totally useless app in the current state. WiFi Direct feature is a must.

Another "Due to Windows phone limitation".. Well, just blame MS not the app maker.

I've been literally crying to MS for wifi-direct. But they don't seem to care for some reason. :(

This single lacking is killing windows phone, for sure.

stop ur whining
..http://www.windowsphone.com/s?appid=ab3c2f52-d13f-40b8-af2d-512f8212026a

That app is restricted and useless jst like xender is...

Wifi direct has been on android for quite a while now.. Ms is making very slow progress on their phone os..

Some might even say they are going backwards. It is actually pathetic. Just pathetic. The number of new features Windows 10 brings to the table is vanishingly small.

Can't store it on SD card now...

To ensure you get the best performance, some people buy cheap SD and complain

It works great on class 10 sd cards but still "zapya" is more reliable.

Windows 10 is just around the corner ... So wait boys.. Every limitations will be removed :)

Mango was supposed to fix everything!! Haha

And mango fixed those major things what it really need to fix on that time.

Use share it instead No Need of external Wi-Fi Receiving from Android: Open shareit on android select sending option n select files and then select apple from downside (find friends) and a hotspot is created then connect lumia by turning on wifi and open shareit on lumia n select receiving option. U can find ur friend on screen now and transfer is complete Sending to Android: Open shareit on android and select recieving a hotspot is created on android. Then open wifi on lumia n connect to hotspot and open shareit select sending and u can see ur friend by selecting files now u can send them Now android to windows is finish. Now come to windows to windows. Sending from phone A to phone B: Phone A needs to turn on internet sharing and phone B needs to connect to it. Now opend shareit on both phones. On phone A select sending of files and on phone B select Receiving. U can see ur friend there and u can share files Receiving to phone A from phone B: In this case (vice versa) Phone B needs to turn on internet sharing and Phone A needs to connect to that. Open share it on both phones. Now select receiving on phone B and sending on phone A to transfer files Thats pretty much it

True..Shareit is much better option

That's helpful.. Will try it for sure..

Easy transfer, like shareit, doesn't need an external WiFi. Internet sharing in one of the phone does the job perfectly. And it doesn't need the app to be installed in both phone. That means, in one phone, install easy transfer. Internet browser in the other phone does the remaining job...

This app is still useless for me on my L730.. Doesn't load content, Not connect to any Android phone and force closes everytime.. Useless app.
Looks like they don't know how to make WP apps..
Now don't teach me how to connect and i already have Samsung evo class 10 32GB sd card installed..
BTW still confused which app performing better than each other Windows Central app or Xender.. Because both are performing worse these days..
Looks like dan also doesn't care about WC app on WP.. I think he is enjoying his iPhone and droid alot these days.

Already using shareit, Zapya n dukto.. Just want good Xender app because almost every Android user has Xender app installed in his phone.. Widely adopted than shareit and Zapya.. Sad but true

Ya agree on the fact that WC app badly needs an update. It was promised back in August(crickets)....

Pls tell him on twitter, he would listen more

Easy transfer is better option for pc to mobile vice versa within same wifi.

And for mobile to mobile Shareit and Zapya are better options

The best app for share and transfer files between iOS,android and Windows devices and PC is Feem Lite: WiFi File Transfer. http://www.windowsphone.com/s?appid=9b4dbd97-76d0-43e7-93fd-94ae5c3dc1a6

I want three things from MS,
1.wifi direct for all wp
2.otg support for all wp
3.somehow stop the loading and resuming issue, this thing is killing me. :(

Need lot of improvements...! Share.it still rules

When would windows10mobile release..?

Stable version will release In December timeframe.

The new flagship Lumia's is supporting WiFi direct :)

It is not a hardware issue but a software one.

MS revealed the new flagships supporting WiFi direct

Lumia camera app has been removed from the store?

This app isn't even listed on their website.

The app is really confusing especially when you want to connect to a non-WP phone. Traditional Bluetooth is better.

Yes!!! and I also use Shareit to transfer files from my PC :)

How to transfer from PC via share it?

Xender doesn't send files to Windows desktop, and that is a major flaw. That's why I use 'Send Anywhere' instead.

Can't even update.. Fix that bug first.

Xender 1.2 can't update fail during installation.. Help me plzzz

how to delete xender files (Videos transfered from other device) from Windows phone. Iam using BLU Win HD LTE.