Xender launches its file-sharing service on Windows Phone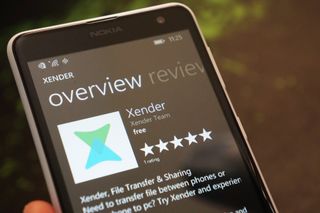 Xender, the popular file-sharing service, has just released an app for Windows 10 Mobile and Windows Phone 8. The app is readily available on the store for download, which comes with the ability to transfer files up to 10GB in size.
Using Wi-Fi, the cross-platform service allows you to transfer documents, music, videos or any other form of content easily between other devices. Transfers can be sent to up to four recipients simultaneously. Be sure to read up more on Xender on the official website.
Xender supports not only Windows 10 Mobile, but Android, iOS, PC and Mac too. We noticed the app hit the store yesterday, but were patient for confirmation from Xender due to some inconsistencies with regards to the store listing.
Download Xender for Windows Phone/10 Mobile
Thanks to everyone who tipped us!
Windows Central Newsletter
Get the best of Windows Central in in your inbox, every day!
Rich Edmonds was formerly a Senior Editor of PC hardware at Windows Central, covering everything related to PC components and NAS. He's been involved in technology for more than a decade and knows a thing or two about the magic inside a PC chassis. You can follow him on Twitter at @RichEdmonds.
Wow...really needed for the platform.. :)

Can't download in wp10! Store gives 0x00000005 error every time i try to download the app! Please help.

Same here.. Can't download, shity store

I searched for the app in the store in Windows 10 Mobile and installed that. No issue at all in Windows 10 Mobile...

Hi, Pallav, here is frank from Xender Team. Sorry for the inconvinience of the initial Xende, We have fixed most bug and try to make the Xender better.If you have any other problem or suggestion while using Xender, please don't hesitate to contact us at service@xender.com Thanks.

Hi, Pallav, here is frank from Xender Team. Sorry for the inconvinience of the initial Xender, We have fixed most bug and try to make the Xender better.If you have any other problem or suggestion while using Xender, please don't hesitate to contact us at service@xender.com Thanks.

Yes Exactly ! Shareit Was a Pain

No problem for 8.1 store..

The wm10 store is a real pain in the ass.

App is crashing..an update is appreciated..

Tz nt available fo some coutries i guess.

why article mentioned only windows 10 mobile

Yes why....it is supported for Windows phone 8.1....Just downloaded...!!

Like, the headline has Windows Phone in it.

When we saw and posted commet at that it was not there....maybe rich updated it....

I'm here waiting for a published article on "Windows 10 mobile build 105xx now available to download" :)

Hahahaha
Crazy peoples...

I get a text message whenever Gabriel Aul tweets something. It's faster.

Yeah... Waiting like crazy

Why it doesn't look like a Windows 10 app?

Will this work only if I'm connected to Wi-Fi. ??

I'm sorry I should rephrase my question. Does it work with Wi-Fi direct ???

Page not found. The only app in the store is the fake one.

You need to use a direct link. Searching does not work

First you need to download "Beta Sign Up For Xender" application on your mobile device > Open this application and Register/Sign Up > Wait for 10 minutes > Restart Device > Check/search for the Xender application by 'Xender Team' again in Store and download. (Note : Not available for WP10 running devices)

What kind of lumia phone is it in the picture?

I thought that's an unknown OS:D

share It, Xender is Here ! Bye Bye

Not available for downloading :(

Page not found! Update the link WC!

Not WC's fault.. Its not available for w10

Yes Brother :) ! Installed .. Will test it with an Android ..

Just now installed. It's keep on loading and crashed.

Everything Works Fine :) !

Nothing works for me. I can't see any phone on my office wifi network. Neither iPhone or Windows Phone.

Hi, Ivan, here is frank from Xender Team. Sorry for the inconvinience of the initial Xende, We have fixed most bug and try to make the WP Xender better.If you have any other problem or suggestion while using Xender, please don't hesitate to contact us at service@xender.com Thanks.

From android devices it connects easily but sending large file makes the app crash again and again, From windows to windows it doesn't send a file at all. Still needs a lot of improvement, Yet they've released the app and its good for windows, hope they'll update soon.

Page not found what the hell is this...only fake app is available..

I went to it straight from the link in the post.

Its not available richard..

I heard it waa available since yesterday and i have been having the "page not found" since then

Hi, Yaw. Here is frank from Xender. You can download Xender here https://www.microsoft.com/en-us/store/apps/xender/9nblggh1dqtv

Link only works when visiting from your Windows Phone. If you use a desktop or tablet browser, it will show page not found. Microsoft still has a long way to go to finish integrating the store.

Need update in working in 520

The app needs improvement

Not found in windows 10 mobile store . Showing error .

link working fine for wp8.1

Before posting they have to know it is working or not what the hell is this....

Showing error code 0x00000005

Yep it does just downloaded it.

Are u using w10tp or wp8.1?

how to use it? anyone help with steps.

To connect with Windows and iphone one should turn on the internet sharing then connect with wifi with another device and get back to the app and Hit Connect, it will be connected,
For android just open Xender in Android device and open create group then in windows phone turn on the wifi there will be a network connect to that network and get back to the app and hit connect in windows phone. That's it.

Thanks dude,i was just curious about windows phone process.that means it still need internet sharing feature.

So does iPhone, it's an initial build so hope for the best for next builds. :)

Page not found with error code, the only xender u see when u search the store looks fake to me with no more than one screen shot

Open the link in phone, or look for an app by publisher "Xender Team"

Resolve it for windows 10

I think it will work with new build 10512

Ain't open link on Windows 10 Mobile. Also can't find it in the store. Sadly.

Link is working for me and installed. (Running Wp8.1 downgraded awhile ago for my trip to Newcastle).

Just search in store and download...its just windows central link is not working

No.. Not available for w10m.. The xender in the store while searching is the fake one

But i should say this the much awaited app is "shitty"...

Installed but Not working.

Man, got excited and my excitement got enervated quickly because it's not available in Windows Mobile 10 store.

It's still buggy .. It crashes a lot. WP 8.1

People losing interest on wc

We should welcome it..and yes it is initial version.so wait for some updates.it will be good one.

Page or app is mising in 10166????

but you have to be on same wifi to share... Hope Wi-Fi direct feature will come in win10 mobile. :/

WP 10 store stuck everywhere...

Tried recieving a file of 1 gb from android device. The app showed 0% through out the share time and crashed after five mins....Useless....

Same here,but on the Android phone,it was almost over,and when its close to 100 % on the Android screen,my app crashed,repeatedly!An update would suffice.

Recieved an audio file which was recieved but not playing....again useless...

It's a waste.
Zapya is way more stable and faster

Zapya is not stable on mine,while shareit is.

How can I transfer files between my PC and my phone with Xender App?

Shareit did the same. And quite faster than Xender XAP

Try dukto.much stable even on my Lumia 520 didn't crash while transferring 950mb file.

This app is Crashing all the time!!

Nothing like android app cant connect

App crashes everytime I open it.i myself downloaded it on my friend's 640 it worked to send a small file to an android phone.but when I tried to send a movie it crashed.its fast! . I expect quick updates.

Can't find the app in windows 10 mobile ......

We're ether scraping the bottom or the check cleared. Is this app any good? Its got a 2.3 star rating in the store.

Bye bye SHAREIT. MY WAIT HAS BEEN OVER. Needs improvement.
Like any file sharing option from both phone and SDcard memory

After installing xender on Lumia 830 on WP8.1.2... My phone becomes slow... !!

Any way to download on Windows 10 ? Link please

Anyone using on Windows 10?

Yep and no true Xender to be found - just the fake POS

The app loads content very slow, poorly coded

Wow that is called crossed platform compatibility

Installed in Lumia 525 - Windows Phone 8.1. Succesfully installed and even tried to transfer 1GB video from android to my phone. Successfully transfered but i cannot see that file in my mobile. I am not sure what it stores. Can anyone help to find the solution. Also this app is slow even i have 1 GB ram. It is choppy.

luckly was able to download this app from windows store without any error on Lumia 830....firstly i tried to connect to an android device(Samsung Grand duos) which was at first was a complex task to get connected but later was easily able to connect...now trasfering from android to windows phone took a bit long time...but trasfer from windows phone was much more faster thn expected which was good...but browsing thru data on windows phone xender app is slow...and sometime hangs..No Option to create a grp which is available in android app...overall its a good app whn it comes to tranfer any file from windowsphone to android :)

Bing Translator says the app is published by "Beijing Anqi Zhi Technology Co., Ltd."

Hi, Rich. Here is frank from Xender Team. Thanks for you sharing Xender.
Windows Central Newsletter
Thank you for signing up to Windows Central. You will receive a verification email shortly.
There was a problem. Please refresh the page and try again.