Xolo WIN Q900s now available for sale on India's Flipkart site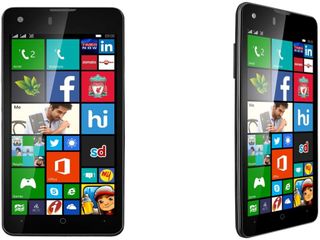 The Xolo WIN Q900s, the new Windows Phone 8.1 device that was first launched as a Snapdeal exclusive in India a few weeks ago, is now also available via the country's more popular Flipkart retail web site.
This move should allow the very light phone to get a wider audience in India. Flipkart is selling the phone for the price of Rs. 8753, excluding taxes. There's still no word on when the phone might be released outside of India.
Just a reminder: The Xolo WIN 900s's biggest claim to fame is that it weighs just 100gs, which makes it the lightest Windows Phone product ever made. It has a 4.7 inch display with a 1280x720 resolution, a Qualcomm Snapdragon 200 processor running at 1.2 GHz, 1GB of RAM and 8GB of internal storage. It also has an 8 megapixel rear camera with LED flash and a front facing 2 megapixel camera.
What do you think of Flipkart being able to sell the new Xolo WIB Q900s in India and do you wish that the phone would go on sale outside of India at some point?
Update Looks like the phone is now out of stock on Flipkart.
Source: Flipkart (opens in new tab)
Windows Central Newsletter
Get the best of Windows Central in your inbox, every day!
Same specs as my ativ s haha

How much $ is that? Edit.: I bing it. Thanks.

You "binged it"! We've got to be this right if we want this thing to catch on

Daniel will u review this phone soon???

Abhishek should since this device is available in India.

Yeah even he can do that.

Right. We want a review from you Abhi!!! :)

Whoever does it, we just need the review.

And I'm waiting for the MMX Canvas Win 121, it is cheaper than Xolo Win and has same specs.

Beware, XOLO's build quality is better than Micromax's though. And the service too.

I don't about Xolo's but my father had MMX Canvas HD which never gave any problem and had a good camera but unfortunately my father dropped it on a trip to NewYork

That's good if it worked fine! Bad, it got dropped. Take your time, choose what you want. I'll suggest you to wait a few days more so that you can read actual experience reviews from certified buyers on flipkart, for both the phones ;)

The MMX device is tagged as coming soon from a long time but I don't know why it's still not available for sale as it was announced before this Xolo device

Yeah its talking longer than expected. They announced this device at the build and yet no release date :/

Sure we do. The more the merrier..

Sounds good. Hope it comes to Germany :)

Content with lumia... Nthng except nokia hardware... Not interested in other brands :D

Used to be just like you till the last two phones (530 ,630)

Agree with you... But these handsets are for those who wana upgrade from asha phones to windows phone os...Yea they have tough competition frm indian brands which are much cheaper but their customer service centres suck... I have experienced myself... They even dnt knw how to repair phone without damaging the fone... I m willing to pay little more if i get good customer service support which in my case always got from nokia.... Moreover built quality of nokia is far better... But lets hope for btr phone at cheaper rate in future... More OEMs more competition more cheaper phones with gud quality... Good for us :)

Yeah but why call it 530 the 525 or even 520 are older phones but they just blow it away in any way and aspect (Design-memory-Ram) so why do this?! instead give it a flash , FFC and 1GB ram and price it jn the range of 120$ to 150$. This way it will sell very fast and keep us pleased. (and keep manufacturing the 520's for people who want to try out WP OS since it is selling for about 70$ everywhere now) but when it comes to customer service , you sir are 100% right , i had an HTC a Sony And lots of Nokia's. Nokia's customer service is by far the best there is. Then again now it is not Nokia anymore it is MS and they are surely messing up by producing this ugly phone.

They did this according to their sales record and predictions. We the hard core fans just a tiny dot on their sales statistics

I hope that's what they are actually doing.

8753 inclusive of taxes. Not excluded. :)

Price jumped to 9800 now Posted via Windows Phone Central App

1.2 GHz dual core or quad? But whatever the case may be, the price is really a plus point. It has almost the same specs as Lumia 820, yet a lot cheaper. Really want it :-)

The snapdragon 200 on the Lumia 530 has a quad core processor, so maybe this one is a quad core too

There is no dual snap 200 cause those cores are too weak.

Already ? Or its not stocked yet

The q900 page in flipkart shows out of stock.

Hate to say it but this phone blows away Lumia 630 and 530 would definitely buy it instead (a Very Very big supporter of nokia)

If it only had Glance screen. It sure does have FFC and Flash (which I never use for taking pictures but still good to have) I would be alright even with 635 but it doesn't have none of three

When reached to oversea? I think the pricing can help increase WP OS sales volume

I think it should be start selling outside India

I dono why Microsoft is encouraging the other mobile brands with their OS...it would be so nice if they confine it to make only lumias...one brand with multiple choice of budget unlike Apple...:)

It won't help but reduce the low budget market. Nokia services and quality need extra bucks which significantly increases the final price. These locally made phones also save some taxes, therefore making the 7-8K budget customer happy.

This blows both 530 and 630/635 out of water...only if it's also available outside of India...

haha, you are out of luck :)

not really.. the build quality wouldnt be nearly as good, and the camera, well, i'll leave that to the reviews. and then there's the service bit. the screen seems ok, and 1GB RAM means more apps, still you can go for a 525 then. The snapgdragon 200 here uses A7 (or even A5 :o) cores, which in quad configuration is barely more powerful than a dual core krait at a lower frequency. I'm pretty sure that the GPU is Adreno 302, inferior to X20's 305. atleast in that area, yes they are 'equal' to 630/530. i used an Xolo A600s once, the flash on it barely lit up the dark scenes, you can light it on your face and stare at it, no harm at all.. :D

Any word if these and the micromax ones are selling well?

They still in search of buyers .

So basically the phone specs Lumia 530 and 635 should have had, plus dual SIM. It's going to be fun once these start selling in the US.

They won't start selling in the US.
Posted via Windows Phone Central App

@saikrish MS is trying to get people hooked to their services that's why they have expanded their vendors.

Can't say about this phone.. What I hav come to know in recent years is zolo has good hardware but its customer service is really poor. So can't say if they hav really improved

As far as 530 & 630 goes I guess MS is killing of Nokia's low end phones and starting afresh with their own series

The phone will be definitely better than micromax

Yeah would be great to have an review of this phone

To those RAM whiners, about Lumia 630 & 635 having only 512MB, this is your other option for almost the same price.

Export it to the Philippines, because no other Windows Phone there except Nokia and the market is flooded with Chinese brand. This can get a huge market share, as long as they know how to market. Use popular endorser and you are sold. Lolz!

Abhishek, If you could help us with the review :/

Maybe they only made about 20 of them and that is the reason they SOLD OUT. lol

you lucky you don't buy it. I think it was a fake product. if you don't believe see comments below the phone on flipkart here it is Blunder !!! Its not a windows phone Its is a gross error that they are mentioning its a windows phone. I placed an order yesterday and the phone received today is an android phone with same number and model. I was shocked. Be careful before placing an order !!! be careful about this product maybe company cheating us. I also love this device.i decided to buy this. but watching this I will never order it online. I check it personally and confirm. i definitely gonna buy it from a shop and never from any online store. hope you too

maybe there was a mistake in sending your order. there is really a Windows Phone XOLO

I wouls totally buy this thing. I find it's kinda fresh, that there aren't these big names like LG, Samsung or HTC present on the Windows phone market. Greez from Germany.

Biggest demerits of non Lumia WP no Nokia apps like - nokia camera app ( the best free camera app available only for Lumia devices) , here maps , Nokia photo studio , glam me (automatic capturing selfie camera app) , etc etc. I trust Nokia and I am really happy with my new Lumia 630 DS and I am surprise to see people commenting and complaining about 512 MB RAM in WP. WP is not like Android (power hungry and more RAM hungry) OS - WP OS is very light OS and consumes very less RAM and 512 RAM is enough for its smooth running except for hardcore gamers. Where as Android is bulky and consume more amount of RAMs too. I am too a Android user b4 choosing WP . But what I find is Android and Windows Phone OS is totally different OS and can be run smoothly in different hardware spec........ So stop shouting " why budget WP have only 512 MB RAM " Think and analyze b4 you bark on others .

Excellent. It'll sell like hotcakes!!!

Shut up and take my money ;)

This will drastically affect Lumia 520 sales.

Do they get 2pieces for sale ? Always out of stock ? Or its just a fake marketing call ?

Come on xolo television ads

Waste handset and over priced too.

Hating those android keys.
They should use official windows keys..

They just packed the windows into old android handsets.

Xolo Win Q900S targeting the Indian Market will be supressing the Nokia Lumia 530, which is yet to arrive.

It's in stock now.. Price jumped to 9800 Posted via Windows Phone Central App

Xolo is not a very reputed company with respect to After Sales Service.. So I'm better off with my Nokia Lumia 720!

Looks like a winner to me..

If Microsoft starts to rollout updates directly to this phone, worth to buy in global market, If this phone manufacturer has update plan Like (Former)NOKIA, is Excellent to have, but if this is another manufacturer to sell this phone and freeze for any further update to very long time "like most of manufacturers" no thanks!

Send in the Philippines please